Liverpool will be forced to make a late decision over Adrian's fitness for Saints clash, but the 'keeper is "optimistic" of featuring on the south coast.
Liverpool's No.13 was confirmed to have missed training on Friday after sustaining an ankle injury in the most unbelievable set of circumstances following the Reds' Super Cup triumph.
Adrian picked up the injury from a pitch invader in Istanbul after they collided with his ankle to leave him in doubt for the second league fixture of the season against Southampton.
The news was disclosed by Jurgen Klopp during his pre-match press conference as he revealed Adrian had immediate swelling around his ankle, and while the injury "looks better now – a decision will be made [tomorrrow]."
The Athletic's James Pearce reported that Adrian would not be training on Friday and while there is hope that he could play against the Saints, it would likely be with "strapping and pain killers."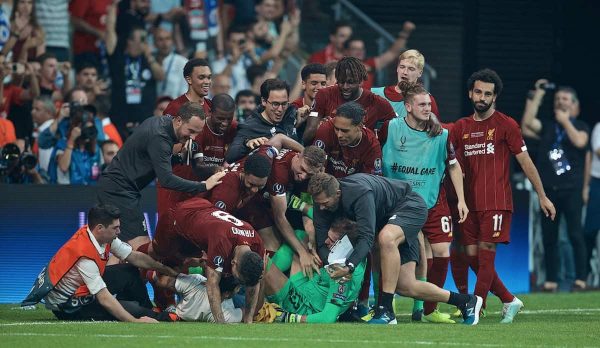 Adrian, himself, remained hopeful of when speaking to the club's website as he admitted to "feeling much better" nearly two days on from the time of injury.
"I think I have many chances [of playing against Southampton]," he said.
"I feel mentally ready and I also hope today with the treatment of the ankle it's going to be much better.
"But I'm very optimistic to start playing tomorrow again.
"It was a strange, weird situation because we were celebrating between us and one guy jumped from the crowd and started running.
"I think he slipped in front of us and also the security with him and made me a tackle from the side. It was a bit of a strange situation but I feel much better today and I hope [I'm] ready for tomorrow."
The way in which Adrian finds himself under doubt came as a major issue to Klopp, and rightly so, as it was yet another instance of a pitch invader during a European affair alongside another at Anfield against Norwich.
There were pitch invaders in Kiev, Madrid and a total of three in Istanbul on Wednesday and Liverpool have now demanded answers and assurances from UEFA that players will receive greater protection.
With the Reds' goalkeeping ranks already depleted with the absence of Alisson, Liverpool would be right to er on the side of caution with Adrian as Andy Lonergan is the only other senior option available.
The remaining players will train in less than ideal conditions in driving rain at Melwood prior to departing for the south coast later on Friday, where all eyes will be on Adrian to see if his ankle reacts to travelling in the air.