Jurgen Klopp has revealed Adrian is a doubt for Liverpool's clash against Southampton after a bizarre incident following his heroics in Istanbul.
Adrian started his first game for the Reds in the UEFA Super Cup in mid-week after a calf injury to Alisson threw him straight into the mixer merely days after his arrival on Merseyside.
And his heroics in the penalty shootout ensured his career at Anfield continued on a winning note after stepping in against Norwich on the opening day of the season.
However, the Reds have been dealt another potential injury blow in between the sticks as Jurgen Klopp revealed in his pre-match press conference on Friday that Adrian was subject to an "unbelievable" incident which left him with a swollen ankle.
"It would help him a lot [the confidence of the penalty save] if it was 100 percent clear that he could play tomorrow," he told reporters.
"Because I really don't understand it that why in the world of social media where you are all on it, when we were all together a supporter jumped over something and was chased by some security guys, slipped and kicked his ankle – crazy!
"Yesterday [it] was swollen, he's here today and I spoke to him and he said it's better – much better than yesterday but we have to see.
"He will not go for a scan, we will wait for swelling – it already went down but flying four hours back does not help the swelling.
"He couldn't have played directly after we landed in Liverpool but it looks better now – the decision will be made tomorrow."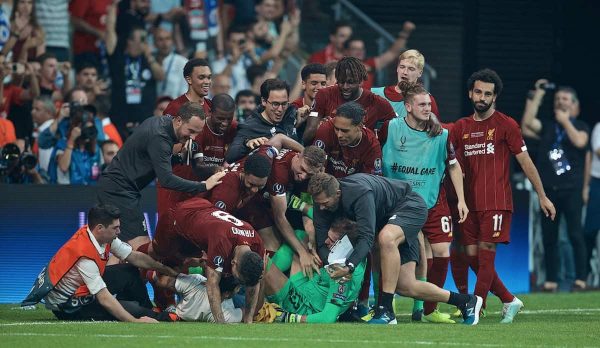 The incident itself was needless and Klopp was eager to encourage anyone from running onto the field of play after a series of incidents in Liverpool's most recent games.
"There's no doubt about how much we love our fans but if everyone could stop doing that, Norwich, Istanbul, people ran on the pitch. It's not funny," he added.
Adrian's ankle could leave Liverpool with another potential selection headache in goal against Southampton, but they will wait until the last opportune moment to make a decision.
Did anyone see this slide tackle by some idiot after the shoot out… what the heck man!! #LFC #SuperCup pic.twitter.com/hJrGpiguMd

— Reaaz Ahmed (@ReaazAhmed) August 16, 2019
Should Adrian fail to prove his fitness in time, 35-year-old Andy Lonergan will be the next in line to receive a call into action after signing a short-term deal last week to cover for the loss of Liverpool's No.1.
Moreover, youngster Caoimhin Kelleher, last seasons third-choice 'keeper is back in training after sustaining a wrist injury during pre-season and is the other option for the trip if Adrian isn't fit.
Should Lonergan start, he'd be the oldest Englishman to debut in the Premier League.