Jurgen Klopp was quick to stress that Southampton will be "full of desire" to topple Liverpool, as the manager also touched on his side's quick turn around.
The Reds continue their Premier League season with their first away trip of the campaign, with Southampton awaiting at St Mary's just three days after their UEFA Super Cup triumph in Istanbul.
Klopp's side kicked off the new league campaign with a thumping 4-1 victory over the newly-promoted Norwich City, but the game was not without its drawbacks.
A similar tale unfolded at the Besiktas Stadium as despite Liverpool's penalty shootout win there were clear areas for improvement, most notably in defence where the Reds have offered the opposition sight of goal far too easily thus far.
But Klopp remained unalarmed over the defence in his pre-match press conference as he was confident his team will find their stride with each passing game.
"If you compare us to August last year, it's not that big a difference," he told reporters.
"The thing is Chelsea had a lot of finishes that were offside but there were no whistles, so then you see that it was two or three yards offside and so that means it's good defending.
"We know that we have to improve a couple of things, but those things will come together the longer we are together and get used to it again. We have to find our best path.
"Especially early in the season we have to find a way to win the games and that is all that we have to do."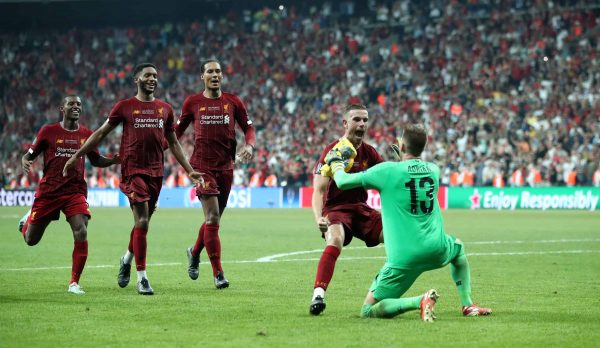 Liverpool travel to the south coast merely three days after playing in humid conditions for over 120 minutes in Istanbul, but Klopp did not want to make any excuses as the only focus was picking up another three points.
And despite the Saints falling to a comprehensive 3-0 defeat at the hands of Burnley on the opening weekend, Klopp was quick to stress that Ralph Hasenhüttl's outfit were not to be dismissed.
"It felt good, much better than we thought before the game. After 120 minutes, investing all we did in the game, it makes it even more worth it. I can really imagine how Chelsea must have felt," Klopp said.
"We trained in two hours or so and then we will leave, my plan when I heard about the fixtures was to win on Wednesday and on Saturday and speak about it after.
"If you speak about it before the game it sounds like excuses. Was it right that we played Friday and Chelsea on Sunday? No. But we cannot change these things, we have no power.
"We don't think about Wednesday night, we think about Saturday and we have to find a way to win the game.
"Southampton lost 3-0 [last week], but they are a really strong side with a very specific style of play.
"We saw their two pre-season games and their game against Burnley so we have all the information we need but they didn't play as bad as the 3-0 looks.
"They will be full of desire and confidence. Last year was difficult for us there. We were 1-0 down early, had to stay calm and it was difficult as they played differently against us to the way they played against all the other teams."