Jurgen Klopp is hoping for the best over the ankle injury that forced Fabinho in the first half of Liverpool's 1-1 draw with Napoli on Wednesday night.
The Brazilian went down after a collision with Hirving Lozano at Anfield, with the winger landing on Fabinho's left ankle which left him requiring treatment.
After initially leaving the field, the No. 3 then returned to play on, but after another knock in the Napoli penalty area he was forced off, with Gini Wijnaldum taking his place.
Fabinho will already miss Saturday's Premier League clash with Brighton due to a yellow card suspension, but his withdrawal on Wednesday sparked concerns for the coming weeks.
Klopp gave no indication of the severity of the injury, but highlighted the importance of keeping his defensive midfielder, who left Anfield in a protective boot, fit.
"That's, of course, massive. The biggest thing [for us]," he told BT Sport.
"[It is] still early, and we all hope it's not too serious, but [it is] pretty painful in an area you don't want to have pain, in the ankle.
"We have to see but that was an unlucky situation. That's the biggest problem, all the rest [of our problems are] a football game."
Klopp was asked in his post-match press conference when Fabinho could have suffered ligament damage, but simply said "I don't know," and that "we will know more tomorrow."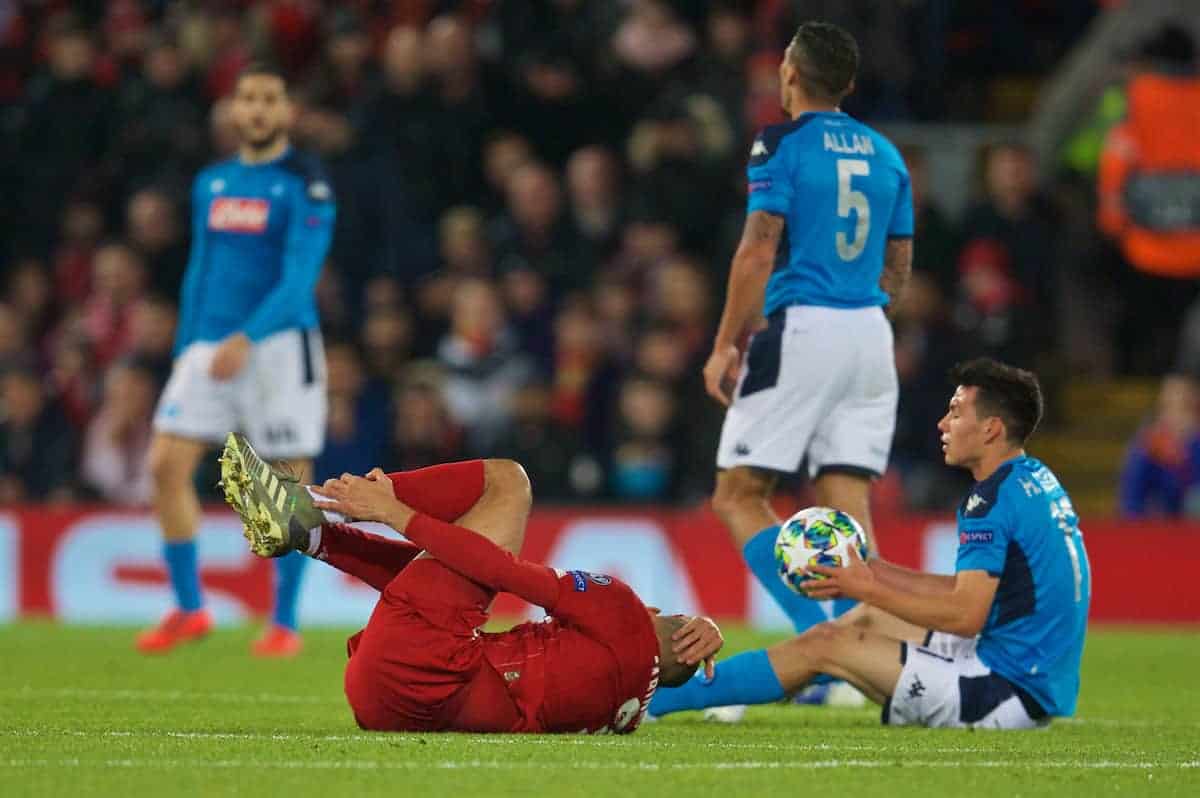 The hope will be that, after sitting out the next game, Fabinho will be able to return for the Merseyside derby at Anfield on December 4.
Liverpool do have other options, of course, most notably Wijnaldum and Jordan Henderson, but neither are as effective or suited to the role as the 26-year-old.
His fitness is particularly crucial after the result at Anfield, as the Reds will now head to Salzburg on December 10 needing at least a draw to guarantee a place in the last 16.