Jurgen Klopp has welcomed Jose Mourinho back to the Premier League, but conceded he was left in disbelief following Mauricio Pochettino's dismissal.
Tottenham rung the changes at the end of the international break as they bid farewell to Pochettino one evening and by the following morning Mourinho was unveiled as the Spurs' latest manager.
With Tottenham languishing in 14th position in the Premier League table after picking up just three points from their last five games, a change in direction was deemed necessary.
The events first left Klopp in shock as merely five months before Pochettino's departure the duo were going head to head in the Champions League final, but the German was left in no doubt that he will not be short on options when he decides to return to management.
And as he welcomed Mourinho back to the fold, Klopp also hinted that he is expecting a number of interesting twists and turns from new Spurs boss.
"Welcome back, Jose!
"It's nice to have him back, he was desperate [to return] you could tell [during] the time when he was not in," Klopp said.
"But on the other side, Mauricio is not there anymore and that shows how quick things change nowadays.
"Around five months ago we played each other in Champions League final and now he is on holiday, and I hope he can enjoy it.
"He did a brilliant job at Tottenham, nobody doubts that hes an outstanding coach, great guy, left and right of the games, I really enjoy the games we played against each other.
"My first game in the Premier League was against him so we have quite a history together, but everyone knows that pretty much all the jobs that are available or not available Mauricio will be in contention.
"It was a big one, when I heard it first I couldn't really believe it in that moment, but then a couple of hours later they already had a solution, and that's how it is.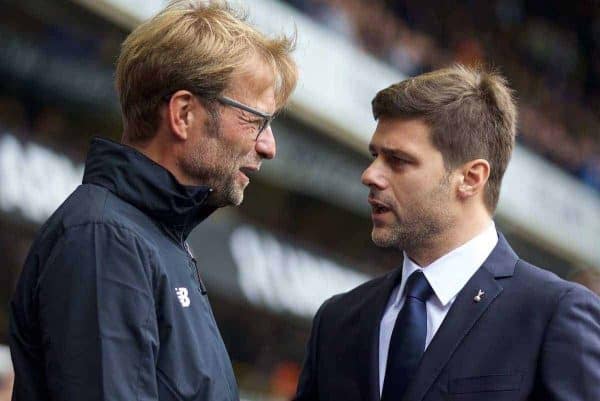 "I really hope Mauricio can enjoy the few days, weeks, months, I don't know, off. It will not last long and then he'll he back.
"And Jose is highly motivated, obviously. That will be interesting as well."
Liverpool's first meeting with Spurs under new management will come on January 11, where the Reds will play at the north London side's new stadium for the first time.