Jurgen Klopp surprised some by making five changes for the Merseyside derby, but a 5-2 win for Liverpool set the tone for a rotational December.
Jordan Henderson, Alex Oxlade-Chamberlain, Mohamed Salah, Roberto Firmino and the suspended Alisson all came out of the side in midweek as Adrian, James Milner, Adam Lallana, Divock Origi and Xherdan Shaqiri were brought in.
The magnitude of the fixture, regardless of Everton's placing in the table, prompted shock from many fans as the team news was announced.
But led by an inspired Sadio Mane, the Reds produced an emphatic display, with Origi scoring twice and Shaqiri netting another on the way to a derby thrashing.
This vindicated an approach that Klopp believes is essential, and follows a pattern from 2018, as when told that in December of last year he made 30 changes across games he highlighted the virtue of rotation.
"It was not the plan last year to make 30 changes, I'm not sure if that was the most in the Premier League in that period, but it's the time when you have to make changes," he told reporters on Friday.
"That's clear. It's not a specific number, it's just the need of the situation. And that's what we will do, 100 percent.
"I know when you are a football supporter, then you want to play—in your mind—the best XI all the time.
"But it's not FIFA or Playstation, where they don't need a rest. It's just how it is, we have to make these kinds of changes, and we will do, that's clear.
"As long as the boys give me the opportunity, we will do it.
"It looks like we can do it in the moment, but we made five changes for the last game and that was exactly the 'adult' squad we had.
"We have kids in behind, very good kids, I really enjoy working together with them, but if somebody is out for tomorrow, of the squad from yesterday, then the next one will be really young.
"So, good, all OK, we wanted to have the situation, and now we have it so let's use it."
Klopp confirmed that Liverpool had no new injury concerns after the victory at Anfield, with a trip to Bournemouth to come on Saturday as the likes of Alisson, Salah and Firmino prepare to come back into the fold.
Those who didn't start against Everton were put through their paces at Melwood on Thursday—joined by academy talents such as Ki-Jana Hoever and Jake Cain, to hammer home Klopp's point on a "really young" reserve bank.
He explained that he relishes these occasions, and this underlined how rotation keeps the squad fresh in terms of mindset as well as physicality, with training exercises he "would have loved to be part of."
"We don't create Phantasialand or whatever, we just do the right things," he continued.
"And again, the squad is quite experience in that department, so we know that situation.
"We have to do the necessary things, first and foremost, we have to respect all the qualities of the other opponents. They are all different, the situation of the other opponent.
"So we try to prepare the boys as good as possible, but it's not that we can exciting sessions a lot.
"But yesterday we had the players who were not involved in the starting lineup for the last game, so we had a session which I would have loved to be part of if I was still a player.
"Of course we do that, but the guys who played, they had recovery yesterday and today -1, which means prepare them for the specific tactical needs of Bournemouth, prepare them for the set-pieces they have, do our own set-pieces, and that in a pretty short period, because of the physical aspect.
"That's it, and then the main session, the most exciting session, is tomorrow: the game."
One player who should benefit significantly from Liverpool's winter fixture pileup is Shaqiri, who made his first start since May and shone in the derby.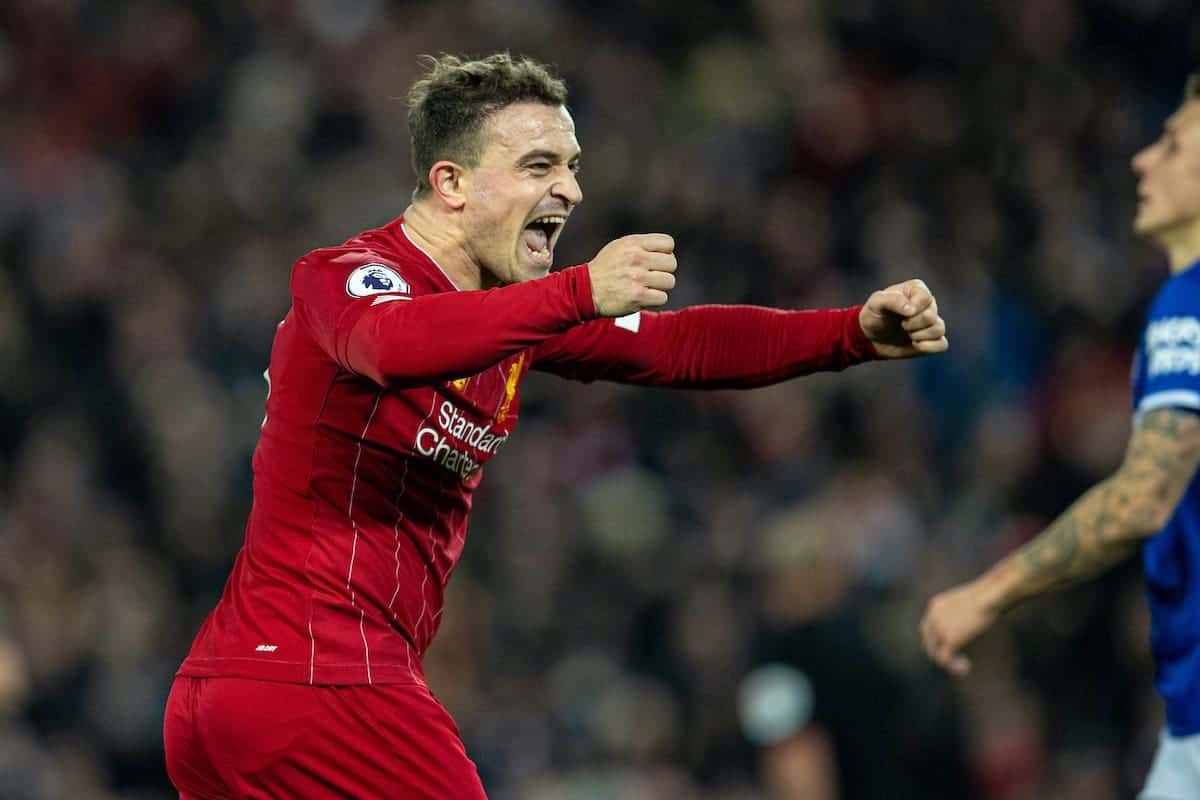 The Switzerland international has dealt with a recurring calf injury in recent months, but Klopp lauded him as an example of the attitude required throughout his squad ranks.
"To deal with a situation like we have—not only we have, all football teams in England have—you need a smart squad, people with half a brain at least," he said.
"The best thing would be a full brain, because I cannot explain things properly all the time, they have to understand it without telling them.
"So let me say it like this: thank god we have that. That makes my life much easier.
"Shaq was injured twice, with the same injury, re-injured a little bit, so that took time, and then coming back it takes time.
"There's a situation when a team is winning pretty much all the games, then if you get frustrated that you don't play that's not smart.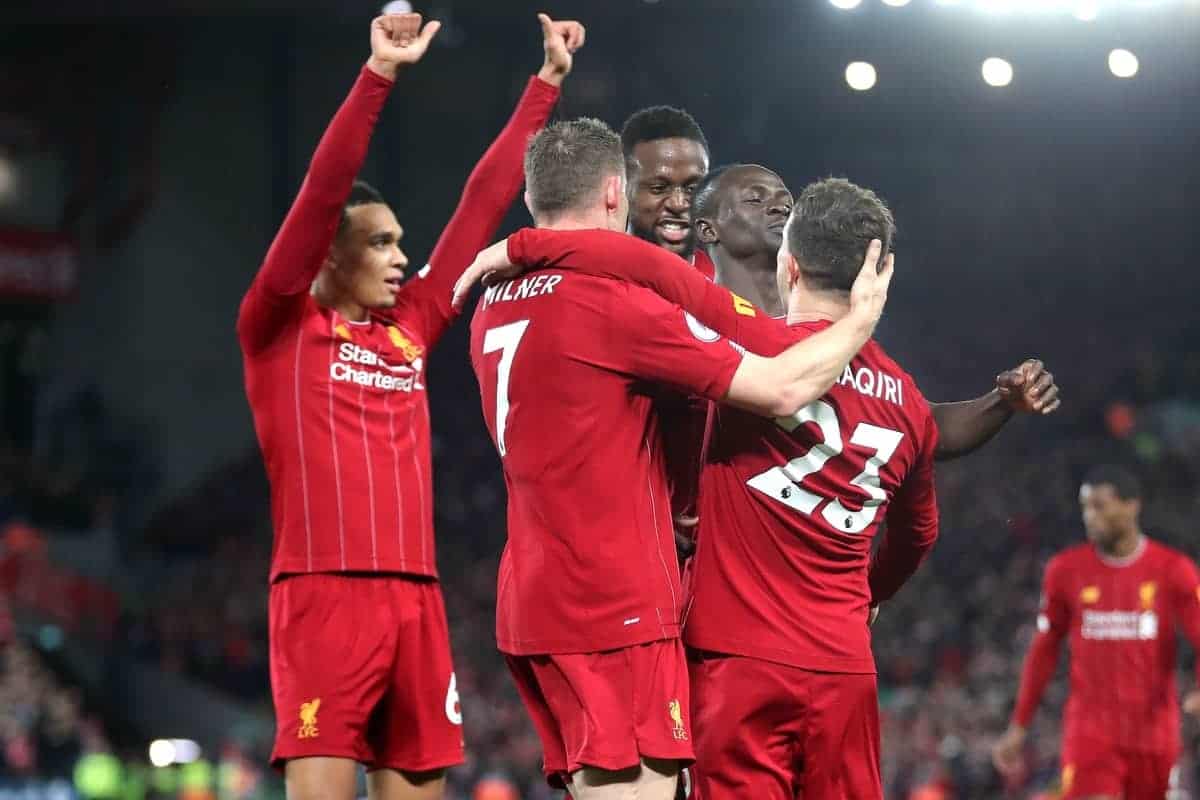 "Because that's how it is in football, you then have to work for the moment to come onto the pitch.
"I don't expect perfection from the moment you come onto the pitch, but I expect the desire to show you are good enough.
"They all did that, and Shaq did that especially.
"He was completely fine before, he was in a really good mood, in a really good shape, then coming on that's the situation where you can deliver a performance like this."