Jurgen Klopp's side safely landed in the Champions League's last 16 with a 2-0 win at Salzburg, ensuring there was plenty to discuss post-match.
Liverpool travelled to Austria in the knowledge that a point, at the very least, would be enough to seal their place in the knockouts for the third successive season.
And while a frenetic opening 45 ensured both teams had the chance to land the first blow, it was the Reds who landed two in the blink of an eye to stun the hosts after the interval.
Naby Keita was the first to land a crucial blow to his former side before Mohamed Salah followed up merely 100 seconds later with a stunning effort.
The Reds would go on to safely navigate the rest of proceedings, where they now await the last 16 draw on December 16 to see what lies ahead for the next European adventure.
Here, This Is Anfield's Joanna Durkan (@JoannaDurkan_) is joined by Jay (@jaytothelo) and Taintless Red (@TaintlessRed) to delve into the highs and lows from the win and discuss potential opponents in the last 16.
The good…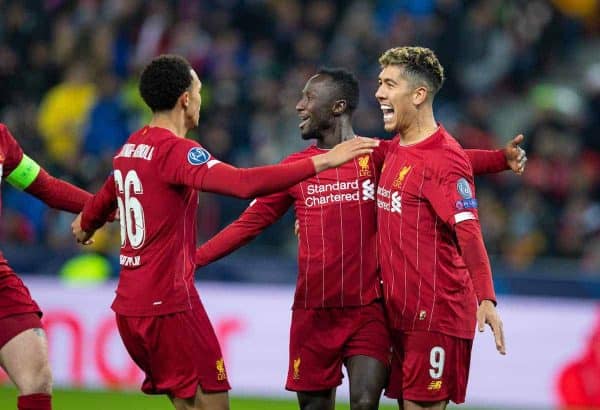 Jay: Firstly, the majority of our away end getting behind Jeremy Corbyn. Thursday's election is an incredibly important day and it brings me great pride that we mainly have a fanbase that cares.
The Red Bull Arena is a bit of a weird looking ground from outside (it basically looks like an IKEA), but it was pretty nice inside. They have the safe standing setup (with fold-down seats too) which I hope one day more grounds can introduce.
You could tell a lot of our fans (from Germany/Austria mainly) were in the home end, and Salzburg fans were friendly and they were buzzing that we were visiting.
I spent two days in Salzburg and more or less did all the main sights, there are really beautiful scenic views, especially from the fortress and the modern art museum, and interesting history. I love Euro aways where you can explore the city and the culture.
On the game itself, Naby scoring was a great relief and the celebrations reflected that and I think everyone knows we grow into a different beast in the knockout stages.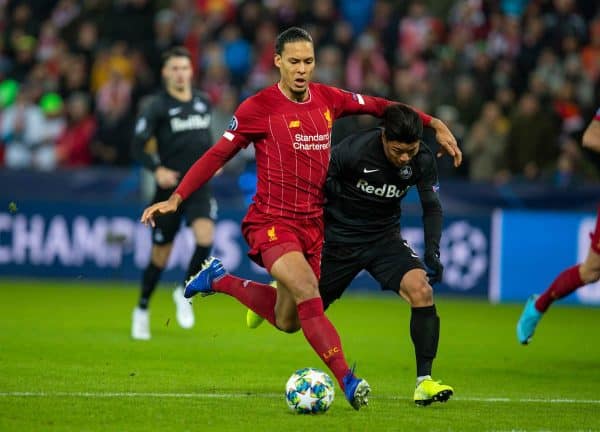 Taintless Red: Qualifying from the group stages is always the main aim so to do it top of a tricky group is satisfying.
Keita had plenty of good games last season, while still learning the intricacies of the Klopp way, but two back to back Man of the Match performances in tough games feels like a big step forward.
When Firmino isn't quite at his best the team can struggle for fluidity and combination football but when Keita also plays he takes on a lot of that creative responsibility.
Salah might've missed a lot of big chances but he's relentless and got a great goal, the big plus for me was that it didn't look like his ankle troubled him at all.
Oh, and Van Dijk is the best defender I've ever seen.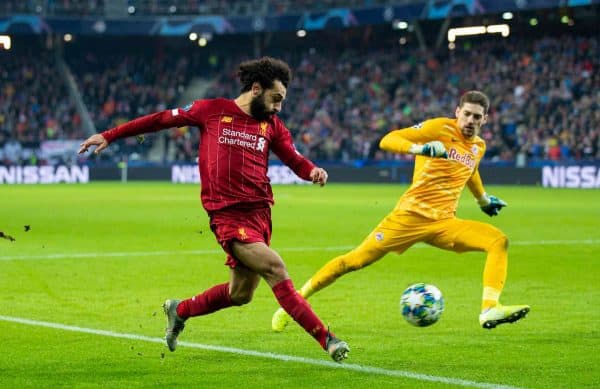 Joanna: It was bordering on painful watching Salah miss chance after chance, but boy did he more than make up for it. What a finish. Simply out of this world.
The kick-off time was a welcome change as I was then able to watch the rest of the night's action with little stress.
I thought from front to back the entire team was superb, Bobby was probably the quietest of the bunch but he did the little things well and his influence cannot be understated.
I can only echo what has been said about Keita and the relief when that first goal went in, I don't think I would have coped if it remained goalless with only a handful of minutes left.
The bad…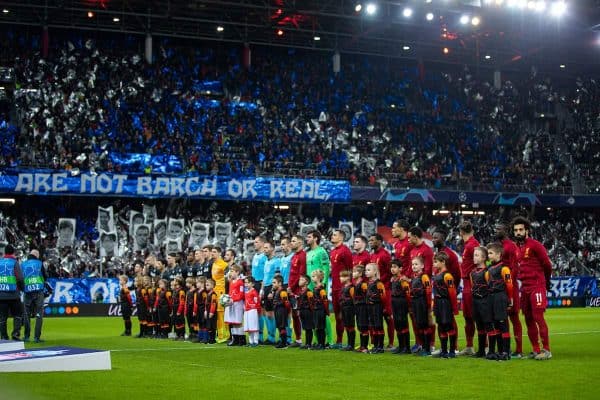 Jay: It was unnecessary pressure in the first place but we never do it the easy way.
Those weird tin foil flags – just strange. Also the LED banner someone had made in our end, it was so bad it was funny.
I wore two jackets and a hoodie and it was still freezing. Also, don't pay to visit the Mozart residence, it's possibly the worst €10 I've spent this year.
And the airport – I'll leave it at that.
Taintless Red: Only negative is the Lovren injury, we'll have to wait and see how serious it is.
Whether you rate Lovren or not, his availability during this busy upcoming period is important, given Matip's injury and Fabinho (who'd be our 5th choice centre-back cover) also being injured.
After Van Dijk and Gomez, the next options to play centre-back are Hoever, Henderson and Wijnaldum.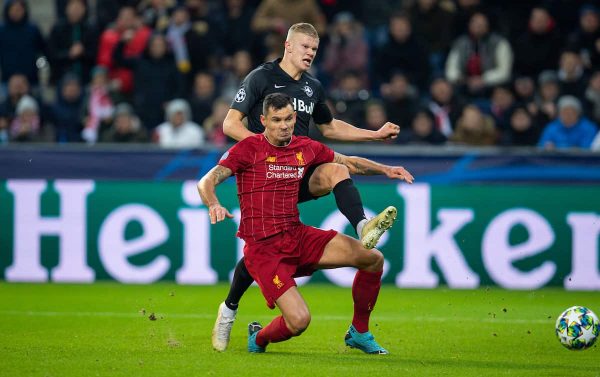 Joanna: For the second game running there is little to pick out on a negative front other than Lovren's potential injury and the possible repercussions of that.
It's an untimely setback and even if it is just cramp, or anything else on a minor scale, there is no way we should be risking any further damage at this point in the season – we can't have another Matip situation on our hands.
It would have been nice to see Curtis Jones handed his European debut merely days after his league bow, but I'm just picking at straws here.
And who would you like Liverpool to face in the last 16…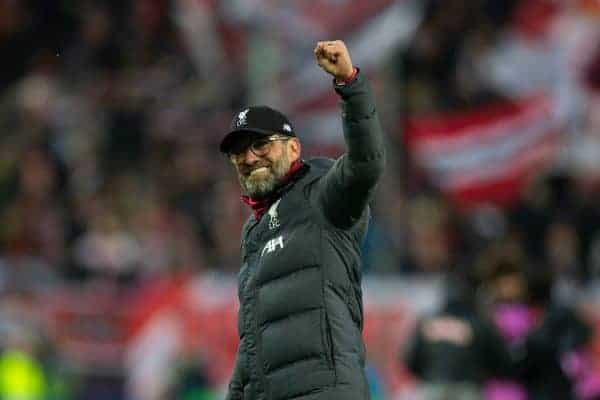 Jay: I'm up for anyone in the last 16. Let's be honest, this is the greatest Liverpool side I have seen.
Mathematically, Atalanta could qualify and they play their Champions League games at the San Siro.
It would be the last chance I'll have to see the Reds at the San Siro before it's demolished so I'll have to say them.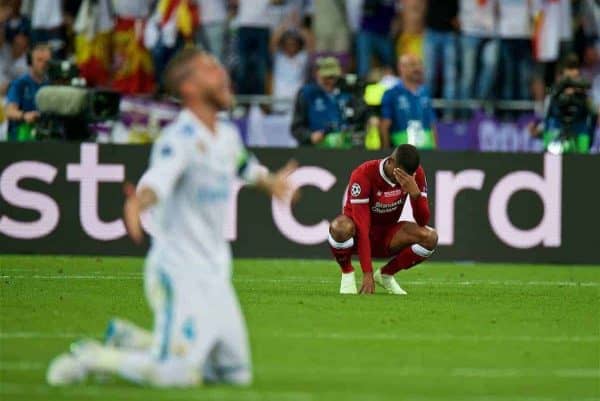 Taintless Red: We are a team that everyone in Europe is fearful of, and rightly so, but I'm someone who prefers the easiest route to progress that we can get.
At the time of writing 14 of 16 teams have been confirmed as qualified and we cannot face teams that have finished first, other English teams or Napoli who were in our group.
I'd prefer to face whichever of Shakhtar Donetsk, Atalanta or Dinamo Zagreb finish second to Man City in their group.
The other options are tough so from those, I wouldn't mind getting some retribution against Real Madrid.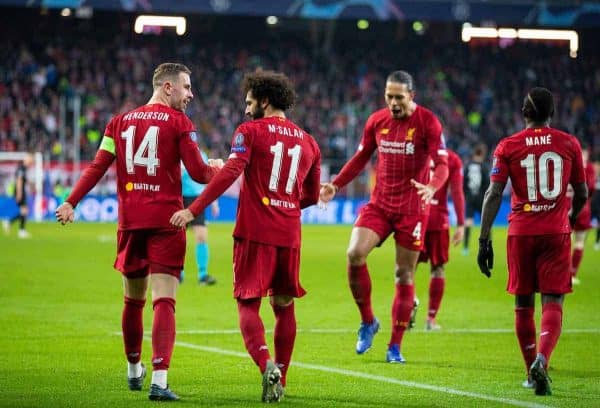 Joanna: All last season I was hoping to get Real Madrid at some point in the competition, because as Red said there is retribution still firmly on my mind and so I wouldn't be averse to seeing them drawn out of the hat.
Putting revenge aside, however, while I am strong of the belief that Liverpool can conquer any team I would appreciate a 'smoother' tie and would similarly fancy any one of Shakhtar Donetsk, Dinamo Zagreb or Atalanta.
My gut feeling tells me we will get Dortmund though.