There was plenty of praise for Curtis Jones as Liverpool players celebrating being "back on track" following their 2-0 win over Aston Villa.
It was not a game which will be shown as a key highlight during Liverpool's title-winning campaign, but nevertheless the result was one which saw the Reds take their season's tally so far to 89 points.
Liverpool were made to work for their 29th win of the season, however, by an Aston Villa outfit who remain in a tight tussle to keep their survival dreams alive.
And just when it appeared as though a breakthrough would fail to materialise, Trent Alexander-Arnold, Naby Keita and Sadio Mane combined to find the net – with Roberto Firmino's efforts off the ball also proving key in the build-up.
The afternoon was then wrapped up in heartwarming fashion as Curtis Jones hit truly to notch his first Premier League goal, merely four minutes after his introduction.
While it took Liverpool considerable time to click into gear, they successfully bounced back from the defeat against Man City to continue their formidable record at Anfield.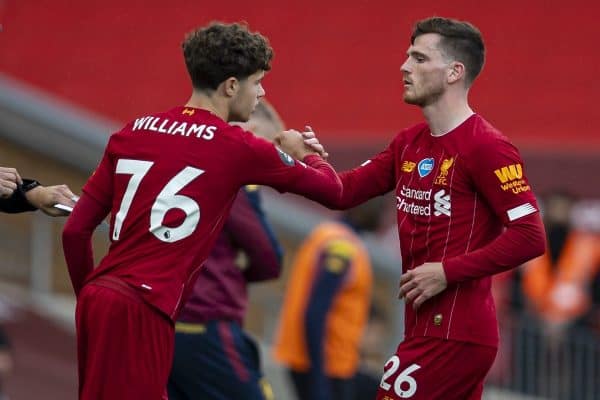 For Andy Robertson, when speaking to LFCTV, the game marked another example of his side digging "even deeper" during the tough times, a trait which has underpinned Liverpool's title-winning campaign:
"Look, Thursday was a frustrating performance. We weren't happy with certain areas of our game, it was a strange one.

"Over the last probably five, six games we've played against Man City it might have been the most chances we have created…We could have done a lot better but it was important not to overreact – we're champions in our own right.

"We managed to bounce back today, might not have been the best performance in the first half but you're playing for a team that is fighting for their life and I know how that feels.

"It took a bit of time for any sort of quality to shine through in the game but once it did we were the ones doing it and we managed to capitalise on that, took our chances and I think it was a fair result.

"That's why we are champions, that's why we are so far ahead of the rest of them because when times are tough we dig even deeper."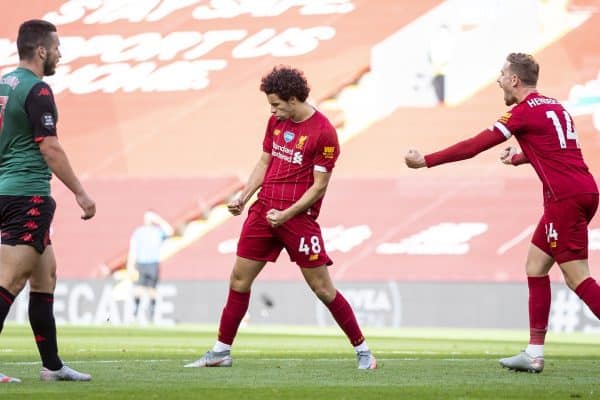 And for Curtis Jones, playing for and with the world, European and English champions is something he is "grateful" for, a feeling which was magnified after he netted his maiden goal in the topflight just days after penning a new contract.
The 19-year-old has shown he is not short on confidence and he acknowledges it is a key trait for any young player looking to break into this formidable lineup:
"They could call it perfect, but for me, I'm just grateful for the manager and the rest of the staff for having the belief in me and putting me out there when it was only 1-0 and Villa was playing well.

"I think for any young lad that's coming into a team like this you have to be confident, brave and want to get on the ball so that's what I try and do and I went and showed it.

"Definitely [a special time to come into the team]. Growing up I've always watched Liverpool and there's been some great players including my idol Steven Gerrard, and the team he played in was great but I definitely think this is the greatest team I've watched. I'm grateful to be apart of it."
A goal at the Kop end is certainly something to savour and Jones' teammates were quick to take to Instagram after the game to share their joy.
Jordan Henderson and Robertson were "buzzing" for Jones, with the skipper quick to recognise that it was "not a bad weekend" for the youngster:
James Milner and Gini Wijnaldum shared their messages of congratulations as they commended yet another home win, one which makes it 24 in succession at Anfield:
And the man himself first celebrated a clean sheet and collecting all three points:
The occasion also marked the second guard of honour Liverpool have received since being crowned champions and Trent and Van Dijk were lapping it up:

The win over Villa steered Liverpool "back on track" for Naby Keita while Liverpool's No. 4 was also eager to praise the team's efforts for keeping their 15th clean sheet:

Liverpool's win coupled with Man City's defeat at Southampton restores the 23-point advantage atop of the table and keeps the Reds hopes of breaking the 100 point barrier well and truly alive.
They can move even closer with a win over Brighton on Wednesday night in what is their 34th Premier League game of the season.