Gary Neville has argued that "something different" could spark Liverpool back into life, with Jurgen Klopp's faith in his 4-3-3 seeing his side "like zombies on the pitch."
The Reds are on a run of four consecutive defeats in the Premier League, and have won just two of their last 11 to see their title defence crumble with 13 games to play.
While a 2-0 victory over RB Leipzig last week served as a reprieve and a sign of hope, that came crashing back down on Saturday as Everton won at Anfield for the first time since 1999.
That Merseyside derby loss saw Liverpool at their stiff, unimaginative worst, and despite this becoming a trend of late, there has been no indication Klopp is considering a shakeup of his approach.
In the absence of Diogo Jota – who, thankfully, is back in full training this week – the manager has persisted with his favoured 4-3-3, but Neville believes a change of shape could help Liverpool.
"It's starting to get a little bit worrying in a sense that, we know they've got injuries, we know the fans aren't in the stadium, we know we've got Covid, we know we've got a lot of games, but it's the same for everybody," he said on the Gary Neville Podcast.
"It's the lack of change, the lack of what would be an idea. They just look beaten, almost like zombies on the pitch, walking around thinking the same thing.
"Maybe they need a little bit of something different from Jurgen Klopp, who has been quite simply unchallengeable – and still is for that matter, for what he's done at Liverpool.
"But I think he may be even thinking now, 'do I have to just do something different?'."
He added: "It looks to me like they just need a new idea, just to give them a little bit of a spark, or else it could be a really depressing season for them, where they don't qualify for the Champions League."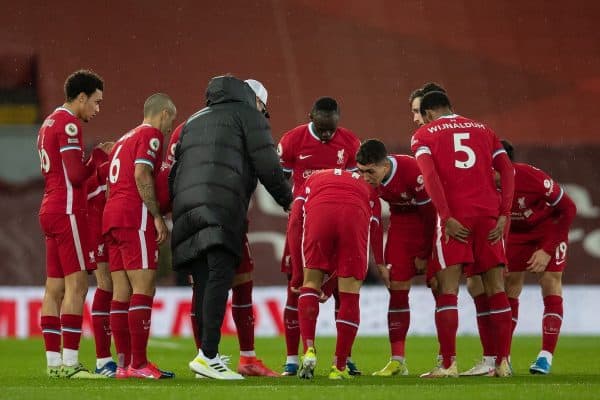 Neville, who admitted give his track record as a manager was not in a position to advise Klopp, suggested moving to a three-man defensive system as a host of their contemporaries have.
This would almost certainly be a short-term approach, and rightly so, with Neville noting that – like Man City last season – they could require a "year off" season before "resetting" with key names back next time out.
"I still think the end of the season coming and just resetting, getting everybody re-energised [is important]," he continued.
"Fans back in the stadium, that fourth year is always a challenge, Manchester City needed that year off last year – and they got it, Liverpool won the league comfortably – and maybe this is what it is for Liverpool.
"Van Dijk returning obviously, Gomez returning, all these factors will mean they'll be a more confident Liverpool come the summer.
"But at the moment, it's desperate for them."