When Liverpool score three it should be more than enough for a full complement of points but the sluggishness of old leaves the result interestingly placed in the bigger picture.
I mentioned a few days ago the need for suspicion when it came to Brentford, but also that we should head to west London armed with a sharpened pin in order to pop the Bees' impressive early-season balloon of optimism. However, sometimes football will insist upon being absurd.
This result and defensive performance are tough medicine to take and in an act of the footballing gods twisting the knife, in a few weeks' time Chelsea will quite likely take them to the cleaners.
Two points emphatically dropped, yet in a game where it's hard to begrudge Liverpool's opponents taking something for their magnificent efforts. A better-timed run-on goal late in the game and they might have even won it.
This one was like a tribute act to that mad 4-3 we lost at Bournemouth a few seasons back.
What Brentford are blessed with, to go along with their incredibly talented and likeable Danish manager Thomas Frank, is a total lack of Premier League experience and fear, which is then combined with a compelling tactical approach. Yes, they offer wide-eyed enthusiasm but it is offset by composure and speed of thought and deed.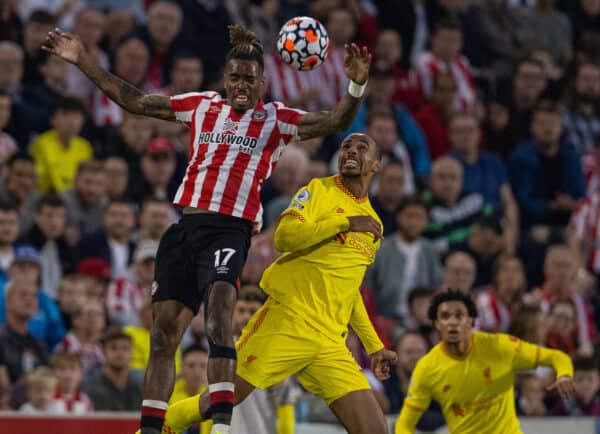 The only lingering ambiguity about Brentford is how much fuel they have in the tank and can they carry themselves to a place of safety before fatigue sets in?
When you look at Norwich City as a comparison, there is a clear sense of foreboding at Carrow Road where they began the new season already within the brace position, scarred as they have been by the punishment that was meted out to them by the Premier League in 2019/20.
In essence, Norwich were relegated as soon as they conceded their first goal this season just as Fulham were last time around – and again in 2018/19. With the team from Craven Cottage already amongst the promotion-chasing pack once again in the Championship, it isn't outlandish to suggest they will pass one another when swapping divisions once more at the end of this season in a sort of perpetual relegation/promotion relay.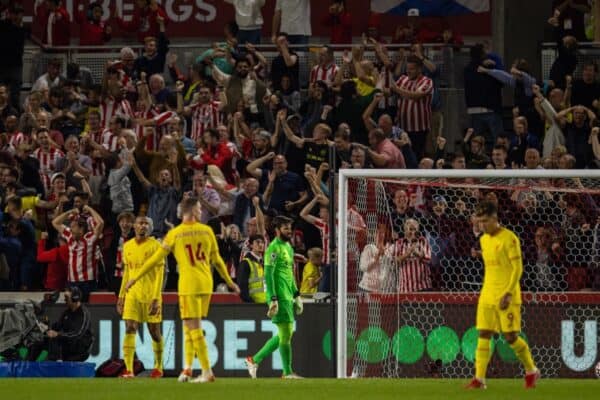 It will have been wonderful to have watched the events of Saturday evening at the Brentford Community Stadium as anything other than a Liverpool supporter.
With spectacular goal-line clearances at each end by Kristoffer Ajer and Joel Matip acting as an amuse-bouche, the game meandered through comedic defending, goalmouth scrambles, clinical finishing, outrageous goalkeeping, posts being struck, VAR drama, and an outcome that remained in complete doubt until the referee brought the curtain down.
It was football within the guise of a 1950s Ealing farce. All that was missing was Alec Guinness, Peter Sellars and an assortment of other recognisable actors contriving to accidentally kill one another thus leaving the well-meaning, yet bothersome, Mrs Wilberforce as the beneficiary of the ill-gotten proceeds of an otherwise meticulously planned armed robbery.
It was the type of game we will either look back on as champions and laugh about or it will forever torment us as two precious points that slipped the net in our failed attempt to reclaim the Premier League title.
Trailing once, leading twice, this was a careless performance defensively. Goals conceded that were entirely avoidable when scoring three of our own should be enough to win any game for Liverpool. There was an unnecessary sluggishness to our play within our own half that wasn't matched by our endeavour in the Brentford half. A 6-3 victory wouldn't have been an unjust scoreline.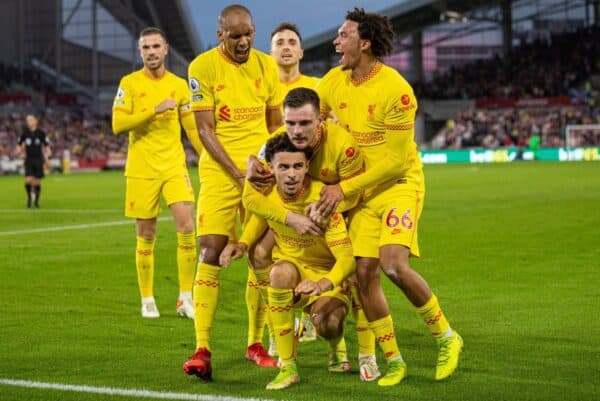 Fabinho's performance was of concern and we were too easily prised open at the back. While Brentford's first was a well-worked routine, their second and third goals should never happen.
Mohamed Salah grabbed himself a bit of history but also wasted a golden opportunity to make it 4-2, while although I'm not suggesting that Trent Alexander-Arnold should be removed from free-kicks, a bit of variation of taker now and then wouldn't go amiss.
There were positives to be found amidst the chaos. It is a relief to see Roberto Firmino back, something that offers us the double boost of his availability and the pressure he places on Diogo Jota to up his performances, which he generally did on Saturday night.
It was also good to see glimpses of the best of Curtis Jones once again, who was probably our standout midfielder, departing the pitch while still celebrating the goal that should have won us the three points.
Ultimately, frustration was the name of the game, however, from a match that had a defined 'cup tie' vibe to its proceedings. We can class this one as having been 'a bit of a madness'.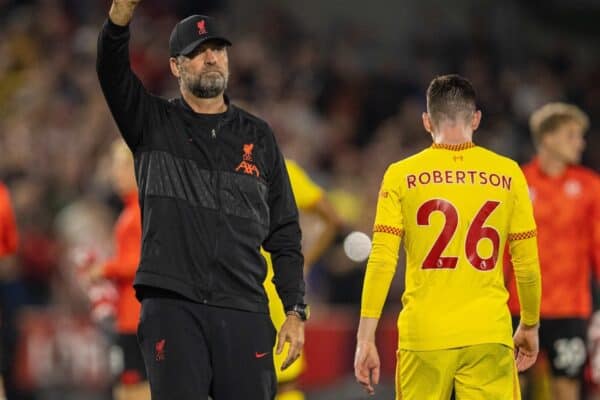 In some respects, a reminder of how focused we need to be in defence is a timely thing as we head into a week that will encompass our first Champions League away day and the visit to Anfield of a Manchester City side who are fresh off the back of a win at Stamford Bridge.
While League titles are never decided after seven games, to get your two toughest away trips out of the way so soon is a massive plus for Pep Guardiola's men.
It means that from Liverpool's perspective a positive result on Sunday is vital as both our projected main title contenders will have been to Anfield, and with Chelsea already having escaped with a point we can't be handing out more gifts to Manchester City.
A big week ahead, before we head into the latest international break. We need to make it count.