Another frustrating night saw Liverpool continue their post-World Cup struggles with a sloppy 2-2 draw against Wolves in the FA Cup, and questions are once again being asked of the midfield.
Liverpool went with an almost full-strength starting lineup and came from behind to lead 2-1 shortly after the break, but were unable to hang on and were, in fact, fortunate not to be dumped out of the competition when a VAR call was ruled in their favour late on.
It was a meek display and comes at a time when Liverpool appear to be facing a real battle with confidence and identity, the challenge now will be to address those concerns rapidly before the season is allowed to get away from the players.
To discuss the major issues in more detail, including Cody Gakpo's debut and the ongoing defensive failings, Adam Beattie (@beatts94) is joined by Sam Millne (@sam_millne) and Henry Jackson (@HenryJackson84).
We'll start with something a bit lighter! Cody Gakpo, what did you make of his performance?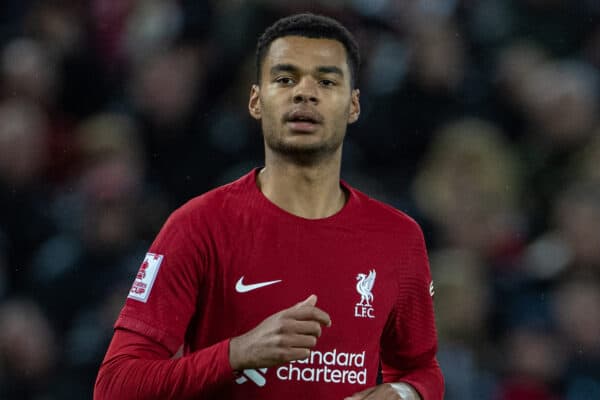 Henry: I thought it was an adequate debut by Gakpo, who clearly possesses physical power and a deceptive turn of pace. This isn't an easy time for any player to make their debut, however, considering Liverpool are such a mess as a team.
He linked up nicely with Robbo a few times, though, and as he grows more accustomed to his new teammates and the system, I have no doubt that he will flourish.
Gakpo's end product for PSV speaks for itself, and while there is a clear step up in quality in the Premier League, he possesses all the attributes to thrive in it.
Adam: He looked great to me too, what are your thoughts on his position last night and how it all might look once we have a full quota to pick from?
Henry: The left-sided role looks to be his best moving forward, and while there would be a potential headache there once Diaz returns, let's face it, Liverpool will never have everyone fit at the same time. We must've learned that by now!
Adam: Absolutely, the very fact that he got the nod as soon as he did speaks volumes about the current injury problems and the need for options.

It is a very physical looking forward line all of a sudden, and I'm really excited to see how quickly he can get to grips with the Premier League, particularly once he has had chance to familiarise himself with his teammates.
Very much agree with the Robertson point too, it is pleasing to see him forming relationships on the pitch already and look every inch a Liverpool player. If we're honest, we'll take any positive signs we can get at the moment!
Sam: He was one of Liverpool's better players on the night. While he didn't set the world alight, he hardly gave the ball away and made clear his technical ability.
An early shot on goal showed promise but that turned out to be the only time he got a sight of the net all night. Whether it be at the manager's request or the player's natural movement, I felt at times that he should have been closer to the touchline, like how Luis Diaz plays, as the passing route from Robertson was often closed off.
The position is certainly his to nail down for now and it would allow an unrushed return for Diaz, hopefully in February. When Jota and Diaz do return, what could work in Gakpo's favour is the ability to play centrally too.
Alisson has been our player of the season, but even he's struggled of late. A cause for concern or bigger fish to fry?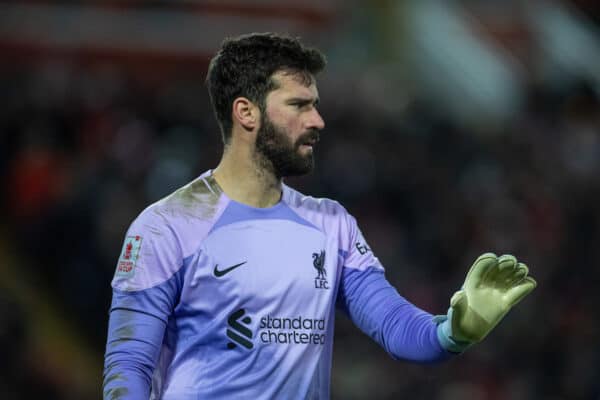 Adam: I've got very little interest in pinning any of the blame for our recent struggles on Alisson, the man has been a behemoth for us since he joined and had arguably been in the form of his life up until the World Cup.
It almost feels like the mistakes have become contagious, and several players are beginning to second guess themselves because they've lost a bit of belief in themselves and each other.
There is no disguising the fact that it was a howler from the goalkeeper, but Thiago doesn't particularly cover himself in glory beforehand either and these are two of the greatest players we have had the pleasure of watching, there are clearly some very deep-rooted troubles throughout the entire squad and the manager needs to figure out the best course of action from here. We don't have a great deal of time to fix things either.
Sam: While there have been individual errors at times this season, I don't think the defence itself is the cause of Liverpool's problems.
For me, the problems lie further forward. Losing Mane's pressing power and the lack of energy in midfield seem to be the main culprits for Liverpool's defensive woes, often leaving the centre-backs exposed.
Henry: The individual errors are just indicative of the general malaise going around the club at the moment – once Alisson is throwing them in, you know you're in trouble.
That error was horrific, but Thiago was dreadful just before, as you mentioned Adam, and Matip had also nearly 'done an Alisson' previously, too. It's just so depressing to watch.
There seems to be such a lack of intensity and focus and it really does look to me like last season has wiped so many of the players out, both physically and mentally. You feel like at least one individual mistake will prove costly every single game at the moment, and that's no exaggeration.

Adam: Atmosphere-wise did either of you sense any frustration from the crowd last night?
Henry: I could sense the frustration last night and there is a feeling that these constant poor performances are now really starting to grate. Liverpool are doing the same thing game in and game out, with the midfield lifeless, individual errors proving key and the attacking lacking cohesion, and not learning their lessons.
At some point, it simply has to stop.
The frustration from the crowd was completely understandable and it is up to Klopp, the players, and perhaps most importantly the owners, to turn around this awful spell. A new midfielder is a must this month – if that doesn't happen, Anfield will continue to be a restless place this season.
Sam: Personally from my position at the back of The Kop, it didn't appear that way to me. There were the predictable groans when Alisson produced his howler but no more so than expected.
The Anfield atmosphere is a discussion that needs far more analysis than a sentence, but I didn't notice any particularly vented frustrations from the crowd. The fans were quickly behind the team once play got back underway.
The draw means yet another fixture, the last thing anyone would've wanted…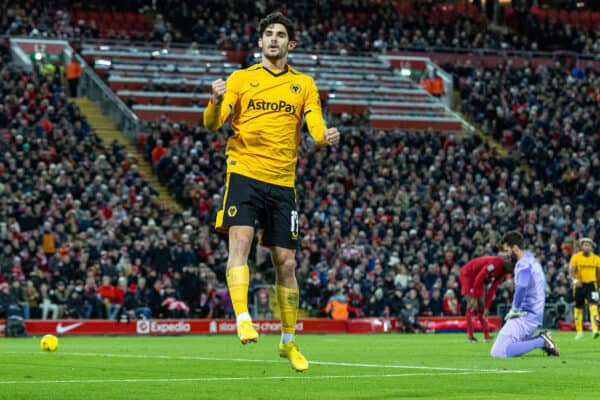 Sam: First and foremost, I'm glad that Liverpool are still in the FA Cup. Had Wolves' third goal been allowed to stand, we'd only have one chance of silverware left this season.
The replay will take place between tough matches against Brighton and Chelsea so it's not ideal in terms of preparation for the latter, however, the Reds don't have a League Cup semi-final to worry about and should be used to playing midweek fixtures after several years in the Champions League.
Henry: I think I speak for pretty much every Liverpool fan when I say that the replay feels horribly uncalled for.
A cold, midweek fixture at a ground where the home fans sing grim songs, with needless extra minutes in the legs of Liverpool's players, does not feel like a barrel of laughs. The Reds will probably bow out in meek fashion, too – Klopp could ring the changes – which would be the icing on the cake.
Adam: I think we could all do without any extra Liverpool in our lives at the moment, never mind the players!
Joking aside it really is not what this team needs, especially given how difficult the chase for top four is becoming, and I echo Henry's thoughts on the team selection in that I wouldn't be at all surprised to see the manager mix it up a bit with the fixture falling midweek. Doak and Bajcetic stand out to me as two players who could step up for that one.
Finally, are there any positives or is it a case of hoping that everything is alright come Brighton?

Henry: I really do find myself digging extremely deep searching for positives, although Doak's cameo was certainly encouraging.
I've foolishly tipped too many young players to make the grade in the past, only for them to fall away – Woodburn, anyone? – but Doak does look like the real deal. For starters, he is lighting fast, which is an immediate bonus, and he possesses a fearlessness and belief that immediately stand out.
Nunez scoring was also a clear positive, and he was a willing run throughout, while Salah going ahead of Kenny was another reminder of his genius.
Adam: I think we all had high hopes for Woodburn didn't we! I am really optimistic about Doak too though, his pace and movement are absolutely electrifying and being someone who appears to prefer playing from the right we might find that he continues to get some more opportunities this season.
Sam: Contrary to some, I actually think there were some positives to take from the match. Whether they're carried forwards is another matter though.
I'd argue this performance was better than the previous home game against Leicester, despite the Reds picking up three points in that one. From 45-70 minutes, it was the best I've seen Liverpool counter-press, since the World Cup at least.
Adam: Yeah I think of all the games since the break Leicester was definitely the one were the problems were most evident.