In his latest comments regarding the demise of his Liverpool team, Jurgen Klopp has said he regrets the timing of the club's pre-season trip to Asia.
After a season that saw Liverpool go two wins from an unprecedented quadruple, the Reds have been unable to get anywhere close to replicating their performance levels from their previous campaign.
As we approach the halfway mark in the Premier League, Klopp's side are languishing in seventh place, having only won eight of their 17 matches to date.
The reasons for Liverpool's downfall have been a topic of conversation for some time, and speaking to reporters on Friday, Klopp made clear that he feels the efforts of last season have played a part in his team's poor form.
The Liverpool boss, though, says it was not possible to foresee their problems that would come with playing a 64-game season, although it should be pointed out that the Reds actually played 63 competitive matches in 2021/22.
"No, we had a similar situation two years ago, I'm sorry," Klopp said when asked if this was the toughest period of his time at Liverpool.
"And the year after we had, with the same players, a completely different situation. We could use them all. Sometimes it happens.
"Could anybody know how the last season, with 64 games, would influence this season? I don't think anybody could know.
"We had holiday, not too much, but we had holiday. The boys are used to these kinds of things, they all looked fine. It started with Diogo getting injured on international duty, Luis twice, Darwin suspension and now (injury).
"Early in the season midfielders were not available, that's why we brought in Arthur, who got injured. It's a lot of bad luck."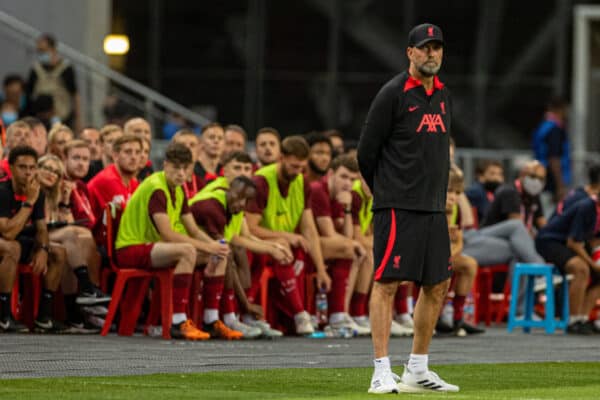 In an 'answer' that was more than four minutes long, Klopp then went on to reveal that he regrets the timing of Liverpool's pre-season trip to Asia.
Just over a month after a forgettable Champions League final in Paris, following several days of initial work on Merseyside, Liverpool jetted off to Bangkok to begin their preparations for the new campaign.
Klopp says that, in hindsight, he would have preferred the Asia trip to take place weeks into the Reds' pre-season schedule.
"Would I do anything differently? I wouldn't go, in the first week, to Asia," he admitted.
"Not because Asia is not great, but I would go to Asia in the third week, or something like that, but it was not in really in our hands.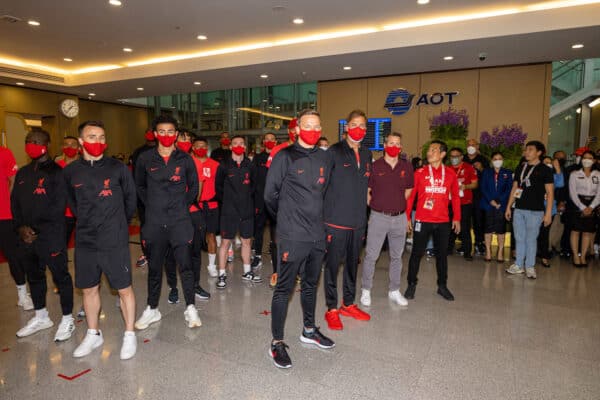 "Is that the reason? No, I don't think so. But would it have been better to do it differently? Yes. We learn from these kind of things, but in the end we have to deal with them.
"We played until the last match day. We planned the pre-season long before that, but we were in a super positive mood, we could have won everything. We didn't win everything and we had to deal with that.
"It's not that just because we are Liverpool we are not allowed to have problems."
When asked if he firmly believes last season's gruelling campaign has contributed to their below par performances and results this season, Klopp said:
"It must have, we can say that now.
"But there was no book written about it, there's no data about it, there's nothing about it, because nobody played this amount of games ever before. Maybe they played it, but for other reasons.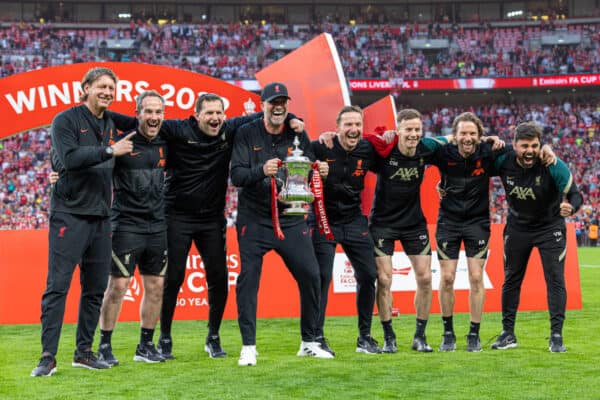 "We were in finals and all these kinds of things, we were high-flying. We went on holiday and asked 'when's the next game?'
"It doesn't mean we don't want to be successful. Next time, we can sort things. Hopefully it happens again, with a different outcome, and then we'll know about it and we can write a book about it.
"The football, in moments, looks different, I know. But I can promise you it's not because the boys don't want it, or I don't want it, that's 100 percent not the case. If that was the case, we could sort that immediately."
Klopp's claim that no team had ever played so many matches in a season, or at least highly competitive ones, doesn't quite add up.
Liverpool also played 63 games in 2000/01, and went on to achieve what was then their highest finish and highest Premier League points tally the following season.
Man United played 63 games in 1998/99 and would go on to win the Premier League in the next campaign, as did Man City after playing 61 matches in 2020/21.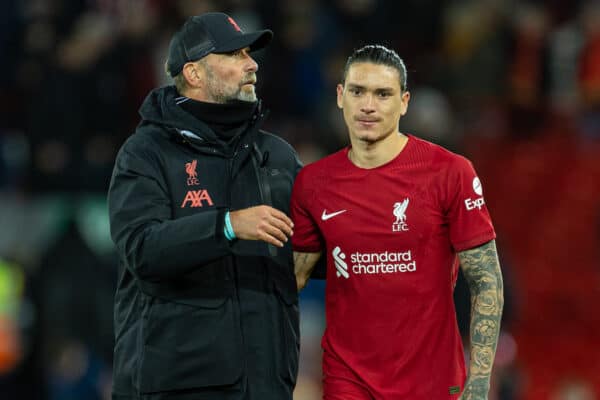 Nonetheless, such an emotional season, coupled with the club's persistent injury issues, certainly isn't a recipe for success, but Klopp is adamant his team will rise again.
"Definitely," he stated when asked if he feels his team will eventually recover from their issues.
"It's always the same. You have too many injuries for whatever reason, the players who are fit have to play all the time, which means they cannot always fly.
"We don't have the exact opportunities to change and rotate. Don't forget last season how we could rotate between the cup competitions, and what a team we still had on the pitch, it was incredible.
"We could have done this with the players we had this year as well, but we never could. So you play too many games, and then the players come back from injury and usually need time, but we don't have time, so they play, and then it can happen again. It's a circle."