Having been rushed to hospital on Christmas Eve, Jay Spearing has spoken of his relief after being able to return to his player/coach duties with Liverpool's academy in recent weeks.
The 34-year-old, who returned to the Reds in a unique role earlier this year, was diagnosed with Addison's Disease after blood tests before Christmas.
Addison's disease is a rare disorder of the adrenal glands, with symptoms including a lack of energy, weakness, increased thirst and a low mood.
However, having returned to the squad for Liverpool under-21s' clash with Hertha Berlin earlier this week, Spearing now says he is "in a very good place," thanking those who have passed on their best wishes.
"I would just like to say a big thank you for all the well wishes I received when I had a little health scare over Christmas," Spearing said in his latest Academy column for the club's website.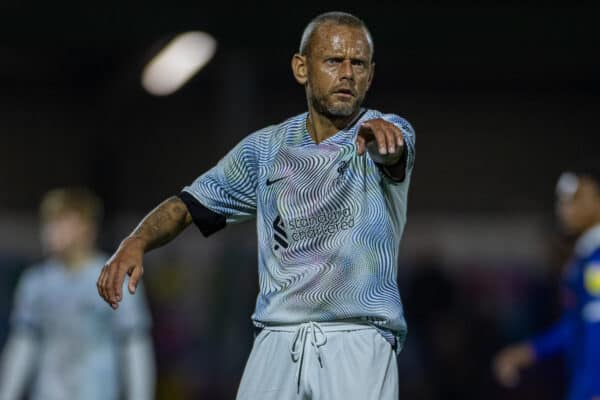 "I'm doing really well now, thankfully.
"I received so many messages from former players, people from all different backgrounds, and people who have got Addison's disease also reached out to me. The support has been incredible.
"I owe a lot to my wife and kids for being that rock for me. I'm in a very good place and it was brilliant to be back with the U21s squad for the game against Hertha BSC on Wednesday night. I'm looking forward to the future."
Spearing splits his duties at the club between coaching at the academy, while also offering his services as an over-age player for the U21s.
He works closely with U18s manager Marc Bridge-Wilkinson, who are set to take on Ipswich in the FA Youth Cup fifth round on Friday evening.
After a positive start to the season, Bridge-Wilkinson's side are now without a win in the U18s Premier League since October, with Spearing explaining how injuries and changes to the squad have contributed to their slump in form.
"Our U18s team now is very different to the one that started the season and, unfortunately, we have had some bad fortune with injuries to key players," Spearing added.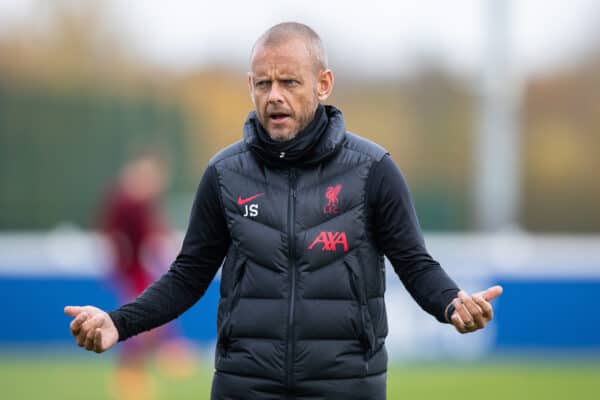 "Some players, for the right reasons, will go up to the U21s squad, which is the next step for them before hopefully they get a first-team opportunity.
"A lot of the U16 boys have got chances in the U18 team perhaps slightly earlier than they may have envisioned. They have done very well, listened to our advice and are giving it their very best every time they put on that red shirt – they are showing what they are all about.
"At the end of the day, our main job is to develop players so they can eventually challenge for a place in the first team. So, we are going in the right direction with the likes of Stefan Bajcetic and Ben Doak doing so well up there."
Doak has trained regularly with the first team since making his debut for Jurgen Klopp's side in their Carabao Cup victory over Derby last November.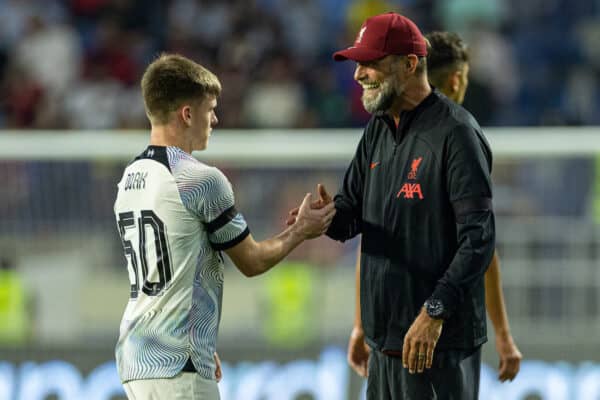 And despite the fact he's been sorely missed at U18s level, Spearing is delighted to see Doak impressing at a higher level.
"Ben was in our team at the start of the season and he was absolutely flying," he continued.
"He has made rapid progress and he is a great kid. We want to get players moving up the ladder and Ben has done that, playing for the U21s and then getting his first-team opportunity.
"Ben has got his head down, he works so hard, and he has got a great mentality. That drive and desire the boy has, it's no surprise to us he has done so well.
"Fingers crossed, he can keep it going and keep getting better because the lad has a lot of ability."