Trent Alexander-Arnold endured a tough night at Selhurst Park, he wasn't alone in that regard, but Jurgen Klopp dismissed the suggestion that he is suffering from a lack of confidence.
The 24-year-old was withdrawn from proceedings after 71 minutes on Saturday evening, resulting in 37-year-old James Milner dropping into the right-back position.
It brought an ordinary performance from Alexander-Arnold to a close, one that was riddled with gifts for Crystal Palace, that fortunately were not punished.
After the match, Klopp was asked if the No. 66 is suffering from a lack of confidence, which the manager dismissed without hesitation.
"No. He was, for sure, in the few games we won he was one of the much, much, much, much better players," Klopp said.
"It is Trent Alexander-Arnold and if he is not performing, everybody is talking about it.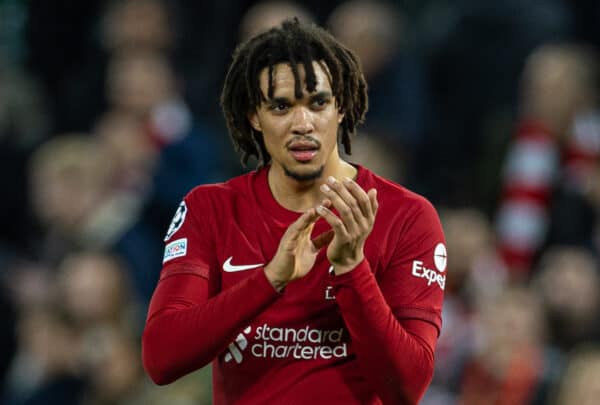 "When he is performing, nobody speaks about it apart from when he is involved in goals.
"He set up super goals in the last few games – Newcastle and I think Everton.
"He is OK, it is just the amount of games. We took him off and he has a day longer to rest and then he will be fine again."
Alexander-Arnold has featured in 31 of Liverpool's 35 games so far this season, playing the third-most minutes of any Red (2,451).
In fact, since becoming a regular member of the first team in 2017/18, the 24-year-old has featured in 245 of Liverpool's 317 games, which accounts for 77.3 percent.
Klopp, though, has seemingly not heeded his own warning when, in 2020, he said: "Robbo and Trent, let's say, they cannot play every season 50-something games—it would limit their careers, to be honest."
As for the decision to withdraw Alexander-Arnold against Palace, Klopp said: "It was just clear.
"Trent plays all the games for us, then we have to make [decisions] from time to time.
"We thought before the game already if it was one too much for him or whatever, but then he started. That's it.
"The reason was purely because of that. Nothing else."