The Premier League have finally announced a new date for Liverpool's home fixture against Wolves, which was initially postponed last September.
Having already played Wolves three times since the turn of the year, most recently in a 3-0 league defeat at Molineux last Saturday, it's now been confirmed that Liverpool will face Julen Lopetegui's side yet again in the coming weeks.
The game is set to take place on Wednesday, March 1, with kickoff at Anfield set for 8pm (GMT).
No broadcast information has been confirmed for the clash, which is unlikely to be shown live on TV in the UK.
That means Liverpool's latest meeting with Wolves will fall four days after their away fixture against Crystal Palace on Saturday, February 25, and four days before Man United travel to Merseyside on Sunday, March 5.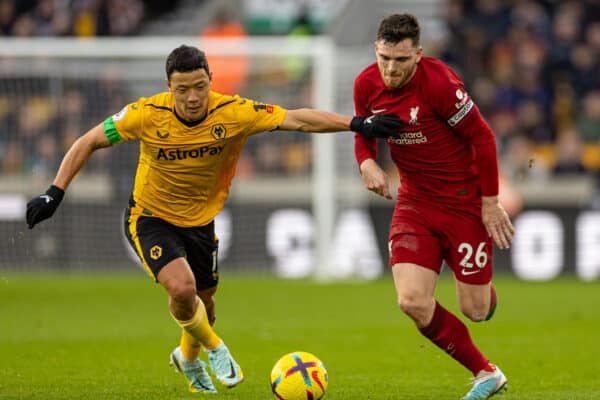 The match was initially due to take place on Saturday, September 10, but was postponed after the Premier League made the decision to call off all fixtures that weekend following the passing of The Queen.
Aside from the match last weekend, the two teams played out a 2-2 draw at Anfield in the FA Cup third round in January, with Liverpool winning the replay at Molineux 1-0.
Liverpool are also still yet to play their league fixture away at Chelsea, which was postponed several days after due to concerns over policing resources in London at the time.
As of yet, no date has been confirmed for that match, and finding a slot in the near future is complicated by the involvement of both clubs in the Champions League knockout stages.
---
Liverpool FC fixtures in February & March

Everton (H) – Monday, February 13, 8pm – Sky Sports
Newcastle (A) – Saturday, February 18, 5.30pm – Sky Sports
Real Madrid (H) – Wednesday, February 21, 8pm – BT Sport
Crystal Palace (A) – Saturday, February 25, 7.45pm – Sky Sports
Wolves (H) – Wednesday, March 1, 8pm
Man United (H) – Sunday, March 5, 4.30pm – Sky Sports
Bournemouth (A) – Saturday, March 11, 12.30pm – BT Sport
Real Madrid (A) – Wednesday, March 15, 8pm – BT Sport
Fulham (H) – Saturday March 18, 3pm*
* Fixture could be moved pending FA Cup participation.