Liverpool made it back-to-back wins with a 2-0 success away to Newcastle, with the game largely over and done with before the half-hour mark.
Newcastle United 0-2 Liverpool
St. James' Park, Premier League (22)
February 18, 2023
Goals: Nunez 10′, Gakpo 17′
Sent-off: Pope 22′
Make your own fortune

Between kick-off and red card, there was certainly an awful lot of howling from the home support about perceived injustices, decisions which went against them and for the Reds.
We've all been there as football fans of course, but in this specific case, Newcastle had…well, no case at all.
There were about a dozen occasions in the first half alone where the home players and fans wanted handballs given against Liverpool players, absolutely none of which were.
That started with the opening goal, Darwin Nunez chesting the ball down, and continued throughout the half. There were more than a few calling for offside against Cody Gakpo – again, it wasn't – and then some wildly misplaced complaints at Nick Pope being sent off for deliberate handball.
Arguably the first wrong call went which against the Toon was Darwin being offside on a counter which wasn't given and led to Almiron's yellow card, hardly the most defining outcome of the match.
As for Liverpool's own luck, 20 minutes effectively produced the outcome – and while the performance wasn't perfect, a brave and forward-thinking approach on the ball resulted in some of the best moves of the year from this side, particularly the build-up to Gakpo's goal.
Individually good, collectively…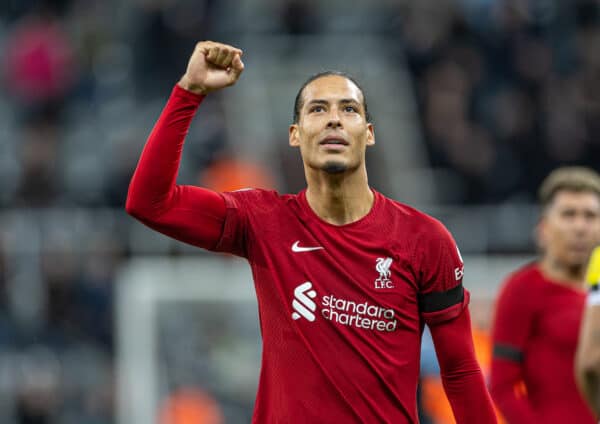 Another part of luck needs addressing: Newcastle going close, but not scoring. Was it lucky? Certainly not all the time, but definitely at least once – Dan Burn cracking a header against the crossbar before the break.
Alisson saving a one-on-one from Almiron, tipping Saint-Maximin's shot onto the bar and a late save from Wilson were all the 'keeper's skill having a decisive say, not lucky.
But they all came as a result of very substandard defensive work as a unit, on occasion from being open in midfield and easily played through, one or two of them from defenders not being too aware of runners behind them.
And, several times, from the team as a whole being dreadful on defending set pieces. That's an area Liverpool have to improve on, and fast.
To an extent the rest is expected: Virgil's return means he's not totally fit and it's yet another rejig in the back line, while we're still trying to find the best blend of a new XI off the ball after a terrible campaign in that regard.
The positives to take are in Joe Gomez again performing well in terms of recoveries and duels, Fabinho looking a good bit sharper than has been the case and, once again, Alisson being excellent.
Darwin's usual mixed report, but not as we know it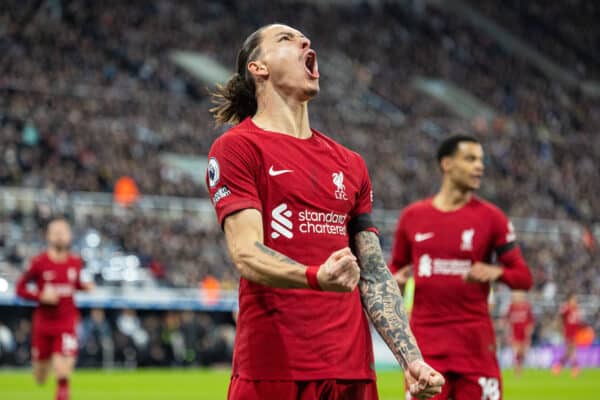 The man does not know how to have a zero per cent performance, does he? Everything with Darwin Nunez is excellent, extravagant or eminently forgettable.
On this occasion it was again the good and the bad, though not as it has so often been – great industry and impact, but poor end product.
No, this time it was very good as an outlet and an expertly taken goal – but the downside came in the form of a second-half injury.
A good tackle from Kieran Trippier ended in Nunez landing on his shoulder and hurting it from the impact, by the looks, and though he initially played on it was clearly hampering him before he went off.
If Nunez is sidelined it would be a real blow; he has been a polarising figure outside of Anfield perhaps, but few match-goers have any doubts as he's serenaded every move, every week.
Returning faces in Diogo Jota and Bobby Firmino might just have come at a vital time so the depth isn't affected, but neither can replace Darwin's physicality, brute speed or indeed match sharpness just yet.
That's evident in the fact we should have scored at least one, if not two or three more goals later in the match, but continually spurned overload chances and clear sights of goal.
Depth on show, but what's the team?

Nearly time for Jurgen Klopp to answer a very important, and pertinent, question: What is Liverpool's best line-up now?
A couple of better results isn't going to fool fans into thinking problems are fixed – we could easily have conceded two here for example – but at least the attacking play has been improved and some key names are coming back from injury.
But those same names were in part responsible for the awful performances earlier this term.
Van Dijk has yet to hit his peak, Diogo Jota hasn't scored since last April, Ibrahima Konate has only played five league games this season.
And that's even before starting to question the midfield, the infamous eight names who didn't need any additions – yet the best of which has been one not even in that group in August, Stefan Bajcetic.
Over the coming weeks we'll have to not only see which of them have retained Klopp's trust, but also if he was right to do so, and if the tactical issues are indeed fixed.
To Europe and beyond

It shouldn't really be the case after the dreadful season we've had, but with this three points Liverpool are, improbably, six points off the top four.
Fourth, of course, remains Newcastle – and we've got a game in hand on them too.
Beat Palace next week and Wolves the following midweek, our spare fixture, and Liverpool would be level on points with the Magpies before they take to the pitch again in the league, given their match next weekend is a cup final.
Before all of that, though, Liverpool have arguably a bigger task: the Champions League last 16 and a first leg against Real Madrid.
Carlo Ancelotti's team haven't been in their best form ever, but that's still good enough for second in LaLiga and to remain among the favourites to retain their crown.
Forget any thoughts of revenge for last year, this just has to still be about the Reds fighting for their own form and future selves. A first leg lead, and a third straight win, would do very nicely thanks.