Jurgen Klopp spoke to the media ahead of Saturday's trip to Bournemouth, where he gave an injury update and discussed John W Henry's recent comments.
Here are the key points from Klopp's pre-match media duties…
The boss gives us an injury update
Jurgen Klopp was asked about the fitness of Luis Diaz, Thiago and Joe Gomez, and the manager confirmed that all three will be unavailable for this weekend's clash.
"Different stages, I would say," said Klopp, who described Joe Gomez as being the closest to a return, with the timeline for Thiago still uncertain.
It appears we will not see any of those three in first-team action until after the international break, but in more positive news the German had no fresh injury worries to report on following the win over Man United.
Firmino looking for "positive" send-off
Following Roberto Firmino's decision to leave the club, Klopp said that the Brazilian is now looking to "bring this wonderful story to a positive end."
The manager admitted that he was surprised at the decision, but that he completely respects Firmino's wishes and was delighted at the reception the 31-year-old received against Man United.
"The song will stay in everybody's ears!"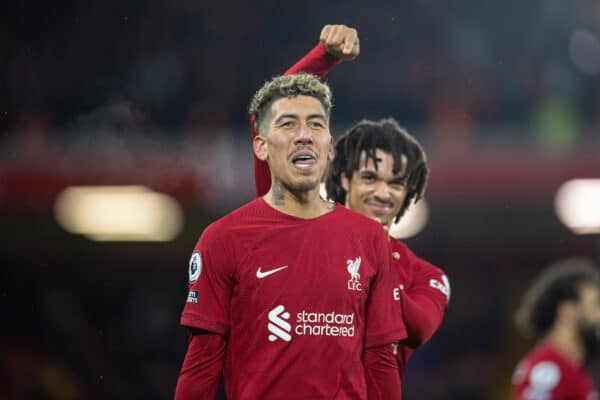 Away form still a concern
While Liverpool appear to have turned something of a corner in recent weeks, the boss admitted that the side's away record still leaves room for improvement.
"In the home table we are in the top four, in the away table we are far away from that," he said.
"We have to show consistency there as well. We have to step up, we have to make sure that we create the atmosphere on the pitch."
A word on transfers
The German was asked about recent quotes from John W Henry, in which the principal owner talked about summer plans and the importance of "investing wisely" in the transfer window.
"John is right," Klopp explained. "If you look at the players we have brought in in the last couple of transfer windows; Luis, Darwin, Cody. That's investment, it's wise investment and responsible investment."
When asked about the recent news that FSG president Mike Gordon has stepped back into his role with the club, Klopp joked "I think that it makes absolute sense that if Mike Gordon wants to say something then ask him, I have his number!"