Our series Long Distance Liverpool Love shines a light on devoted fans who grew up as a Red away from Merseyside. Here, Louis Vogel from Philadelphia shares his Liverpool FC story.
I started supporting Liverpool because…
A fraternity brother of mine at the University of Pennsylvania, James, came to the States from England and was a massive Red.
Our fraternity house had one television with cable (Direct TV at that!) and demand for the TV was high given that 30+ people were living in the house.
A compromise was reached for LFC and Philadelphia sports to reign supreme and a love affair with Steven Gerrard and all things LFC quickly progressed. I would argue my love of Liverpool Football Club was the most important thing to come out of my college education.
My fondest memory involving Liverpool is…

I had a ticket to the Champions League final against Tottenham in Madrid. My first child was due to be born on June 9, 2019.
Despite best efforts at planning, my son, James, was determined to come into the world before that final. James was born on May 30, 2019, and we returned home from the hospital for the first time as a family of three 45 minutes before kickoff.
Two minutes into the match the Reds were up 1-0 thanks to a penalty won by Sadio and converted by Mo, and the rest was history. The first sporting event I got to watch with my son was LFC being crowned Champions of Europe.
Nothing could have been better. It was written in the stars.
My typical matchday routine for the Reds is…
A matchday is a bit different stateside since league matches are normally in the morning and European ties are usually at three o'clock in the afternoon.
I will typically toss and turn a bit the night before dreaming of the match the next day. I won't say I had visions of 4-0 over Barcelona, but I had visions of 4-0 over Barcelona!

I will normally put breakfast together for my wife and sons (and by put together, I mean purchase…I am a horrible cook!) and make my way to our local to watch the Reds with the members of OLSC Philadelphia.
I can almost always be found seated on a barstool at the main bar, usually with our social media guru Gary Stanley, drinking unsweetened iced tea. Never sweetened!
What does the club mean to you?
Liverpool Football Club means community above all else.
It means being part of something in which the players, staff, and supporters work in unison to achieve a greater, common goal. The road is sometimes rocky, but it is a road on which we will never walk alone.
It is a privilege to be a small part of the greatest football club in the world.
My Liverpool dream is…

To see one of those famous European nights at Anfield.
I have been blessed to make the pilgrimage to Anfield several times, but have not yet been fortunate enough to be in the Kop for a European tie under the lights. If it could be one where we batter Madrid, all the better.
Now, let's talk about the Philadelphia Reds! Tell us more about the special members of your OLSC and what it means to you…
OLSC Philadelphia has become part of the fabric of my being. Friends, family, therapists…they fit all those titles. They are an unbelievably dedicated group of Reds.
Packed pubs throughout the Delaware Valley (OLSC Philly calls five different pubs home across the greater Philadelphia area) for 7.30 pm kicks against bottom-of-the-table sides to late season showdowns against title contenders.
OLSC Philadelphia makes every match day special. Though I am an ocean away, I can feel the passion of Anfield when I am supporting with our members.

The biggest privilege of my time as Chair of OLSC Philadelphia to date has been leading the Reds supporters into NBC's Premier League Fan Fest at Philadelphia's City Hall to songs of 'Liverpool! Liverpool!' before we triumphed over City 1-0.
We were the loudest and proudest supporters group there by some margin. The cities of Liverpool and Philadelphia are kindred spirits in many ways. I think there is something in our collective DNA that makes LFC perfect for Philly.
And if I could invite three Liverpool figures past or present to my country, they would be…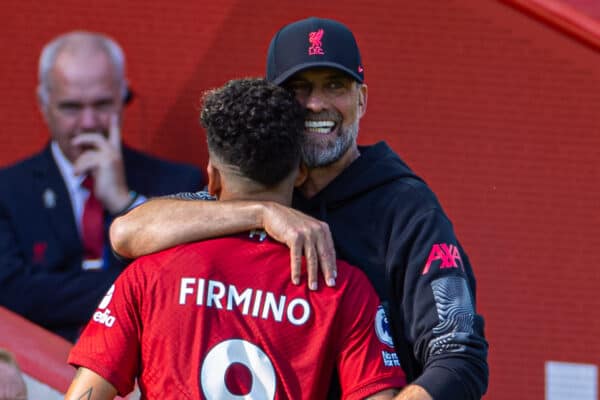 First and foremost, Jurgen Klopp. Simply to thank him. Showing him what he has meant to LFC supporters in Philadelphia and treating him to a cheesesteak would be a small way to do that.
Next, Steven Gerrard. The one who made me first fall in love with LFC. While he was in America briefly playing in MLS, I doubt he had a proper Philly visit…that is something that would need to be rectified.
Bobby Dazzler. My son James (now three) asks for the same bed time song every night – 'The Firmino Song'.
During the Klopp era – the high mark of my time as an LFC supporter – Bobby has always been my favourite. As a Bundesliga watcher, I was excited for him to come over from Hoffenheim only to be criminally misused by Brendan Rodgers. When Klopp came in, everything changed. Bobby has always been a tireless worker, unselfish, and tragically underappreciated by non-LFC fans.
He is always at the center of our most fluid attacks and a joy to watch. I am sad to see him leave at the end of the season…but what a player he has been.
---
* Thanks again to Lou for sharing his story, you can follow OLSC Philadelphia on Twitter @OLSCPhila.