Luis Diaz provided a welcome sight on Thursday after taking part in team training after a five-month absence, and his teammates are embracing the "spark" he injects.
It has been a turbulent season for Diaz with subsequent knee injuries seeing a two-month layoff turn into five, with his return to training coming ahead of the 12-game run-in.
There is conjecture over whether he will feature in the matchday squad at Man City on Saturday, with Jurgen Klopp to provide an update in his press conference on Friday (1.30pm BST).
In the meantime, Diaz is "feeling good" as his long-awaited comeback draws ever closer, to the delight of the fans and his teammates.
After arriving in January 2022, Diaz had not missed a step prior to his injury.
There is genuine excitement over his return after a lengthy layoff, with Trent Alexander-Arnold referencing the unique "spark" he can inject ahead of Liverpool's top-four race.
"He's a top player, a top lad," Alexander-Arnold told the club's official website.
"It's been a tough season for him to see him out so much. But he's back, he's back smiling, he's enjoying his football, so that's all you can ask [for].
"With a player like that, he brings enthusiasm to the team and brings a spark that not many players have. It's exciting to have him back."
There should not be any pressure placed on Diaz, despite his game-changing qualities, as a five-month absence will require time to get back up to speed.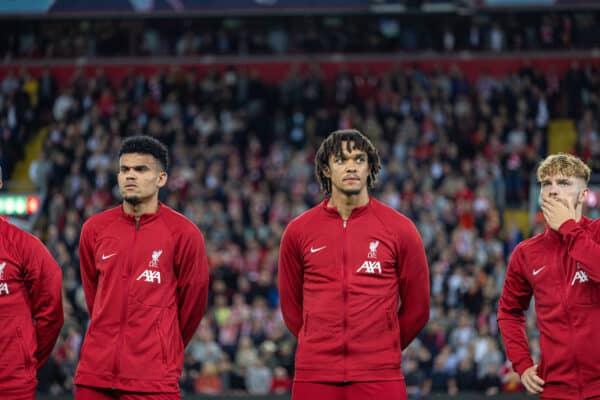 Klopp has an abundance of forward options at his disposal and anything Diaz can offer up to May ought to be seen as a bonus having missed 28 games this season, the most of any Red.
But if he can help energise the squad on and off the field, Liverpool will be better placed to reach the sole target that remains this season.