In an enlightening interview, Mo Salah named his best season for Liverpool and revealed how his teammates' teasing has helped motivate him.
Why is Salah teased in the dressing room?
Chatting with Rio Ferdinand on BT Sport, Salah revealed how Trent Alexander-Arnold and Andy Robertson help motivate him against Liverpol's rivals.
The Egyptian said: "Man United, in the first two seasons maybe, they were just saying 'you wouldn't score against us' and making fun of me.
"The players, Robbo and Trent, always try to mention that to me all the time.
"Against any players, they always do that, 'look Cancelo next game, what's he going to do to you?
"'Look, Luke Shaw, what's he going to do to you, next game?'
"It's always like that!"
How Salah gets his own back…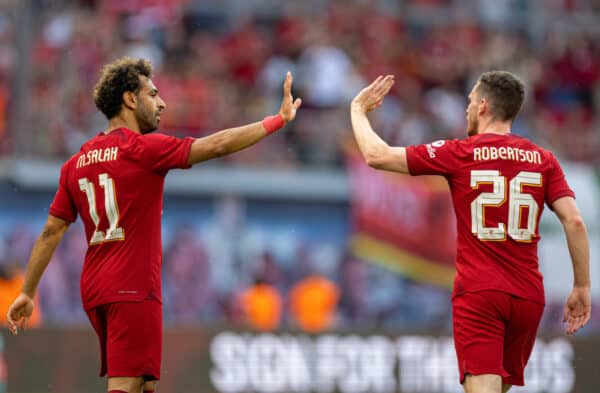 Despite Alexander-Arnold and Robertson's teasing, Salah said he still manages to get his own back on the pair.
In four of the last five seasons, the Egyptian has made over 10 assists – an impressive feat given his goalscoring numbers are also so high.
Talking about his assist tallies, Salah said: "We have a discussion with Robbo and Trent because I always tell them I have assisted more than you guys.
"But, we just have fun about it."
Healthy competition is rife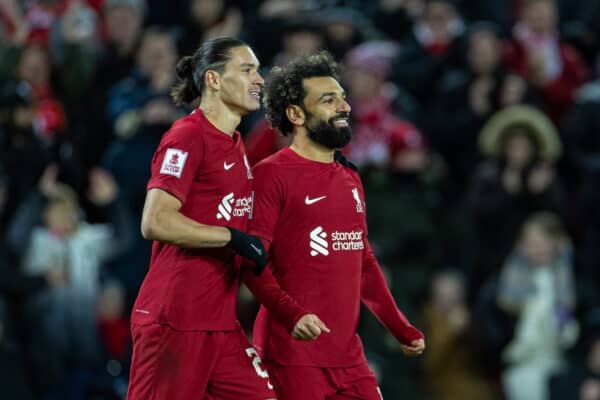 It has long been known that Salah has strived to be Liverpool and the Premier League's top scorer.
His hunger has made him one of the best in the world, but his teammates have contributed to his success too.
There has been plenty of competition among the Liverpool squad, something that has pushed the Reds on under Jurgen Klopp.
Now, there is a new crop of forwards that he must compete with at Liverpool.
Salah said: "I always need that [healthy competition with teammates] because it is something that makes me work harder. I want it more, I want to score more than anyone in the team and in the league.
"That's something that also makes me really hungry.
"I also want Darwin [Nunez] to score goals, Jota, Firmino, Lucho [Diaz] when he plays."
He is "a big-game player"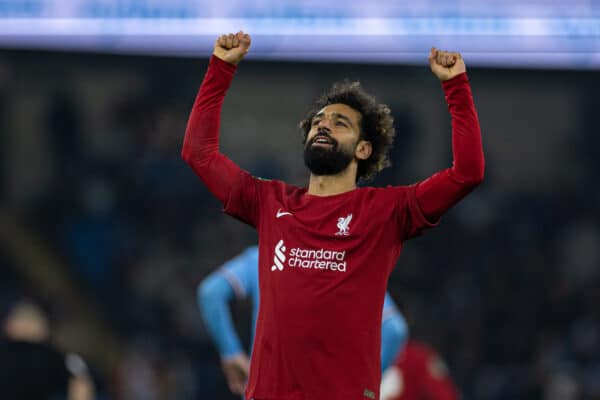 The attacker has become known for his performances on the big occasion.
Against Man United, he has scored 12 goals in 12 games, and against Man City, he has 10 in 17. His record against city rivals Everton also stands out, with five goals in nine.
His penalties scored in the Champions League final and League Cup final, have added to the notion that Salah steps up when the Reds need him most.
The No. 11 said: "I just feel like I try always to prepare myself in the big games because that's the games everybody watches in the world. I'm a big game player.
"That's why I'm so happy when I score in the big games, I always try to make a difference in the big games. I think it's working well."
2018/19 was his his best season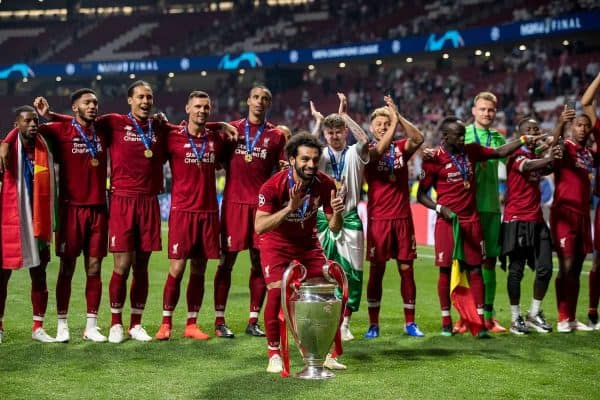 When asked which season he thought had been his best for Liverpool, Salah's immediate answer was the 2018/19 campaign in which he won the Champions League.
Salah explained his reasoning, saying: "It [the Champions League] was my biggest goal because when I was a kid, I always watched the Champions League more than the Premier League or any other league.
"The Champions League was the biggest competition at that time and I think is still. So it was my dream to win it one day and just to play, but to play and win it is unbelievable."