Chasing a top-four finish may prove to be a lost cause for Liverpool, but Jurgen Klopp can find therapy in building his next great side at Anfield.
It might well prove to be a mirage, but Liverpool's lingering hopes of gate-crashing a top-four spot that they haven't occupied all season long is doing them plenty of potential long-term favours right now.
A third Premier League win in succession for only the second time during 2022/23, away to a determined and imperilled West Ham, has huge value.
Much has rightly been made of the alterations to Trent Alexander-Arnold's role in Klopp's plans for his tentative version 2.0 of Liverpool.
But could the Scouser in our midfield really do it on a chilly Wednesday night in east London, against a focused relegation candidate armed with Moyesball?
As things panned out, yes, he could actually.

In theory, this was a fixture that had derailment written all over it for a gradually improving Liverpool.
Take their startling faceplant at home to Newcastle a few weeks ago out of the equation and April has been a decent month for West Ham.
Three Premier League victories, a stirring fightback for a point against Arsenal and still in with a shout of winning a first major trophy in 43 years, David Moyes' team were also fresh off the back of scoring four on their travels against one of their relegation rivals.
West Ham are an oddity, and we did have themes in common with them going into this game.
I've long banged the drum that most of Liverpool's problems this season have been rooted within us suffering an elongated hangover from the final week of last season.
Similar could fairly be suggested for West Ham too.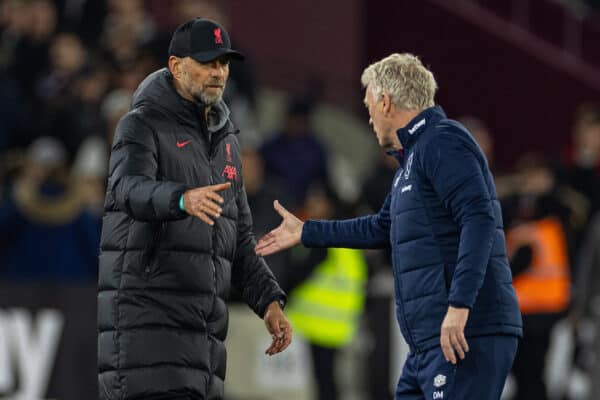 While Liverpool saw both the Premier League and Champions League trophies painfully elude them last May, two months previous West Ham were faced with Champions League qualification being a very real possibility, an upcoming trip to Southampton in the fifth round of the FA Cup and some Europa League heroics against Sevilla and Lyon upon their horizon.
Defeat at St Mary's in the FA Cup, just one Premier League win in their final 11 fixtures and the Europa League semi-final lost to Eintracht Frankfurt – in a pair of games that many of their fans erroneously felt was theirs to tip up and win – and I completely get why this season has fallen flat and been so arduous for them.
Throw all that effort and energy at something, only for it to break your heart, and it takes some serious getting over.
Like West Ham, our April has been a month, one heavy loss aside, embossed with three Premier League victories and a stirring fightback for a point against Arsenal.
It made Wednesday night an intriguing clash of teams that could be said to be in the recovery position. Two opponents who are simmering along semi-nicely, amid lingering wider doubts.

The West Ham manager is a polarising character; he always has been and always will be. The 'Moyes Out' banners are always in the boot of the car no matter what for Hammers fans.
He could deliver them their first cup since 1980, yet there will be insurrection if he's offered a new contract, only having survived the Premier League managerial merry-go-round because his board of directors couldn't find a replacement they fancied.
Across 90 minutes plus stoppage time against West Ham, we had the perfect microcosm of where we and they are, as Liverpool set the initial tempo only to fall sucker-punch to the very well-worked opening goal.
We hit back swiftly though, Cody Gakpo finishing from distance after being fed by the vision of Alexander-Arnold.
West Ham ended the first half in the ascendancy and began the second half strongly, but then Liverpool largely dictated rest of the evening, the winning goal coming from Joel Matip's thunderous intervention during a wider performance from him that many of us probably thought was a thing of the past.
In central defence, Matip's contribution was a marked one compared to the occasionally lax Virgil van Dijk, who continued with the now regular theme of his recent inconsistencies.

A careless ball here, a Liam Gallagher-style hands behind back and lean forward response to dangerous situations there, saved only by West Ham wastefulness and Jarrod Bowen going a split-second too soon.
Virgil will maybe soon be seen sporting an Adidas tracksuit top and bucket hat, telling us all to 'shi-iiiiine' etc, yet his class is too ingrained for him not to shake this current fug that is following him around.
This, despite the growing consensus that he'll never again be the colossus he was, prior to the inner working parts of his knee being rearranged by Jordan Pickford.
In more positive tones, Alexander-Arnold was the dynamo again, his style almost cramped by the introduction of Thiago – who was then at the centre of late VAR drama – while Gakpo continues to improve with each passing game.

This half-season of acclimatisation to the ways of the club will serve our new No. 18 well going into next season.
It was also good to see a 20-minute teaser trailer of him forming a front three with Mo Salah and Luis Diaz.
Six games to go, the next three of them at Anfield, Liverpool just need to keep winning, keep recovering and accept that it will lead us to wherever it leads us come the final whistle on the last day, down on the south coast.
No matter what, our gradually improving fortunes suggest that there is therapy to be found in chasing a seemingly lost cause.