After being indiscriminately attacked outside Anfield in 2018, Liverpool supporter Seán Cox is now learning to walk again as part of his recovery.
Events outside Anfield overshadowed Liverpool's Champions League semi-final first leg in 2018, with visiting Roma thugs attacking innocent supporters on Walton Breck Road.
Mr Cox, from Dunboyne outside Dublin, was the victim of a blow to the head and suffered severe brain injuries as a result.
He still can't talk properly but is receiving speech therapy twice a week, and is also continuing his recovery by learning to walk.
Five years on from the assault, Cox has begun physical therapy sessions with an exoskeleton at Dublin City University, which will help him learn to walk again.
His wife, Martina, spoke about seeing him walk for the first time. She told RTE: "It was really, really emotional to see him. Even the look on his own face was like, you know."
Mrs Cox added: "We don't know what's going to come out of this but, psychologically, it's really good for him.
Five years ago, Liverpool fan Sean Cox suffered life-changing injuries in an unprovoked attack near Anfield stadium.

He's now learning to walk with the help of an exoskeleton. @MiriamOCal met him and his wife Martina to speak about his on-going recovery.

Watch: @RTEOne, 935pm. pic.twitter.com/AcPYzPZEia

— RTÉ Prime Time (@RTE_PrimeTime) April 25, 2023
"Seán has only started on that and hopefully, he'll get a good few sessions out of that but, again, it's down to funding."
Liverpool supporters have played a big part in raising the money to support Mr Cox's rehabilitation, nearly €2 million has been raised on the Support Sean Cox GoFundMe page.
This money has gone towards therapy as well as making alterations to their home to allow him to recover and live more easily.
"It's tough, some days he mightn't be in the mood but, you know, we just kind of rally him on," Mrs Cox said.
"Seán's memory wouldn't be great, his short-term memory would not be good.
"So, I would just keep repeating, I'm probably like a broken-down record, I just repeat, repeat, repeat. And then, it gets into Seán and he'd know what's actually happening.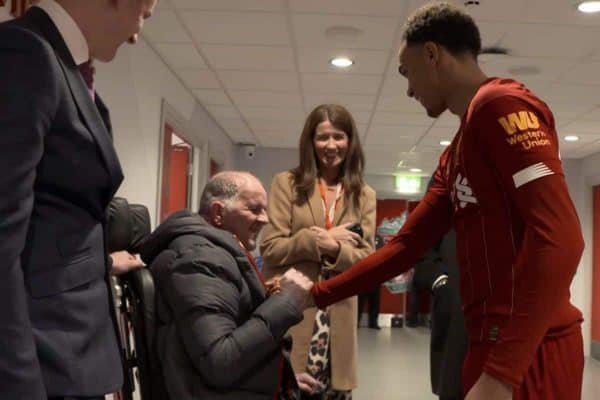 "Seán had to battle to stay alive, you know, but he is here to tell the tale."
Three Roma fans have since been jailed for the assault.
Mrs Cox added: "The three guys, they actually got home to Italy before Seán came home to Dunboyne. He was still in rehab and they had been released from prison."