Less than a month after joining Liverpool's academy, Joe Hardy found himself playing in front of a full house at Anfield. This Is Anfield caught up with the forward recently at Marine.
Interview by Sam Millne.
At 21 years old, Hardy made his professional debut for Liverpool at Anfield as he came off the bench to help his new club beat Shrewsbury in the FA Cup.
Just a month earlier he was sat in Brentford's development squad.
The start of 2020 brought Hardy a move back home to Merseyside as he transferred to Liverpool to play for the club's under-23s.
Less than a month after his arrival, with the senior squad on their winter break, the youth team were called upon to do something that the first team had failed to do a week earlier: beat Shrewsbury in the FA Cup.
Hardy came on in the 82nd minute for his first-team debut and described the night as the best moment of his career.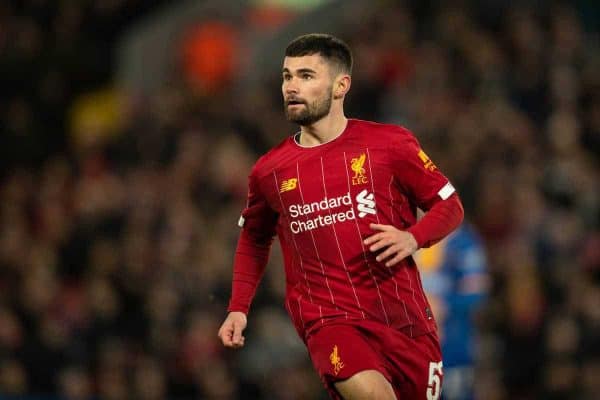 "The atmosphere was just [amazing], and it was a full crowd and it was a full Anfield," the striker tells This Is Anfield.
"The fact we only drew with Shrewsbury when the first team had played, then we managed to beat them when us lot played, was a dream scenario really."
Harvey Elliott and Curtis Jones were the most experienced names in the side that night and seven teenagers started the 1-0 win. Each player has gone on to have varying levels of success at different clubs.
Hardy has now left Liverpool, with just one first-team appearance to his name, but he has several fond memories to look back upon.
The now-24-year-old attacker has spent the second half of this season on loan from Accrington Stanley at the Crosby-based club Marine, who play in the Northern Premier League – the seventh tier of English football.
Hardy left Liverpool in the summer of 2021 but insists he has no regrets from his time playing for the Reds.

"I don't think I'd have done anything differently because I just made every second count really," he says, sitting in the glinting Crosby sun.
"It's a shame because of COVID, and I was on such a good roll and things. As soon as I got there, I got put into the spotlight a bit and then it all just got shut down for so long.
"So it was a shame, but I wouldn't regret anything that I did."
The speedy striker, who is originally from the Wirral, reflected on some of the brilliant team-mates he played alongside at Liverpool, but declared his best-ever as Phil Foden.
Hardy jokes: "I was in my under-18s and under-23s [at Man City] with Phil Foden. You don't need to put that on This Is Anfield, that won't go down too well!"
Sorry, Joe!
Elliott was another player that the forward was impressed by: "When I was there [at Liverpool], he was only 17-odd so we played in the under-23s together, and then obviously he played in the first team as well.
"But he'd do things then you'd be like 'wow, that was good', then you'd remember that he's only 17 and you're like 'right, that's really good'.
"Because, you know, when I was 17 I was doing nothing like that and I don't think anyone was really."
Interestingly, Hardy also singled out Tyler Morton for praise.

The young midfielder has spent this season on loan at Blackburn, and Hardy said of his fellow Wirralian: "I think he will [make it], yeah. He should make it in the first team, he could become a regular.
"Just the way he's so physically fit, he can run and he can cover ground, and technically he's good as well."
The attacker also spoke about his experiences with the first-team players and the words of advice that Jurgen Klopp gave him on signing for the club.
"We spoke a bit and then the new academy was built which made the under-23s the same side as the first team," explains Hardy.
"It was nothing major really, just welcoming me to the club and things and asking a few things about myself, getting to know me a bit and saying good luck for the FA Cup game because he wasn't there to watch – but he was watching on TV.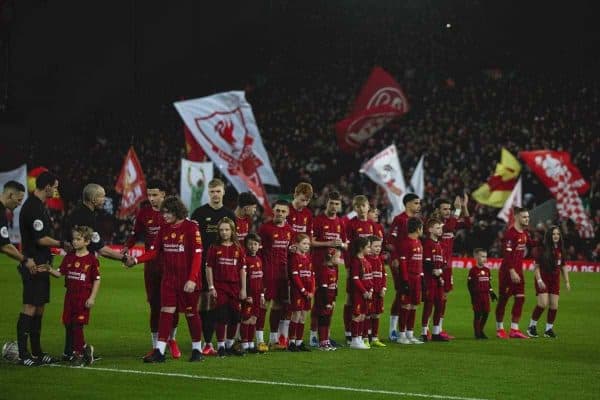 "So, I mean, I'm grateful that he wasn't [there], that he didn't want to take it, because then I got the opportunity to play!
"It was a really good moment of my career and it's good that it came so early after I joined Liverpool."
The former Liverpool man also spoke about how the new training ground in Kirkby has helped better integrate the academy and senior squad.
He noted: "You interact with them more then, because you're in and around it a bit more and things like that.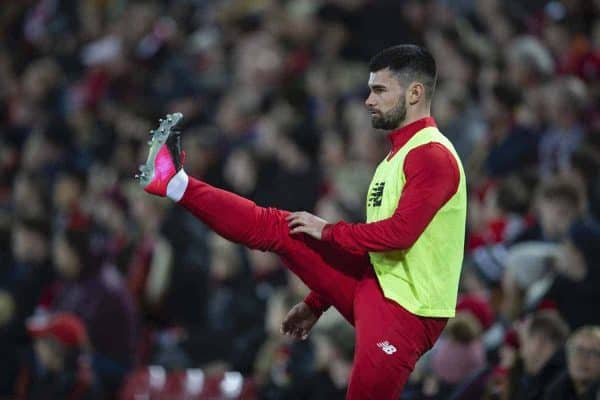 "I trained at Melwood a few times and when we moved it got a lot easier to kind of interact with them and train with them kind of things."
The striker has spent the last few months in the seventh tier of English football, but will return to Accrington Stanley for pre-season with a successful few months of football under his belt at Marine.
On what is next in his career, Hardy said he is doing as well as he can and will see "what comes for next pre-season," then kick on from there.