A bitterly disappointing season is done and dusted for Liverpool, but who came out on top in the overall ratings for the campaign?
Not many had the Reds finishing fifth in the Premier League in 2022/23, but they started poorly and fell away, with not even a strong finish enough to seal Champions League football.
Much like 2020/21, it is a season that Liverpool fans will want to forget in a hurry, and the hope is that big improvements are made next term.
A number of This Is Anfield contributors have given their marks for each player, with an overall average then worked out. Ties are decided by the number of matches played.
Here are the results…
(NB. Players must have made at least 10 appearances)
24. Naby Keita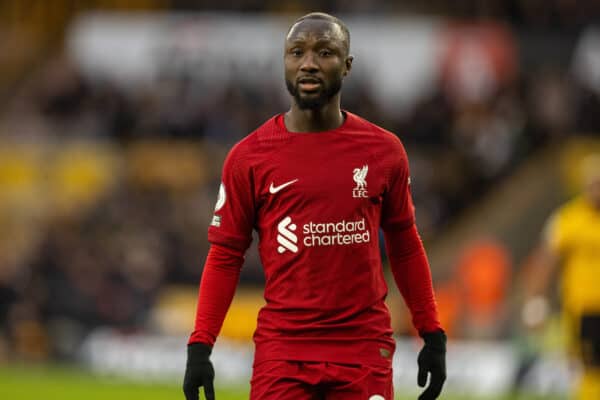 Starts (Sub): 5 (8)
Average Rating: 3.50
---
It's no great surprise to see Naby Keita at the bottom of the pile, as one of the most disappointing Liverpool careers in decades reaches its conclusion.
The Guinean has just never got going at Anfield, with injuries cruelly holding him back and too many performances lacking influence and consistency.
It is fitting that Keita ended the season on the treatment table, just like Oxlade-Chamberlain, and it is hard to think of a genuinely meaningful moment in his last year as a Reds player.
23. Alex Oxlade-Chamberlain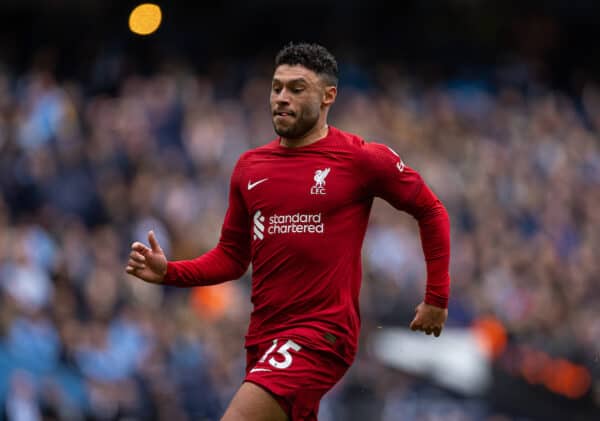 Starts (Sub): 5 (8)
Average Rating: 4.25
---
Alex Oxlade-Chamberlain has never been the same since that knee injury against Roma, even though there have been moments of quality thrown in.
His Liverpool career has ended in a whimper, in a season that led to only four league starts and nine appearances in the competition in total.
Oxlade-Chamberlain departs Liverpool as a likeable character who contributed on occasions, but a player who could have offered so much more.
22. Fabio Carvalho

Starts (Sub): 8 (13)
Average Rating: 4.50
---
Fabio Carvalho came in as a young hopeful with bags of talent last summer, but his maiden campaign at Liverpool has gone pretty badly.
His last-gasp winner at home to Newcastle in August was a clear high point, but since then, he started just four Premier League games and was largely cast aside.
Rumours of a summer exit suggest that Kloppo is unimpressed by what he has seen.
=18. Jordan Henderson

Starts (Sub): 29 (14)
Average Rating: 5.00
---
Jordan Henderson's legacy as a great servant and captain for Liverpool is undeniable, but just like Fabinho, he has had a horror show of a campaign.
While the 32-year-old's slowing legs can be excused, his lack of awareness on the pitch and ugly use of the ball were woeful at times.
It is hard to see him being anything other than a bit-part player from now on, assuming the correct midfield signings are made.
=18. Fabinho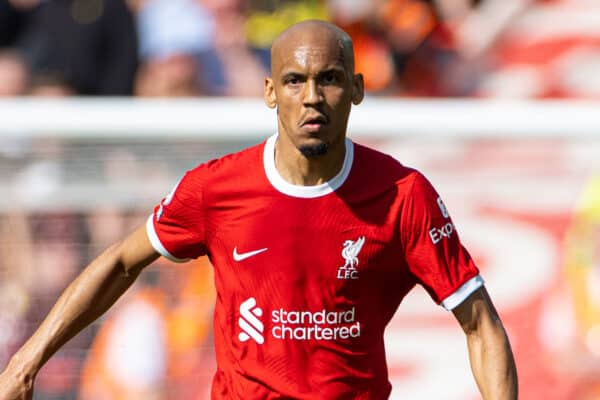 Starts (Sub): 40 (9)
Average Rating: 5.00
---
No player dropped off as dramatically as Fabinho in 2022/23, with the Brazilian going from one of Europe's best defensive midfielders to a liability at times.
Like so many, he did recover some form in the latter months of the campaign, but his pace is long gone and some performances were genuinely painful to watch.
At 29, there is still some hope that a long rest does him the world of good, but there are serious question marks about him now.
=18. Joe Gomez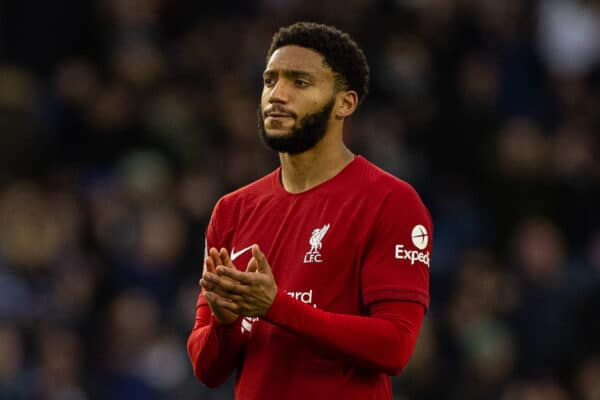 Starts (Sub): 23 (8)
Average Rating: 5.00
---
Joe Gomez and Matip almost come as a pair this season, with both producing some terrible displays at the height of the Reds' struggles.
It could simply be that a string of serious injuries have caught up with Gomez, but he looks miles from the player who did so brilliantly in the title-winning year.
Could Klopp consider accepting an offer for him this summer?
=18. Joel Matip

Starts (Sub): 17 (4)
Average Rating: 5.00
---
There was a time when Joel Matip was a shoo-in next to Van Dijk for Liverpool, but 2022/23 showed that those days are over.
The 31-year-old threw in some horrible performances, not least away to Wolves, and age appears to be catching up with him.
It wasn't all bad, but the negatives outweighed the positives.
=16. Kostas Tsimikas

Starts (Sub): 15 (13)
Average Rating: 5.25
---
There was a time when some felt that Kostas Tsimikas could even replace Robertson in no time at all – the gulf in quality is still great, though.
The Greek has been a frustrating player to watch in 2022/23, not providing enough defensive cover or attacking quality, although six assists is not a bad return.
=16. Thiago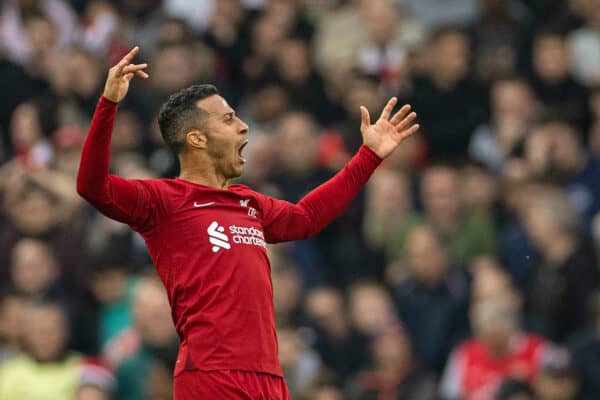 Starts (Sub): 22 (6)
Average Rating: 5.25
---
When Liverpool signed Thiago, they knew it was risky because of his injury record, and it was once again a big problem this season.
When fit, he is the best midfielder at the club, dictating games and producing passes that many can't even see, but it's no good having him unavailable so often.
His performances sometimes left plenty to be desired when he was fit, too, with his lack of legs playing a part in the Reds' midfield being run through at will.
=14. James Milner

Starts (Sub): 12 (31)
Average Rating: 5.75
---
James Milner clearly isn't the player he once was – he is 37, after all! – but he was fairly blameless compared to many in 2022/23.
He was limited, without question, but he did an adequate job given his limitations nowadays and slotted in across various positions.
Milner leaves as an undisputed Liverpool legend, and possibly the best free transfer in the club's history.
=14. Virgil van Dijk

Starts (Sub): 41 (0)
Average Rating: 5.75
---
For the first time ever in a Liverpool shirt, Virgil van Dijk has looked human!
The 31-year-old was poor by his absolute world-class standards, lacking focus too often and looking slightly slower, but he did end the season in improved form.
To be honest, he was still playing better than most centre-backs a lot of the time, but we've come to expect nine or 10-out-of-10 performances every week from him.
=11. Darwin Nunez

Starts (Sub): 26 (16)
Average Rating: 6.00
---
Darwin Nunez has been one of the most closely-analysed players this season, with some criticism proving incredibly harsh, despite an underwhelming first year on Merseyside.
Granted, the Uruguayan has looked extremely raw at times, with Gakpo slotting in more seamlessly in less time, but he has still netted 15 times and has been a threat with his speed and unpredictability.
Improvements are certainly needed, though, or Nunez will struggle to be a regular part of Klopp's strongest XI.
=11. Andy Robertson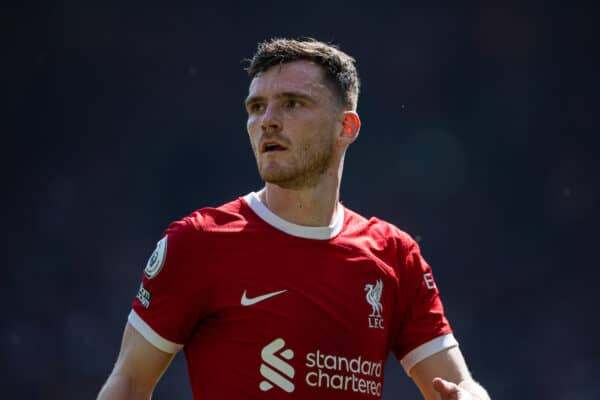 Starts (Sub): 37 (6)
Average Rating: 6.00
---
This was a long way from Andy Robertson's best year in a Liverpool shirt, but he was still generally solid on the whole.
Defensively, he did his job well in general, but there was a lack of attacking impetus, as highlighted by his failure to score a single goal.
Quite how Robertson adapts to his own role being changed, in order to accommodate Trent, remains to be seen.
=11. Trent Alexander-Arnold

Starts (Sub): 44 (3)
Average Rating: 6.00
---
From being possibly Liverpool's worst player at one point in the season – some of his defending and effort levels were shambolic – Trent Alexander-Arnold finished it in a sublime run of form.
Klopp's decision to tweak his role and allow him to roam into midfield was inspired, with seven assists recorded from April onwards.
The question is: do Liverpool continue to use him that way moving forward?
10. Luis Diaz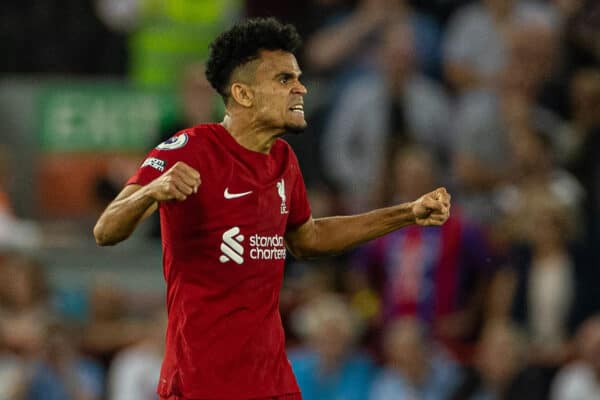 Starts (Sub): 15 (6)
Average Rating: 6.50
---
Many felt that Luis Diaz could be Liverpool's star man back in August, but his campaign was cruelly disrupted by a bad knee injury.
The Colombian stood out as one of the Reds' best players before that setback, scoring a superb individual effort at home to Crystal Palace, but he has understandably struggled since returning.
Could 2023/24 be the one that really sees Diaz explode?
=7. Roberto Firmino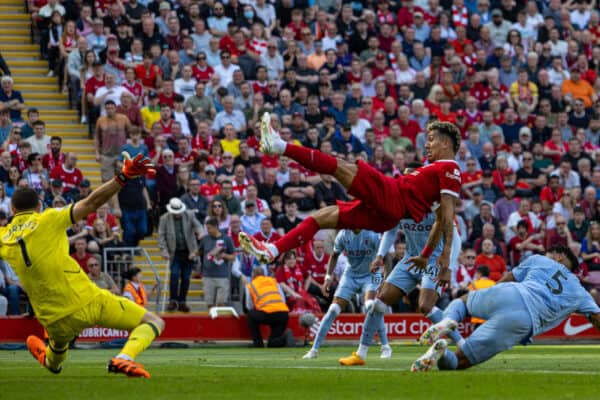 Starts (Sub): 18 (17)
Average Rating: 6.75
---
Roberto Firmino is one of the greatest players of the Klopp era and it was fitting to see him bow out with goals in both his final Anfield game and last-ever Reds appearance.
In truth, we haven't seen absolute peak Firmino for a number of years now – arguably since the title-winning season – but he still chipped in with 13 goals and five assists.
Bobby is going to be missed greatly.
=7. Harvey Elliott

Starts (Sub): 25 (21)
Average Rating: 6.75
---
Harvey Elliott's season was almost the opposite of Jones', in many ways, starting it well but ending it as something of a forgotten man.
It is easy to forget that he is still only 20, though, and five goals and two assists is a solid return, having often been used in midfield.
The hardest thing with Elliott is where to play him moving forward, considering he lacks dynamism in the middle of the park and pace out in Salah's right-sided role.
7. Curtis Jones

Starts (Sub): 13 (10)
Average Rating: 6.75
---
From being questioned left, right and centre, due to both fitness issues and forgettable performance, Curtis Jones finished the season with his stock arguably never higher.
The 22-year-old benefited greatly from a run in the team, starting 11 matches in April and May combined, and he chipped in with three goals in that time for good measure.
Jones still needs to be seen as a squad player once new midfield signings are made, but he has the physicality and natural talent to be a handy figure for years to come.
=4. Stefan Bajcetic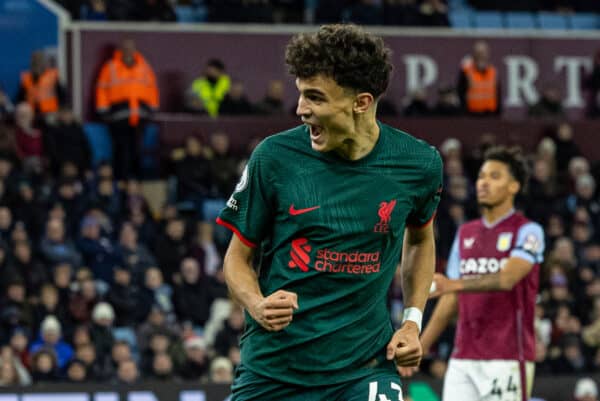 Starts (Sub): 11 (8)
Average Rating: 7.00
---
There haven't been many feel-good stories in 2022/23, but the emergence of Stefan Bajcetic was certainly one, as he showcased why he is so highly thought of at Anfield.
His goal at Aston Villa was a delightful moment, and he produced numerous composed and mature performances in midfield, showing up far more experienced teammates.
Bajcetic still needs to be managed carefully – anyone expecting regular starts next season will likely be disappointed – but he is a huge talent.
=4. Diogo Jota

Starts (Sub): 15 (13)
Average Rating: 7.00
---
One of many injury-hit individuals, Diogo Jota went from being mocked about his goal drought to finishing the season in explosive form.
Once he broke his duck away to Leeds in April, he went on to score another six goals, netting Liverpool's final goal of the campaign.
Jota isn't always the easiest on the eye, but he is such an effective player and arguably the best finisher the Reds have, Salah included.
=4. Ibrahima Konate

Starts (Sub): 23 (1)
Average Rating: 7.00
---
Ibrahima Konate was Liverpool's best centre-back in 2022/23 – it's just a shame that injuries limited him to only 23 starts overall.
The Frenchman's pace, power and reading of play all stood out, as he outperformed even Virgil van Dijk, and while mistakes were thrown in now and again, he enjoyed a good campaign compared to others.
3. Cody Gakpo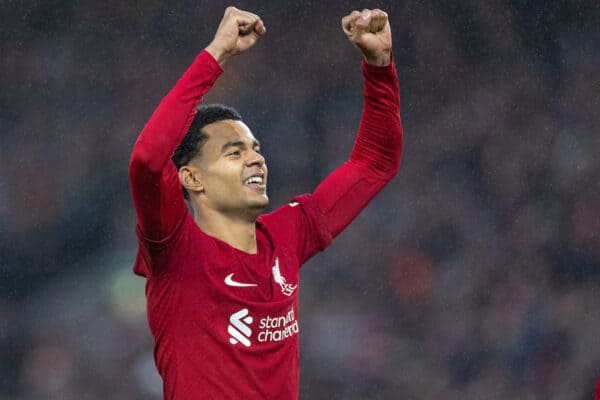 Starts (Sub): 22 (4)
Average Rating: 7.25
---
It says a lot about so many others that Cody Gakpo is third in the ratings, considering he only arrived in the January transfer window.
In his short time at Anfield, however, he has increasingly looked the part, leading the line in Roberto Firmino-esque fashion and scoring twice in the iconic 7-0 win over Man United.
Expect him to go up another level next season.
2. Mohamed Salah

Starts (Sub): 48 (3)
Average Rating: 7.75
---
In terms of outfield players, Mohamed Salah stood out from the rest, scoring 30 goals and registering 16 assists, despite this apparently being a 'poor' season for him.
That just shows the standards that he sets these days, and without his vast input, you wonder where on earth Liverpool would have finished.
Salah can play better, of course, but that just highlights how special he is.
1. Alisson

Starts (Sub): 47 (0)
Average Rating: 9
---
Has there been a more one-sided Player of the Year race during Klopp's tenure at Liverpool?
While so many around him floundered, Alisson was magnificent all season, making key one-on-one saves, providing great distribution and rarely falling below his best level.
Sure, there was the odd error, but this was a year that saw Alisson again show why he is the world's best goalkeeper.