It is to be an emotional day at Anfield as four Reds bid farewell, and Jordan Henderson has penned each a touching tribute for their contribution to the club.
Roberto Firmino, James Milner, Alex Oxlade-Chamberlain and Naby Keita will all depart Liverpool at the end of the season, all leaving with winner's medals in their possession.
Their journeys have not all been the same but they each will, rightly, be celebrated. Henderson has made sure to use his programme notes to hail "players who will rightly be regarded as Liverpool icons for generations to come."

The captain had touching words for each of the departing quartet, and we will start with the key messages in his tribute to our No. 9:
"I think I can speak for all of the players when I say that to have had the opportunity to play alongside this guy has been a privilege. He's unique. There's no reference point when it comes to comparing Bobby. There's never been anyone quite like him and I doubt there ever will be again. To be that talented, have that much skill and then to work as hard and smart as he does, is remarkable."
"Humility in professional football is just as important as humility in life. The way Bobby plays, the selflessness of it, is what makes him so, so special.

"To have that much magic and ability and still sacrifice yourself for your team… honestly, for any young player wanting to be a forward, he is the benchmark. He's not afraid to express himself and do all the tricks but at the same time makes sure he earns that right by doing the non-spectacular things also. His status as an all-time Liverpool great is secured."
"His name will be sung at Anfield for decades, I'm sure, in the same way fans still celebrate players like Sir Kenny Dalglish and Ian Rush. It's going to be so strange coming into work next season and him not being here."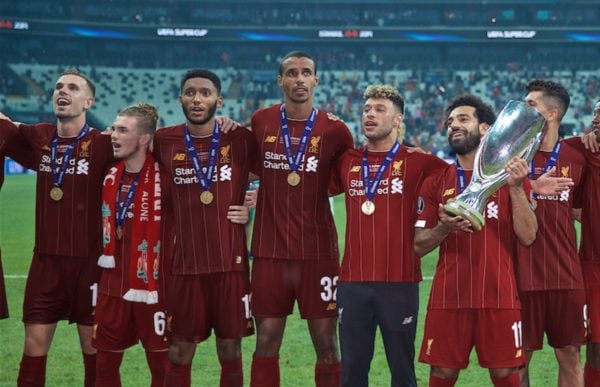 For Oxlade-Chamberlain, there were emphatic words for a team-mate who he has seen handed more than one "cruel" setback – but who is now "in the shape of his life:"
"I know the last couple of seasons will have been tough for Ox, in terms of not getting as many minutes as he will have wanted. Nothing can diminish the role he has played in this club's rise and resurgence, though."
"In my opinion that season was the springboard for the silverware that was to follow. For me, Ox was the best attacking midfielder in Europe going into the semi-finals of the Champions League that campaign (2017/18). I don't want to dwell on the injury, but of course it was a setback which was cruel for him and the team. But make no mistake, Ox came back in unreal shape and had massive moments in the seasons we were at our best."
"I want to make this point because I think it is critical that people outside of our intimate work environment understand it: Ox is currently in the shape of his life and whoever gets him next has won the lottery. He's been fit and one of our standout players in training consistently for the past two seasons.

"Being honest, I'm buzzing for Ox but gutted he gets the chance to have a fresh start somewhere else. What I felt back on summer transfer deadline night in 2017 still applies now: the guy is dynamite. What a player."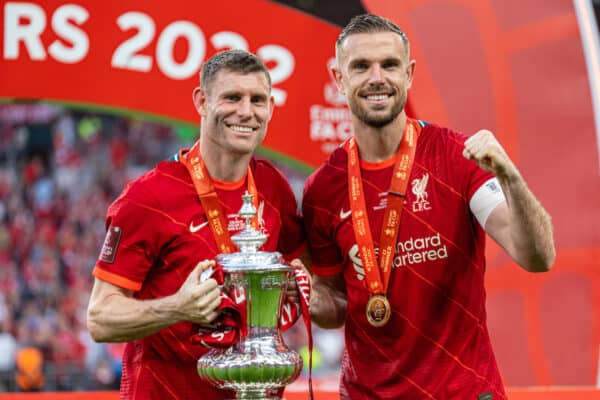 As for the vice-captain, Henderson was not short on praise, and that included noting Jurgen Klopp's desire to keep him at the club such is his influence on and off the pitch:
"It's a well-told story now but the night we became European champions in Madrid in 2019 I did try to persuade him to join me in lifting the trophy. The reply was two words, the second one being 'off!'

"The reason I wanted to share that moment with him still stands to this day. Trying to get him to do it with me was a fool's errand, but the guy has been – and still is – the beating heart of our team. All the things I'm going to say now I have said before, but they are important to repeat.

"He sets the standards. He's relentless. He makes everything about the collective ahead of the individual. He is the embodiment of the values a successful team needs to have. He's all of this and more because he's also an exceptionally gifted footballer."
"One final point on Millie: the manager was keen for him to stay and that tells you everything you need to know. With him, age is just a number. His physical condition is outrageous. I don't know where he goes next, but he still belongs at the highest level. His remarkable story still has a few more chapters to be written. It'll be strange for us to see them penned elsewhere."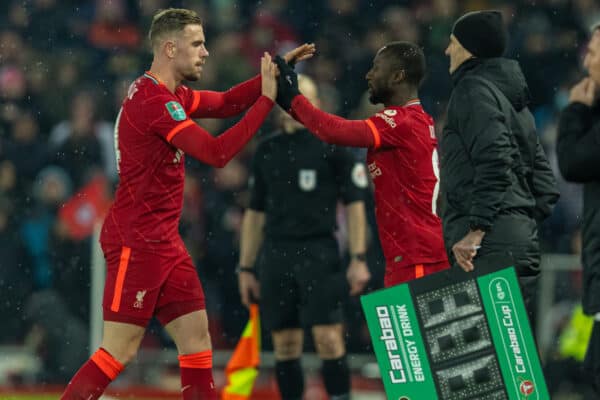 Finally, Henderson lauded the quality of Naby Keita as he lamented the frustrating injuries that robbed him of the opportunity to make a greater contribution:
"Naby Keita is a cult figure with our fans and I can tell you the affection for him in the dressing room is just as big. His smile lights up the AXA Training Centre. As a person he is extremely humble and gentle. As a player he is one of the most technically gifted I have ever trained with. His quality is a joke.

"I'm sure there'll be some who look at his period here and be frustrated on his behalf that injuries denied him more minutes on the pitch than his talent deserved, but his contribution is there for all to see: big moments in big games.

"Seasons are decided in some of these moments and Naby can look back with great pride for his achievements here. We're going to miss him and I know he'll have a huge impact wherever he goes next."
A classy tribute to all four departing Reds. The emotions are already running high!