Two years have passed since an inexplicable Alisson header salvaged Liverpool's hopes of Champions League qualification, a moment he admits to seeing on an almost weekly basis.
The Brazilian made his way up for a 94th-minute corner against West Brom in May 2021 and steered home a Trent Alexander-Arnold corner to snatch all three points at the death.
It kept dreams of a top-four finish alive and the Reds eventually went on to come third following a victory over Crystal Palace on the final day of the campaign.
Alisson reflected on the "crazy" moment in a recent interview and confessed to regularly seeing the footage even to this day on social media.
"A lot of times when I look on Twitter for news, it appears in my timeline, that goal. I don't remember when exactly, but this week I watched it already," he told Paul Joyce of The Times.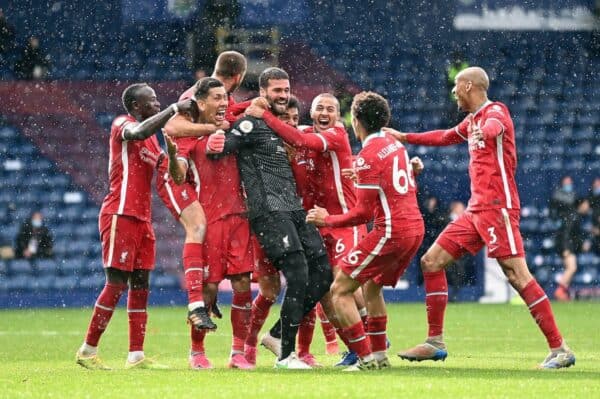 "It's good. It made me feel good. It makes me think how crazy it is that I scored a goal."
It was a moment that will live long in the memory of Liverpool fans and one that ultimately kicked off a run that ended with a Champions League final in Paris 12 months later.
The Reds currently find themselves needing a similar piece of magic from somewhere if they are to qualify for Europe's elite club competition for the seventh successive season.
While clearly immensely proud of his moment at The Hawthorns, Alisson insisted that he hopes he won't be required to find the net again to save his team at the other end.
"[This season] has similar challenges, many injuries to important players, and that season it was really because of the effort that we could achieve things," Liverpool's No. 1 continued.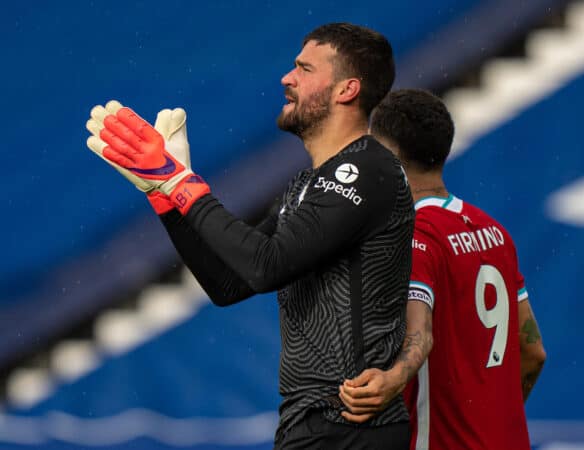 "We weren't playing brilliantly then, and now we are playing really good, if you see the last six games we won. I know now I can head a ball in a good way, but hopefully we are not going to need it again!"
Following seven straight wins, Liverpool have put themselves in fifth spot and within striking distance of Newcastle and Man United above them.
Jurgen Klopp's side require wins in their last two fixtures against Aston Villa and Southampton, along with favours from elsewhere, to complete another unlikely comeback.