Liverpool FC will return to Singapore for their pre-season tour this summer, with Jurgen Klopp's side playing two games in Asia.
The Reds will face Leicester City and German giants Bayern Munich, as part of the 'Singapore Festival of Football'.
First up will be Dean Smith's Leicester at the National Stadium in Singapore on Sunday, 30 July when LFC will defend the 'Standard Chartered Singapore Trophy', which they won against Crystal Palace on last year's pre-season tour.
It will be followed three days later with a clash against a Thomas Tuchel-managed Bayern Munich at the same venue, on Wednesday, 2 August. The winner will walk away with the Singapore Trophy, presented by Audi and Standard Chartered Bank.
The Reds will take part in an opening training session for fans at the National Stadium in Singapore on Saturday, 29 July. The club will also take an active part in a number of key local community projects and cultural activities while in Singapore.
The Singapore trip will arrive after a training camp in Germany, in Donaueschingen in the Black Forest – where Klopp grew up.
A potential date against Karlsruher SC, to open the 2. Bundesliga club's new stadium, is pencilled in but yet to be confirmed.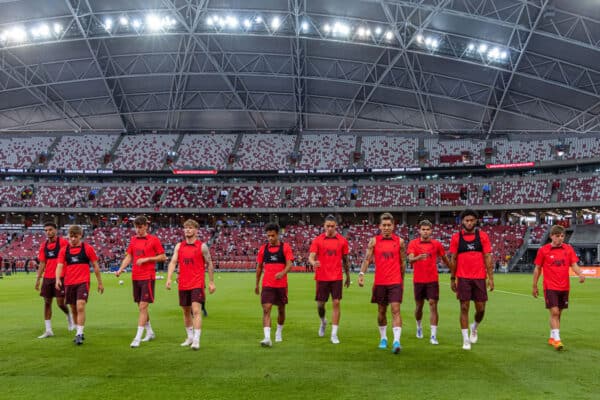 Klopp has warned his players that this summer "must be different" to last.
"It was never a perfect pre-season," he said. "But it's not the reason for our season now. This year must be different.
"We have to step up. And we have to prepare that in the pre-season and that's why I want them back together as quick as somehow possible, respecting the necessity of holidays.
"I know that and I respect that and I want them to go on holiday for as long as possible but for this year we have to make sure we are together as soon as possible and can go from there."
The new Premier League season begins on August 12, with Liverpool having requested to play the first match away from home due to the ongoing redevelopment of the Anfield Road End.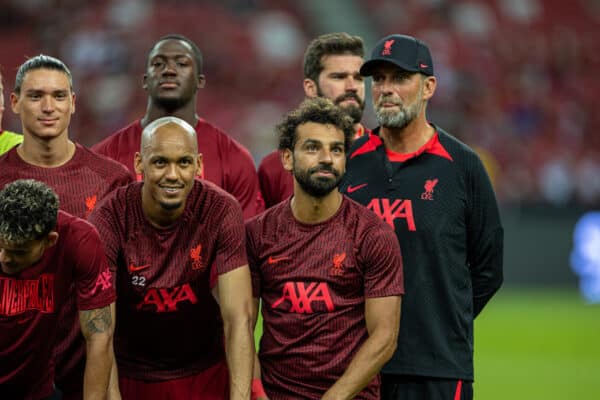 On the Singapore trip, Ben Latty, Liverpool's commercial director, said: "We're tremendously excited to be heading back to Singapore for this summer's pre-season tour.
"We were so impressed with the welcome and the facilities – from the training ground to the stadium and the infrastructure last year – that when the chance to return came up we jumped at it.
"Pre-season is hugely important to us for a number of reasons, it's a chance for fans who may never get the opportunity to come to Anfield to see their idols, and for the team to prepare for the season ahead. In Singapore, almost a fifth of the population identify as Liverpool FC fans, which is amazing, and we can't wait meet them again.
"Singapore is an easily accessible travel hub for LFC fans across the region to reach. It is also strategically important for a number of our partners, including our principal partner Standard Chartered Bank, who we were delighted to renew our relationship with for a further four years when we visited Singapore last year."
There will be a pre-sale offer for LFC Official Members, season ticket holders, Official Liverpool Supporters Clubs and International Academies, which will open from 10am (Singapore time) on Wednesday 17 May; relevant parties will be contacted directly by the club.
Tickets will go on general sale to the public from 10am (Singapore time) on Monday 22 May.
---
LFC Pre-Season 2023
8 July: Non-international players return
11 July: International players return
15 July: Germany training camp
30 July: vs. Leicester (Singapore)
2 August: vs. Bayern Munich (Singapore)
12 August: New PL season begins