It's an often-used cliche, that Anfield's roof came off, usually heard in moments like Steven Gerrard's Olympiakos goal, full-time against Chelsea in 2005, or after Divock Origi made it 4-0 against Barcelona.
But later this month the roof really will come off at Anfield, as Liverpool's home enters the final stage of its redevelopment.
When the Reds' 2022/23 final home game, against Aston Villa, ends on May 20, the club have 24 hours before the cranes move in and the existing roof of the Anfield Road Stand begins to be demolished.
It's a process the same as the summer of 2016 when the old Main Stand was ripped out internally, its roof removed and the old stand connected to the new stand to add almost 10,000 extra seats to Anfield's capacity.
This time, the new upper tier of the Anfield Road Stand will add 7,000 more seats, taking the overall capacity to around 61,000 – with the potential for a few extra seats once the steel is removed that currently connects the existing roof at either end to the Main Stand and Sir Kenny Dalglish Stand.

The work, which began in September 2021, has been going on impressively behind the scenes, not impacting Anfield's capacity.
Everything is on schedule, contrary to some social media claims, and Liverpool anticipate playing their first home game of 2023/24 in front of the completed new stand.
The Reds have requested to the Premier League that their opening game of the season be played away from Anfield to give an extra week, especially as cranes will have been on the pitch for the roof removal in June.
There will not be any pre-season friendlies at Anfield due to the work taking place. A 'test' event will be required, but this will be more similar to with the Main Stand when the women's team and academy players took part in an open training session.
This Is Anfield were part of a small group of journalists who were invited to take a look inside the new stand ahead of the big activity later this month.

Above image shows what will be the entrance to the new under-cover fan zone area. Two large access points will allow fans to enter what will be a large space with food and drinks outlets (design pictured below).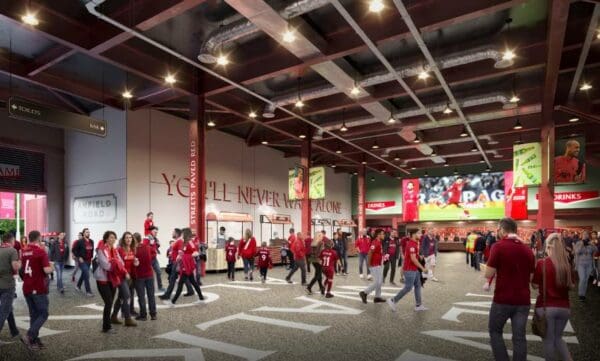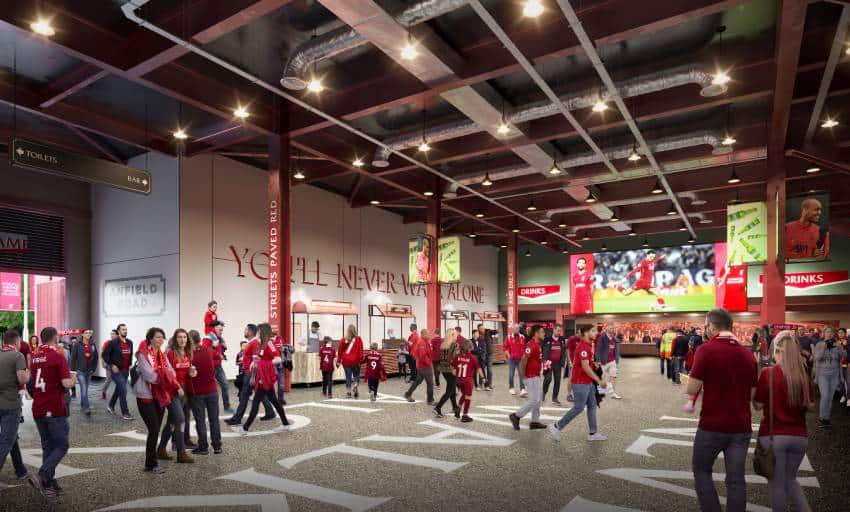 These images show the internal work to fit out the new kiosks, bars, hospitality areas and internal concourses.

One of the improvements for supporters will be those visiting in the Lower Anfield Road Stand will have much larger concourses and improved facilities, much like the Main Stand.

And below are images showing the view from the new Upper Anfield Road Stand at present, before the existing roof is removed.




The new stand will offer superb views out over Stanley Park, as seen below.

Anfield Road Stand Expansion Facts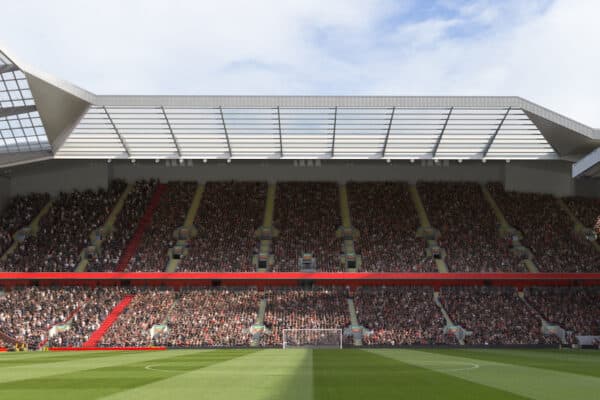 On schedule to be complete for first home game of 2023/24
Anfield's new overall capacity will provisionally be 61,015
Expanded Anfield Road Stand will hold 15,967 supporters
1,000 new season tickets and 3,000 general admission
New young adults section in the lower tier
Estimated cost of £80 million