Jurgen Klopp has described his side's form earlier this season as a "crisis" but insists that the Reds have now come safely through the other side.
Liverpool are currently on a run of five straight wins after picking up another three points at home to Fulham on Wednesday, but it hasn't always been smooth sailing for Klopp's side in this campaign.
3-0 defeats away at Brighton and Wolves are among a number of poor results away from Anfield this season, with occasional flashes of brilliance coming in thrashings of Man United, Bournemouth, Rangers and Leeds.
Inconsistency has plagued Liverpool throughout 2022/23, but the manager believes that the team have now weathered the storm and are ready to get back to their flamboyant best.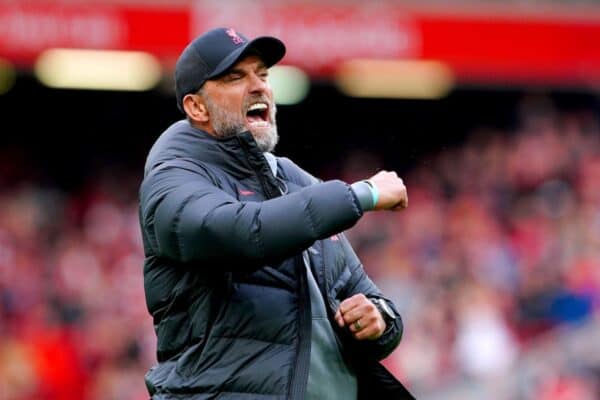 "It is, was, a very difficult season for us, that's the truth. Of course, we all feel better now after winning a few games, it's the biggest mood changer in the world of football," Klopp told Sky Sports.
"The way you behave in a crisis defines what you will be after the crisis. I thought we went through okay, nothing between me and the players, the club, nothing. We knew we are responsible for it but we have to solve it together."
The boss was speaking ahead of Saturday's visit of Brentford, where the Reds are looking to make it six wins from six as they aim for a strong finish to the campaign and a European spot.

He continued by hailing his "really good group" and talking about the admiration he holds for his players, while simultaneously admitting that changes will be needed this summer.
"I love this team, honestly. It's a really good group. Yes, we will change slightly, but the basis is absolutely great," he said.
"Age-wise the basis is great, up front, last line, in midfield we have super young talents as well and there's everything there you need to have a really positive and optimistic view of it."
The Reds have just four games of their Premier League season remaining and while Champions League qualification looks unlikely there certainly appears to be a wave of momentum hitting Liverpool ahead of the summer.