Jamie Carragher has had his say on comparisons between Kevin De Bruyne and Steven Gerrard after the Man City midfielder's equaliser against Real Madrid in the Champions League semi-final.
De Bruyne received yet more plaudits after his thunderous strike levelled the scoring in Man City's first leg tie against the European champions, prompting widespread debate about his place among the era's great midfielders.
The Belgian has lifted four Premier League titles during his time in England and possesses a vast collection of domestic medals, but is still yet to get his hands on club football's biggest prize.
Gerrard of course inspired Liverpool's historic second half comeback against AC Milan in Istanbul almost 18 years ago and his former teammate believes that De Bruyne must do something similar if he is to cement his name alongside names like Gerrard's.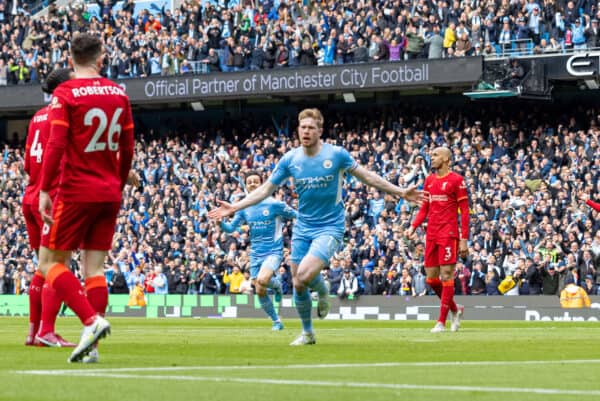 "If he could be the man who takes them to the Champions League, the treble, it elevates him," Carragher said while on punditry duty for CBS after the game.
"We're not questioning his ability, but in terms of where we rank players, we always judge players in the biggest moments in the biggest tournaments."
Carragher was joined on CBS by Micah Richards and the ex-Man City defender asked for Carragher's opinion on whether De Bruyne's performances and achievements have seen him surpass Gerrard.
"Stevie's got that Istanbul moment, that's what I'm talking about," responded Carragher.

"It's one game but it's that moment that you can't ever take out of your mind when you think of Steven Gerrard. We still haven't got that one moment for Kevin De Bruyne at the absolute highest level.
"This season could be the season."
It is hard to question the quality that Kevin De Bruyne has consistently displayed in a Man City shirt since arriving at the Etihad in 2015, but we know where our loyalties lie in this one!
Carragher has consistently backed his former colleague and friend when Gerrard's name is brought into any comparisons with other midfielders, a theme that continued during the coverage on CBS after Man City's trip to Madrid.
With the final returning to the Ataturk Stadium next month, let's hope De Bruyne is made to wait a little bit longer for an "Istanbul moment" of his own.