It was another lively encounter at Anfield as Liverpool threw away a three-goal lead against Tottenham before snatching all three points at the death.
In a blistering start, Liverpool got themselves 3-0 in front inside 15 minutes as goals from Curtis Jones, Luis Diaz and Mohamed Salah appeared to take the game away from Spurs.
Tottenham somehow clawed their way back and looked to have earned a point when Richarlison headed home in injury time, only for Diogo Jota to pounce on a mistake from Lucas Moura and fire home the late winner.
Here, Adam Beattie (@beatts94) and Henry Jackson (@HenryJackson87) dissect a frantic affair at Anfield.
Another whirlwind of an afternoon! We'll get the negatives out the way first – how frustrating was it to allow Spurs back into the game like that?

HENRY: It was just so typical of this season, quite frankly. I wasn't even surprised, which is damning!
In the past, we would have just killed the game dead and never given them a sniff, but you could feel the sloppy play creeping in.
Alisson and Robertson were particularly guilty of taking too long on the ball.
Richardson's equaliser also felt so incredibly predictable – you could sense it happening the moment he came on – which also highlights how us fans have lost faith in Liverpool's mentality.
I wasn't frustrated and was instead almost numb to it, which I think makes it worse!
ADAM: I was absolutely livid with them for giving Tottenham enough encouragement to get themselves back into it.
That first 20 minutes was up there with one of the worst away displays I've seen at Anfield, their confidence looked completely shot following the hammering they took at Newcastle and somehow we let them build enough belief to pull it back.
In a lot of ways it was a game that encapsulated the whole season, is the sloppiness a concern or were you just happy to get the win however it came?

ADAM: At this stage of the season you just want to keep winning and worry about the rest later, but forwards like Kane and Son are always going to punish you if you switch off and we need to kick that habit quickly.
It is worth saying that we were brilliant and clinical for the first 20 minutes and I hope that they take something from that, even though it feels like another lifetime now!
We didn't need to get ourselves embroiled in a thriller but when have Liverpool ever done things the easy way?
HENRY: As I said above, it really was this season summed up in 90 minutes, with a mix of great, good, bad and appalling all on show.
To be honest, I do think these players have reached the stage where they just need the summer and a refresh – I fully expect them to be a different animal next season.
For that reason, the sloppiness doesn't concern me too much, even though it is clearly frustrating to see so many of these great players doing daft things too often.
Van Dijk has gone from utterly faultless for about four years to looking error-prone and far too laid-back for his own good.
A huge moment at the end, how good did that winner feel?

HENRY: Frankly, I couldn't believe what I was seeing. At that point, I was resigned to Liverpool throwing it away along with, officially, the top four.
I'm not sure if I celebrated or just let out a weird scream.
What a finish by Jota, though. He made it look so easy, but if you watch it back, the anticipation to read the back pass, then the touch and finish, are perfect.
He is 'clutch' in those situations, to use a saying I generally hate!
You can't beat a stoppage-time winner in front of the Kop and the way the crowd went off was memorable, especially having just seen Richarlison score and produce that embarrassment of a celebration.
ADAM: Despite everything I've just said, it is the best way to win a football match, isn't it?
The thought of Richarlison getting the decisive goal made for an absolutely dreadful 50 seconds, but thankfully we didn't have to live with that prospect for too long.
Like you said, last-minute winners are what we're in it for as football fans, and even though it should never have come to that I'm not sure I'd trade that moment in the ground for a routine 4-0 win.
Who was Man of the Match for you?

HENRY: I would say Trent was the standout for me – he looks like he's loving that new role.
He strutted around looking like he was the most talented player on the pitch and he simply sees passes that most footballers can't dream of producing.
Granted, the space left at right-back became an issue and is a clear problem with this tactical tweak, but I thought he was great at times.
Diaz was also brilliant in the first half – he waned as the minutes passed – Jones produced another encouraging Wijnaldum-esque display and took his goal well, while Salah was always dangerous and looking to make things happen.

ADAM: I feel like I'm saying this every week at the moment but I also thought Trent was superb again, particularly in the first half.
It is a breath of fresh air seeing him playing with this much freedom and the scary thing is he is probably going to continue to get better the more he gets to grips with the position.
Jones also looked sharp again, he's really seizing this opportunity and it is great to see.
I wouldn't have any qualms with him keeping his place for the rest of the season.
Four wins in a row then, do you think we can keep this up all the way to the end?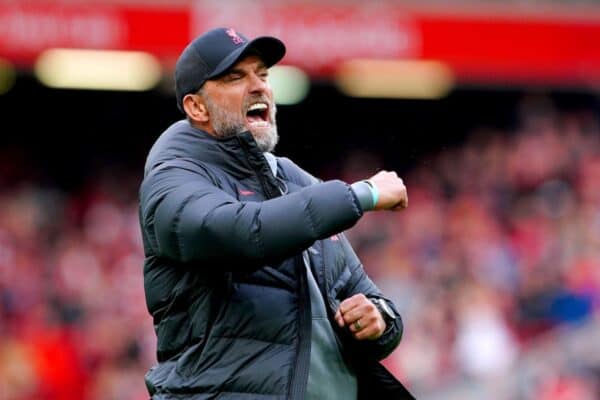 ADAM: If we are going to win the last nine then I'd say we have done the hard part of that now.
We definitely need to stop doing daft things if we are going to continue this run, but it is pleasing to at least see us responding to adversity more positively than we were doing earlier in the season.
Ultimately nine wins are still unlikely to be enough to get us where we want to be, but it would be a huge step in the right direction heading into next season.
HENRY: I actually think we could win every remaining game, mainly because it is a nice-looking run of fixtures, rather than because we're playing particularly brilliantly.
Liverpool have certainly found some rhythm in recent weeks, and energy levels have improved, so the aim has to be to win the lot and see what happens.
The injuries have also eased, which allows for rotation and a strong bench.
I think they will achieve that goal and we'll have those lovely Thursday nights to look forward to next season! Oh well, at least the final is in Dublin…