Such was their frustration at two major VAR calls going against them in the 1-1 draw with Aston Villa, Liverpool have asked PGMOL for an explanation.
With two points dropped at Anfield on Saturday, the Reds saw their hopes of finishing in the top four all but vanish.
It came under frustrating circumstances, too, as Cody Gakpo was denied a goal due to a bizarre offside call while Villa defender Tyrone Mings avoided a red card for a high boot on the Dutchman.
There was another oversight from referee John Brooks and his VAR, too, with Jordan Henderson fouled in the box in the first half.
As widely reported on Monday evening, including in the Guardian, Liverpool have now contacted the professional referees' body PGMOL for an explanation.
PGMOL is now led by former Premier League referee Howard Webb, who has worked to show more transparency in decisions, including accepting fault when necessary.
Why didn't VAR show the referee this angle? It's quite clear and obvious that Konsa attempts to clear the ball to stop it going to Konate. I'm not having the deflection shout – and can't understand how the referee found a way to disallow Gakpo's goal! #baffling #var #ref #LFC pic.twitter.com/aCHDEkZQ7U

— Neil Mellor (@NeilMellor33) May 22, 2023
Whether that will be the case the time around remains to be seen, but the decision to rule out Gakpo's goal despite Villa defender Ezri Konsa clearly making a deliberate play of the ball is particularly baffling.
The official explanation, after Brooks was recommended to review the situation on the pitchside monitor, was that Konsa did not deliberately intervene.
Therefore, Luis Diaz's header away from Van Dijk was deemed a pass to the No. 4 in an offside position, but footage of the incident shows this was clearly not the case.
Mings, meanwhile, only received a yellow card for a studs-up challenge that left Gakpo with visible wounds on his chest, even after a lengthy VAR review.
Lead VAR on Saturday was Tony Harrington, while Brooks was refereeing a Liverpool game for only the second time.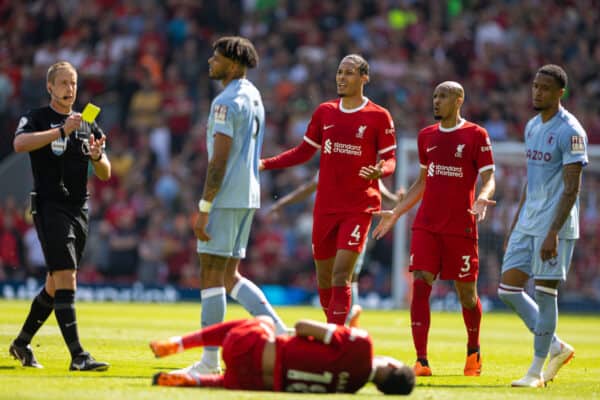 It is notable, though, that Brooks was the fourth official admonished by Klopp after Diogo Jota's late winner in the 4-3 victory over Tottenham last month.
"Without you!" the manager bellowed in Brooks' direction, and though he was only booked at the time, Klopp was later banned for the visit of Villa after his subsequent comments on referee Paul Tierney.
There was an uncanny feeling, then, when Klopp watched from the stands as two major decisions went against his side on Saturday.
PGMOL are yet to respond to Liverpool's request, though Webb has afforded public statements on similar incidents already this season.