Despite claims circulating on social media to the contrary, Liverpool FC are still planning for their first home game of the new season to be on August 19.
There have been claims this week that work on the Anfield Road Stand is behind schedule and that the media would be informed this week that the project is a month delayed.
However, This Is Anfield understands this is not the case and the project is still on schedule, with the club still planning for their opening home game of the new season to be against Bournemouth on August 19.
The new upper tier is now fully installed, with the removal of the old upper tier – and its roof – completed right on schedule.
Meanwhile, solar panels have been installed on the roof and cladding on the exterior of the stand is nearing completion.
As with any project of this nature, contractors The Buckingham Group are following a detailed construction timeline. That timeline had a four-week window for the removal of the old Anfield Road Stand roof and upper tier, which was met right on schedule.
A lot of work internally, that fans cannot see from drone footage or externally, has been undertaken in the recent weeks since the last home game of the season in May.
Of course, there is still a lot to do, but that first home game of the season is still almost two months away and work on site is around the clock.
Some supporters have raised concerns over the state of the pitch, but again this is not something to be worried over.
The new pitch, which will be laid next week, has been grown at a turf farm over the last three months. It will take just three days to lay and requires around three weeks to be ready for being played on.
That's comfortably enough time, with still almost two months until the first home game of the season.
Liverpool requested to the Premier League to play their first game of the new season away from home, a request that was granted with a trip to Stamford Bridge on the opening weekend.
However, claims on social media that the club are to request further games be played away from home are wide of the mark.
---
Anfield Road End Expansion – Key facts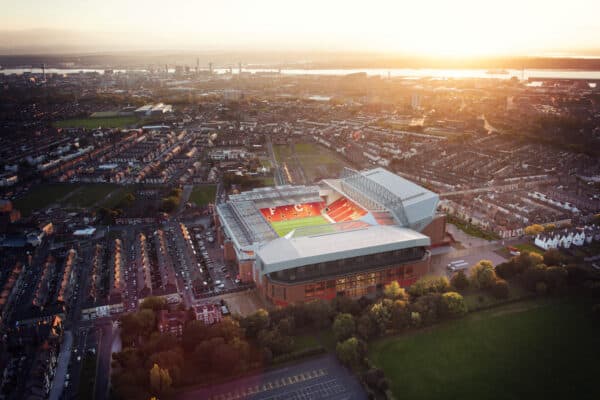 To be completed before the first home game of 2023/24
New capacity set to be be 61,015
Expanded stand will hold 15,967 supporters
The lower tier will remain same but with larger concourses
Estimated build cost of £80m