A huge milestone in the Anfield Road Stand expansion has been completed, with the old 282-tonne roof removed.
New timelapse and exclusive drone footage released by Liverpool FC shows this historic moment which took one week and 75 skilled engineers working day and night to carefully demolish.
The old roof will now be processed for recycling.
An extremely difficult part of the build, this operation involved two large cranes which needed to be built on the pitch.


One 500-tonne and one 600-tonne did the heavy lifting, supported by two 300-tonne cranes, plus 700-tonnes of ballast to provide stability to the large cranes.


The pitch went through rigorous testing last year at Anfield and the AXA Training Centre, in order to prepare for this demolition and to factor in full recovery time.
Part of the turf is heavily protected for the cranes and supporting vehicles to travel on.

With this new footage, supporters can get a first glimpse of the brand-new upper terrace from pitch level and see the new 75 x 39-meter new replacement roof towering over the old upper terrace, which is next to be removed.


The development, started in September 2021 to increase Anfield to 61,000 capacity, is on course to be completed for the start of the 2023/24 season.
Anfield Road Stand Expansion Facts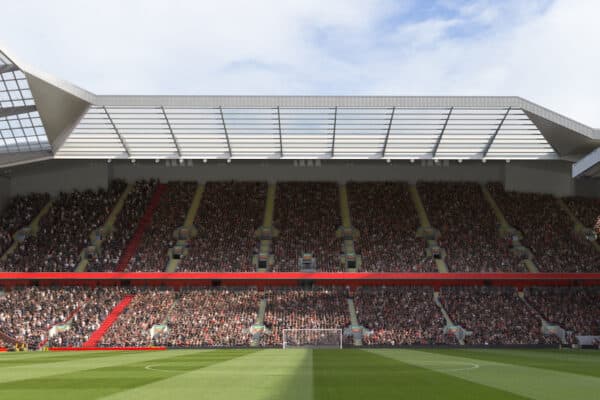 On schedule to be complete for first home game of 2023/24
Anfield's new overall capacity will provisionally be 61,015
Expanded Anfield Road Stand will hold 15,967 supporters
1,000 new season tickets and 3,000 general admission
New young adults section in the lower tier
Estimated cost of £80 million