For club and country, the last 12 games have seen Trent Alexander-Arnold shine in a new role. So is his long-term position now set?
It is easy to forget before Trent Alexander-Arnold's recent incredible form came his toughest moment in a Liverpool shirt. 
At the Etihad in April, Liverpool were outclassed by Man City as they lost miserably 4-1. 
Yet the most damning image on the day was Liverpool's right-back pressing City's 'keeper like a loose cannon without any support from any player in Red who laboured behind. 
The look of absolute dejection on Trent's face, looking around at his hapless teammates, screamed out what everyone associated with Liverpool was thinking. 
This was a team that wasn't getting the best out of their most talented player, and vice versa a player who wasn't producing his best for the Reds.
Something had to give, Liverpool were on their knees in terms of confidence and form. They needed a spark.
The spark

People struggled to think about what could change, but they always had the solution by altering Trent's position. 
It seems obvious now that Trent needed freedom to expand his game, which has now produced 10 goal contributions for both club and country in the last 12 games.
Two goals, eight assists in 12 games, having scored three and assisted three in his previous 38.
There was a watershed moment when Liverpool entertained Arsenal at Anfield. Their No. 66 was deployed in his new inside full-back position in a 3-2-2-3 formation in possession. 
For 40 minutes, it looked like a costly mistake as Trent could not establish his influence. A clash of heads with Granit Xhaka (quite literally) was required to fire him up and get a foothold in the game. 
In the second half, it was clear what the plan was. Trent found himself in a more advanced position to hurt the opposition.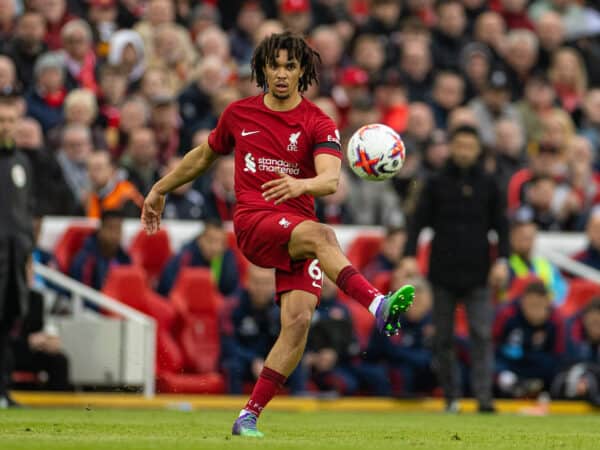 He looked more hungry, energetic and was always one step ahead of everyone on the pitch. 
For instance, per Sofascore, he had 76 touches, made four tackles, won seven duels and completed 41 passes alongside his fantastic assist for Roberto Firmino. 
Compare this to the Man City game a week earlier when he had 48 touches, made one tackle, won three duels and completed 25 passes. 
This shows the difference Trent can make from playing further up the field, as he can be more productive in midfield and even less predictable from any part of the pitch.
A new trademark

An example is the chance right at the end of the game, which started with a perfectly delivered central cross from Alexander-Arnold for Darwin Nunez to head across for Ibrahima Konate, only to be denied by Aaron Ramsdale. 
The accuracy of the cross was so precise and scarily made to look so easy that you must question: if Kevin De Bruyne produced that pass, would you be surprised?
Being compared to the Belgian shows what level of quality Trent can perform at.  
A dominant performance away at Leeds in the next fixture included an Alexander-Arnold assist over the top from a central position to find Nunez.
It was almost identical to the move from the Arsenal match.

The game set a template for how Liverpool's Scouser in the team can control a game singlehandedly against opposition sitting off him and providing him with the time and space to pick his passes. 
Analysing two back-to-back games against top-of-the-table Arsenal and then relegated Leeds showed how effective Trent can be in any situation.
The 24-year-old has hugely benefitted from this change in the system, but it has also helped get the best out of other players. 
For instance, Curtis Jones has made a name for himself by playing a big part for the final months of the season.
His trademark run beyond the last man gave Trent a target to hit at the back post.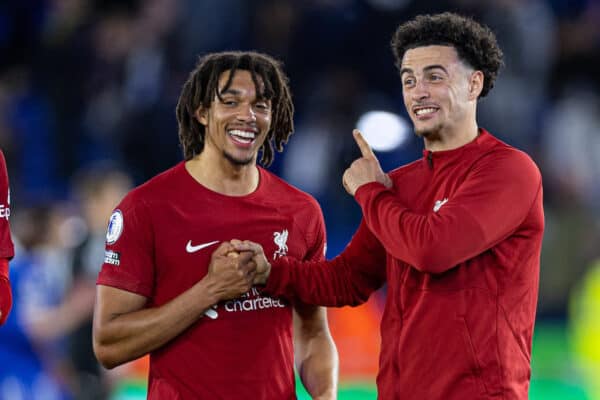 This was evident in his identical goals scored via first-time finishes against Spurs and Leicester City, the first at the far post from Trent's pinpoint delivery.  
Jones' form reinforces how Liverpool as a team has improved since they changed the system. 
The players look like they know where everyone is on the pitch, creating trust and more fluent moves from a cohesive unit.
Club and country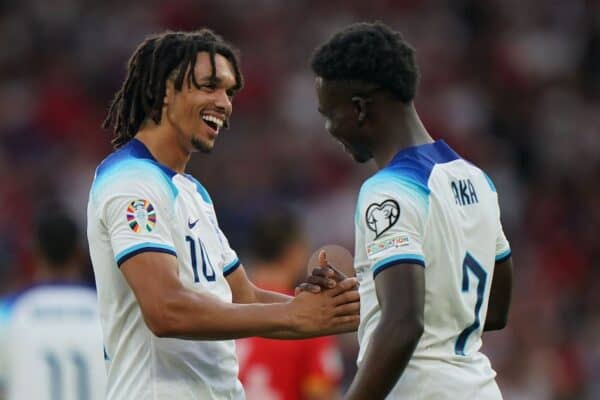 There had been few signs of positivity to take into next season, but Trent's new position is one. 
Enjoyment and vigour have returned to his game, making this hybrid role exciting for how many goals and assists he will achieve next season.
Trent has then taken his momentum to the international level by putting in a stellar away performance in Malta.
Having an 88 percent pass completion and winning seven of his 10 duels in the middle of the park shows how England's new No. 10 dominated proceedings.
The pass in the buildup to the first goal was nothing short of world class.
To have the vision is one thing, but to pull it off shows what an asset England has on its hands – one that Gareth Southgate needs to build around.
Out. Of. This. World. ?

You won't see a better goal than this from Bukayo Saka ?#C4Football | #ThreeLions pic.twitter.com/RNtxRKfAl6

— Channel 4 Sport (@C4Sport) June 19, 2023
Even more impressively was replicating it against North Macedonia on Monday evening.
The sheer accuracy of finding Bukayo Saka from so deep in his half shows the joy wingers have playing with Trent due to his passing ability, especially when they're on the move.
It shows what Nunez, Mo Salah and Luis Diaz can look forward to next season.
12-game turnaround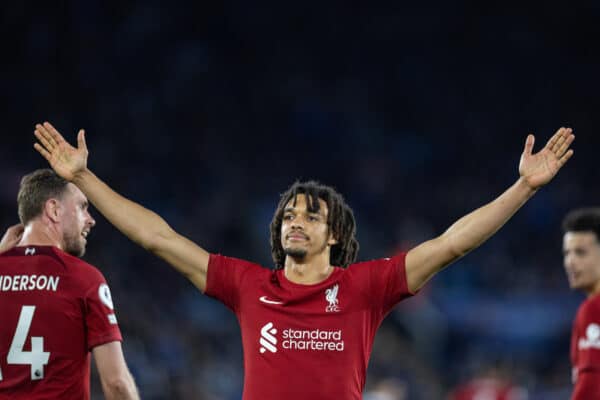 It's amazing what a stretch of 12 games can do for a footballer. 
Before, Trent looked devoid of belief in his abilities and was tortured by anyone playing left wing against Liverpool.
Now he looks ready to take on next season from a central area and show more of what he is good at. 
The same can be said when being played in midfield for his country. 
Trent looks like a man reborn, and seems to have found the perfect position to flourish for his boyhood club and England.