Trent Alexander-Arnold's position switch late last season was a catalyst for the side's surge of form towards the finish line, but many still can't quite get to grips with what his role entails.
With results reflecting the Reds' shortage of confidence, Jurgen Klopp opted to experiment with a new shape which involved his right-back spending more time further up the pitch with greater freedom to express his creativity.
The 24-year-old has already demonstrated his exceptional passing range and ability to set up chances from right-back, but momentary defensive lapses have shone a spotlight on whether his attributes might be put to better use elsewhere.
It certainly appears that very few players receive the same level of media scrutiny as Alexander-Arnold does, but perhaps that is just something that comes with the territory of being as gifted as he is while playing for a top club.
Reborn in his new role

One thing the media couldn't question, however, was his impact during the closing stages of 2022/23.
New life was breathed into the never-ending debate about whether the Scouser should play in Liverpool's midfield, when he almost single-handedly carried the Reds into the top four while operating in a hybrid role between right-back and midfield.
Once Liverpool's biggest creative outlet, Alexander-Arnold had been stifled by his team's struggles and amassed just two Premier League assists before April.
With the shackles off and a license to roam from his manager, he became a man possessed and notched six assists in a five-game period, sparking a run of seven straight Liverpool victories in a late push for a Champions League spot.
It whet the appetite of fans, who were keen to see how much damage could be done by the academy graduate should he feature further up the pitch on a more regular basis.
The eagerness to categorise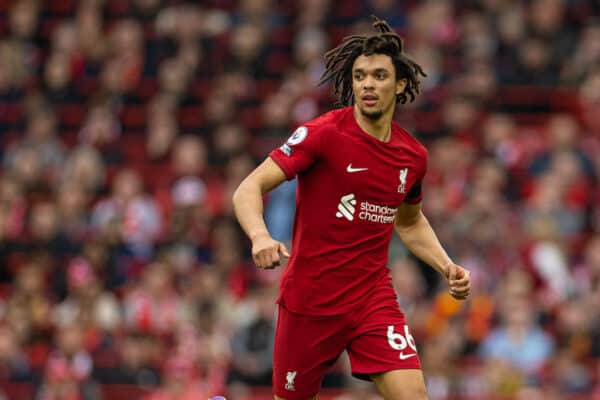 Despite having time to digest the new system, many still appear to be struggling to wrap their heads around Alexander-Arnold's position and what it all means.
Fluidity is nothing new in football, but there appears to be an obsession with pigeonholing players into fixed positions that we can't quite escape from.
It has led to calls to see the right-back become a midfielder on a permanent basis and for Liverpool to look elsewhere to fill the space vacated at the back.
Legendary Reds defender Jamie Carragher is the most high-profile name to posit such, suggesting during an interview with Redmen TV that Liverpool might be best served to keep the England international in the middle, leaving space for his previous slot at right-back to be taken.
"When Liverpool are on the ball, whoever you buy, whatever you spend, they cant do more than Trent," Carragher said.
Part of the reason for the Reds' success towards the end of the campaign was the tactical discipline shown by Alexander-Arnold and his defensive peers, something which can only improve once the players have a pre-season under their belts.
If this is a system Klopp wishes to persist with, you could argue that buying a new right-back solves very little at this point.
The success of the system, after all, comes from Alexander-Arnold continuing to occupy the right-back spot and subsequently having the freedom to roam – a permanent shift into midfield would negate that.
What should be of interest is how the Reds will operate without their No. 66 due to either rotation or injury, with his qualities not easily replicated – falling back into a 4-3-3 formation would be likely.
England confusion and future plans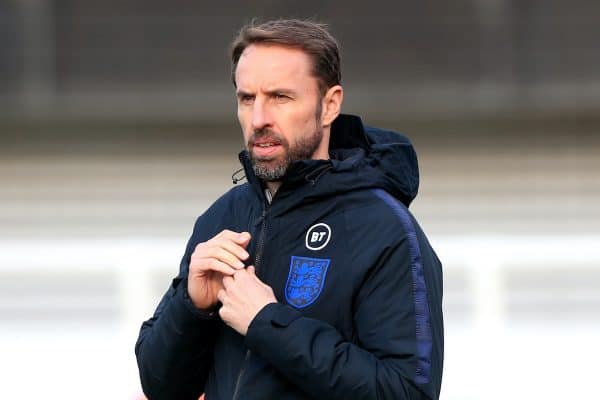 It is fair to say that Alexander-Arnold has had a complicated relationship with his national team so far in his career.
He has been inexplicably left out of squads and racks up very few minutes when selected – 1,261 minutes since his debut in 2018 – despite being one of the country's most talented assets.
Gareth Southgate hinted last month that his new role for Liverpool could be tried at international level, insisting that the two have a "really good relationship."
If the man whose job it is to find strategic solutions for the best players in the country can't figure it out, what hope is there for the rest of us?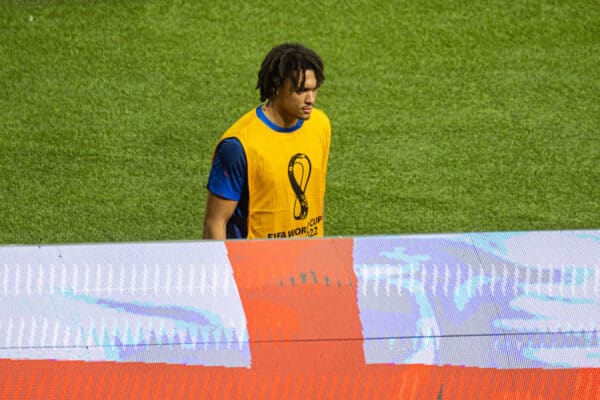 The future of Alexander-Arnold's position remains uncertain, but the influence he has had during such a short time frame in the hybrid role has given supporters plenty to be excited about for the near future.
He has once again proven himself to be unquestionably one of Liverpool's most important players and can dictate the pace of a game when given the facilities to do so.
The Reds have got a gem on their hands, the crucial thing will be to ensure that not an ounce of his potential goes to waste.