Liverpool are in Jurgen Klopp's native Germany for their training camp this summer, a switch up from previous years having sought out a secluded base.
The Reds are using their time wisely in the early days of pre-season, with double sessions in the sunshine to get the squad ready for next season.
Their base is not the picturesque Austrian mountains like last year, but a rural setting in the German town of Donaueschingen in the Black Forest region – where Klopp grew up.
It is quiet and secluded, a drastic change in scenery from the AXA Training Centre, which does not allow for distractions.
These photos from day three in Germany show where the Reds are getting down to business, and you can see just how removed it is from the hustle and bustle of any city.


It is picturesque in its own unique way but it is a visual representation of what Klopp wants to get out of the first couple of weeks of pre-season, after admitting last summer's preparations were less than ideal.
The quiet town in south-west Germany has been used by Klopp before in pre-season, he took his Borussia Dortmund side there in 2009 and built the foundations of a title-winning side.
The team hotel, Hotel Öschberghof, is located outside of Donaueschingen and the squad cycle to and from training every day, as is tradition irrespective of where the club's training camp is.
The location helps foster team building alongside the hard work on the pitch, with this a crucial time to form the building blocks for the upcoming campaign.


Two sessions a day will ensure the team builds the resilience they need to bounce back from the disappointments of last season, which will then be coupled with two friendlies before their trip to Singapore.
Not sure I'd want to cycle back to the hotel after a gruelling session, but some Reds got creative on Monday!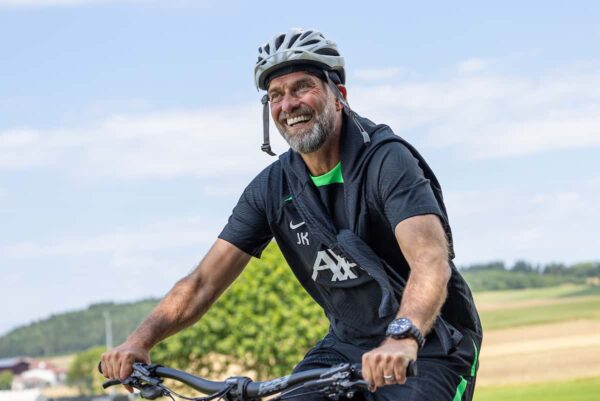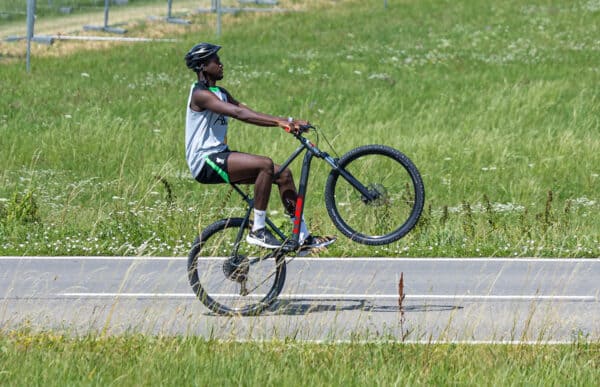 The Reds took a 32-man squad to Germany, which did not include Fabinho ahead of his impending exit, and, at this stage, Jordan Henderson remains with the group.