From Total Football to catenaccio to tiki-taka, tactics are constantly evolving, writes Harry McMullen.
Each philosophy typically spreads worldwide, trickles down the football pyramid and establishes itself as the norm. Then the next one emerges to sweep it away.
While Jurgen Klopp didn't invent gegenpressing, it was his Borussia Dortmund side that established it as the new norm in world football. By the time his refined version ended Liverpool's Premier League trophy drought in 2020, teams were racing to assemble their own heavy metal lineups.
But with the gegenpress now over 10 years old, does it still work?
Going Inter detail

When Man City met Inter in the 2023 Champions League final, it seemed a simple clash of styles. Pep Guardiola's side are one of the world's best teams with the ball, while the Nerazzurri 5-3-2 makes up a world-class deep defence.
Then it kicked off and City were immediately pinned back by Inter's aggressive press.
This unexpected approach upset City's game plan and kept things competitive until half-time, when City could adjust. But the game demonstrated that, in 2023, every team in world football must be capable of playing with a high press – even if only against specific opponents.
If every team can play a high press, it's not enough to base your entire identity around being a 'pressing team.'
In fact, it's no longer enough to base your identity around dominating any one phase of play. That's why Louis van Gaal failed at Man United, Jose Mourinho and Antonio Conte struggled at Tottenham, and Newcastle's ceiling this season was fourth.
Liverpool have to be more than a pressing team to compete at the elite level.
The next evolution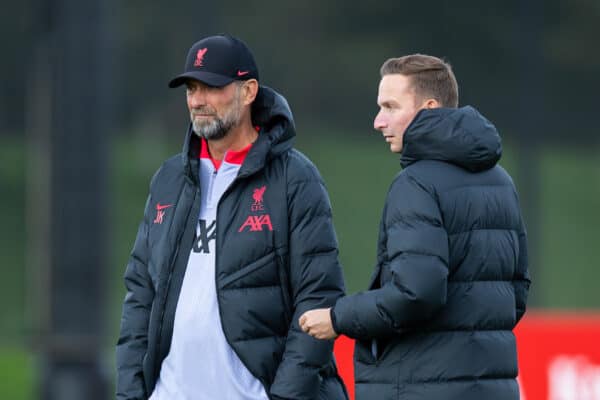 Where do tactical revolutions come from?
Typically, they're a solution to the problems caused by the current tactical trend. Tiki-taka was used to prise apart stubborn catenaccio defences. Gegenpressing was a response to the way tiki-taka dominated the ball – creating panic to influence the passer, and forcing typically smaller and more technical players into uncomfortable physical duels.
It's no surprise then that the current tactical trends are all in response to gegenpressing. Teams now expect to be pressed, so the emotional aspect of chasing the ball relentlessly has been diluted. Players are also now empowered with clearer instructions on what to do when pressed to ensure they retain the ball.
Real Madrid play well against pressing teams thanks to two factors.
The first is psychological; the high confidence that players draw from the mystique of the white shirt makes it easier for many Madrid players to cope with intense pressure. But there's also a tactical solution – they simply pass the ball away from pressure.
This sounds simple, but there's a smart tactic that makes it possible: dropping all four defenders deep during buildup.
Having four players alongside the goalkeeper means opponents must either commit half their team forwards, leaving space in behind, or allow Madrid a sideways or backwards pass out of trouble.

We saw this for Madrid's winner against Liverpool in the 2022 Champions League final, analysed in more detail here.
In brief, a simple backwards pass away from Andy Robertson pressing 60 yards up the pitch created space for Madrid to work the ball behind him, pull the defence across, and then switch to the back post for a tap-in.
A more intricate solution, which again relies on players expecting to be pressed, has been dubbed baiting the press. Popularised by Roberto de Zerbi's Brighton this season, players are drilled extensively on precise patterns to navigate various forms of pressure.
A fascinating insight from Lewis Dunk on how Brighton play out from the back ? pic.twitter.com/AnDeR573Uo

— Sky Sports Premier League (@SkySportsPL) May 4, 2023
Effectively, it's a case of 'we know where the pressure's coming from, so we know what our options are.'
Brighton are actively using the opposition press to create pockets of space, then exploiting that space with pre-determined passing sequences.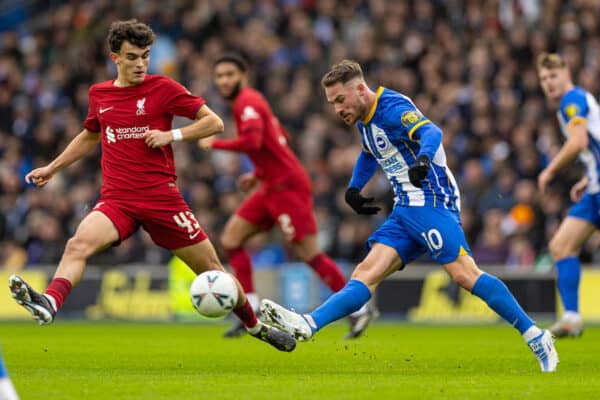 This typically results in 3v3s or overloads in the attacking third, which are usually the result of counter attacks.
Yet Brighton's baiting of the press creates these lucrative chances to score without risking the chaos of an actual counterattack. We call these artificial transitions and they've already been adopted by the likes of Chelsea and Man City this season.
Teams now have a variety of ways to play against the press without feeling the pressure.
What does this mean for Liverpool?

"Counter pressing is and always will be the ticket into this team," said Klopp after the 6-1 demolition of Leeds.
It's clear that Liverpool will always strive to control games with their intensity off the ball, which is why so much transfer focus this summer has been on reviving their misfiring midfield.
But the key word is control. Gegenpressing in its purest form is about creating chaotic, emotional, end-to-end games with many chances to score.
Liverpool did that last year, which resulted in wins like the 7-0 vs Man United and the 4-3 against Tottenham. But the same approach led to the 5-2 defeat vs. Madrid, the 4-1 defeat to Man City and, somewhat, the 4-4 draw with Southampton.
Elite teams now control games by combining intense pressing off the ball with suffocating possession play.
It's actually easier to effectively counter-press when you have the ball for most of the game, and only need to press hard in short bursts to win it back. That's why the 2021/22 vintage came so close to the quadruple: the balance of control on the ball and intensity off it was almost perfect.

The very next season, that balance was off, and many of the players who looked so good suddenly looked much worse. Players don't dramatically decline overnight.
But factors such as Liverpool's new shape that started the campaign, plus the integration of more direct players like Luis Diaz and Darwin Nunez, upset the balance of Liverpool's game and massively reduced the effectiveness of their pressing.
Thankfully, the signing of Alexis Mac Allister, plus the emergence of Stefan Bajcetic and Curtis Jones have equipped Liverpool with more players who can keep the ball and play sensible passes.
With further signings and more work in pre-season, Liverpool may well restore their balance of patience and directness on the ball – which will in turn restore the effectiveness of their pressing.
Conclusion
"Counter pressing is not a proposal, it's a law," reads another Klopp mantra.
Clearly, it will remain part of Liverpool's identity – fresh legs and renewed intensity will be cultivated to improve it.
But with more opponents adept at pressing themselves, and a more complete tactical toolbox now required at the highest level, the Reds can no longer rely on gegenpressing alone. It must now form part of a more comprehensive plan to "conquer the ball" and win football matches.