With two weeks until the opening Premier League match vs. Chelsea, Jurgen Klopp has insisted he insisted he doesn't know who will start.
Two pre-season games remain between now and Liverpool's trip to Stamford Bridge; two weeks remain for the Reds to prepare; and two new signings are through the door.
The wealth of attacking talent at his disposal has left the manager with selection conundrums, though, that he insists haven't been solved yet.
Speaking after Liverpool's 4-0 friendly win against Leicester, Klopp said: "There's nothing sorted yet.
"I don't sit here and know exactly what lineup I should play against Chelsea, why should I?"
He is right of course, football is fluid and things can change rapidly, but you would hope the boss has a good idea of his team to start at Stamford Bridge.
Klopp continued by talking up the talent in the squad's ranks: "Two pre-season games, a lot of things can happen but we will need all of them (the players), especially really the young boys.
"[They] took the chance to show up. I told them already, a week ago or so in the dressing room, I have seen a lot of young players in my career but this group is special."
The boss has emphasised the need for being defensively stronger this season, saying: "The ticket into the team will be the readiness for defence because you never hear about a team being really successful with sloppy defending, it just will not happen."
The German also stated the importance of allowing the youngsters time to develop, suggesting they wouldn't play a role against Chelsea.
He added: "Let's see where it [the season] will lead us to, but if these boys play the main role next season, we'll have a problem.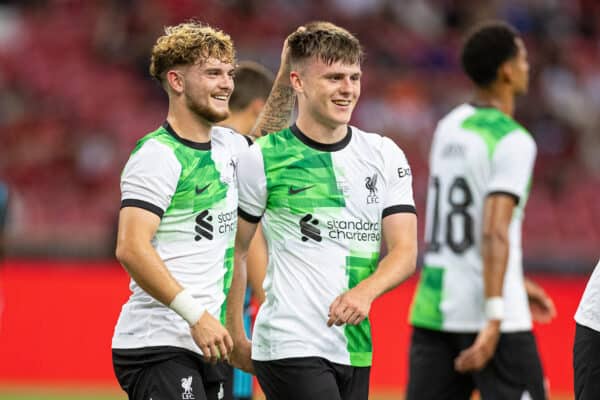 "We use these boys in moments when it's really going well; one here, one there and they still have time to develop if we give them that time.
"There are other [more senior] players who have to do sort the things for us."
You would be hard pressed to find anyone who could confidently predict how Liverpool will lineup against Chelsea, but one thing's for sure: competition for places is a good thing.