Liverpool FC Women have confirmed the signing of Natasha Flint, their first transfer of the summer.
The 26-year-old striker joins the club from Leicester City Women, having spent the second half of last season on loan at Celtic FC Women in Scotland.
Flint scored 25 goals in her 63 games with the Foxes, including top scoring as they won promotion back to the Barclays Women's Super League in 2020/21.
Her time in Scotland included the winning goal in the Scottish Women's FA Cup semi-final and the opening goal in the final as Celtic beat old enemy Rangers.
Flint said: "It feels amazing, no other words, I'm really looking forward to it.
"Hopefully I can bring here what I had at Leicester and hopefully bring some goals. I think my time at Celtic has developed me massively and speaking to Matt (manager Beard) he thinks I can do that even more here which I think so too."

Asked about what attributes she will bring to the Reds, she added: "I've got an eye for goal – my height helps – I'd say I'm quite a strong player and technical as well so my aim for Liverpool is to bring the goals.
"Liverpool has always been a good club in my eyes and I'm just so happy that I'm here now. There's a lot of experience at Liverpool and hopefully I can learn from that and add to my game."
Flint will wear the number 26 at LFC Women and hopes that her time with the club can also see her return to the international fold where she played with England up to U23 level.
"I've always wanted to work with Matt so I'm hoping we can work well together and he can help get me involved with England which I've always wanted to do.
"I was involved when I was younger but been out of it for a while but it's something that's still on my path."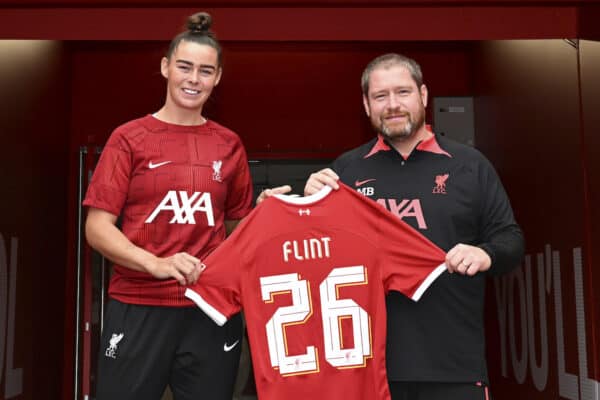 For his part the Reds boss has secured a striker he has admired for a long time.
Beard said: "Natasha is a proven goal scorer. I've known her for a long time and actually tried to sign her when I was here before.
"When she left Leicester to go to Celtic I was monitoring her there and she just seemed happy, and she was scoring goals.
"The thing with Natasha is she's versatile, she can play any of the front three positions, she can play midfield as well, so to have that little bit of flexibility is good for me.
"One of our issues last year was converting the chances we made so it was important we brought in someone who can score goals and create competition for places as well."