Following the news that development work on the Anfield Road End has been brought to a stop, the latest images show where the progress is up to.
As reported earlier this week, construction work on the new stand has been halted due to the uncertainty around building contractor Buckingham.
The company have filed a notice to appoint administrators, leading workers to be ordered off site at the stadium last week.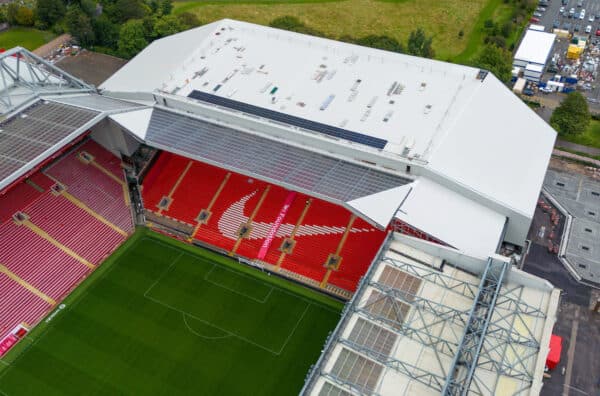 Work has now been completely brought to a standstill, sparking fears that there could be further delays to the full completion date.
It was confirmed last month that the stand would not be completed in time for the new season despite the club being granted a request by the Premier League to play the first game away from Anfield.


The expectation at that point was that the development would be fully completed in time for the Merseyside derby on October 21 with plans for a phased opening with additional seats up until that point.
The latest news has thrown open the possibility for further delays, with no indication currently given about when the work will recommence.



New pictures show that a significant number of seats still need to be added to the upper tier of the stand, something that could be seen during the first home game of the campaign.
An attendance of just 49,699 was recorded for Liverpool's clash with Bournemouth, a figure more than 11,000 less than what will be the stadium's eventual capacity when the development is completed.



Buckingham are yet to fully enter administration and therefore remain in control of the building site as things stand.
Fans will be hoping for greater clarity on the situation in the coming days, but for now it is unclear when the work will continue and whether or not a new contractor will be appointed.