Harvey Elliott has never been one to shy away from what he wants to achieve with Liverpool, and that includes the captain's armband, though he knows "there's a long way to go."
The 20-year-old joined the club in 2019 and last season enjoyed his best in a Liverpool shirt making 46 appearances – the first 41 were consecutive.
Elliott, like so many of Liverpool's youngsters, are not short on confidence and that lends itself to being highly ambitious but without any entitlement.
As a lifelong Red, Elliott has dreams of one day donning the captain's armband, but he is under no illusion about the work and the journey needed to one day get the chance.
"I would love to be future Liverpool captain, but there's a long way to go and a lot of learning I need to do to even be in the talk of being future Liverpool captain," he told TNT Sports' The Big Interview.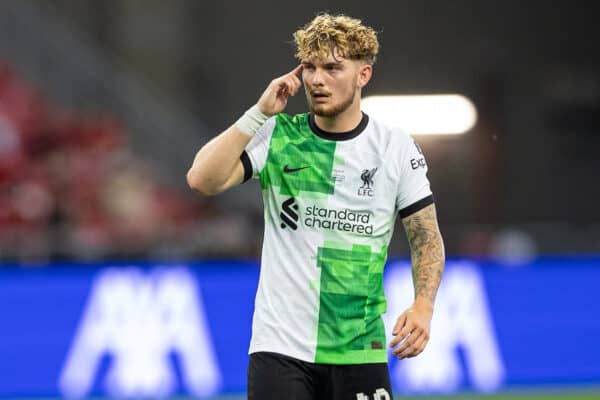 "One thing I want to do is go on the pitch each and every game and just run my absolute heart off and give everything for the badge, everything for the club, the team and the fans," Elliott said of his own expectations.
"I think that's the bare minimum you can do when you play for Liverpool. Anything below that is deemed not good enough, and that's exactly what I think about myself.
"I just want to go out there and give it my all and if I come off the pitch not able to walk, so what.
"As I said, I would love to be Liverpool captain one day but we've got Virgil and Trent as vice-captain now.
"Those two are unbelievable leaders and both have been through so much together and with this team as well.
"There's a long way to go but, hopefully, one day it can come true."
Elliott is right when he acknowledges that there is "a long way to go" in his journey to put himself into contention, but let's not forget he is still only 20.
It is clear how dear he holds the club, and while some may have differing views on his future pathway, Elliott's ambition ought to be admired.