Fluminense midfielder Andre has acknowledged interest from Liverpool and other clubs, but though "happy" about it, he is "100 percent focused."
Liverpool have continued to track Andre throughout the summer as they look to add to their midfield ranks, but so far their efforts have been unsuccessful.
Earlier this week, it was reported that Fluminense had rejected an informal offer in the region of £25 million, with the club said to be unwilling to sell before the end of their season.
That would align with the January transfer window in England, though ESPN Brasil have claimed that Liverpool are not open to a move in the winter.
It remains to be seen how the situation unfolds, with just over a week to go until deadline day for the Premier League, which comes hours after the second leg of Fluminense's Copa Libertadores quarter-final.
But speaking to Globo Esporte, Andre himself insisted he is "100 percent focused" on his current club as they vie for league and continental trophies.
"It is obvious that it is normal to receive offers," he explained.
"Even more so with the team doing well, getting through in the Copa Libertadores, near the top of the Brasileirao.
"Not just for me, but it must have gotten to others as well.
"I am happy for the proposals that arrive, but my mind today is focused 100 percent on Fluminense."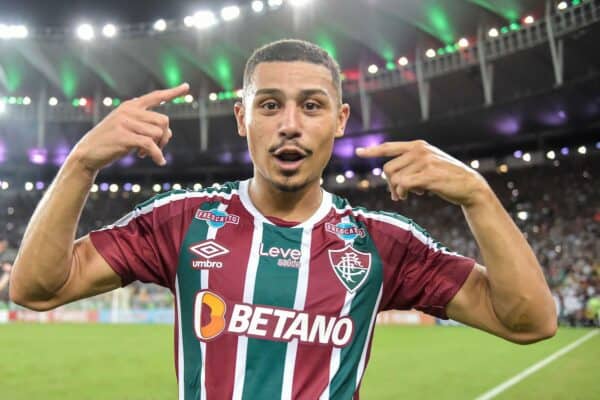 For Andre to have taken any other stance would have been surprising, with it maintained throughout that he is committed to Fluminense's push for trophies.
While Liverpool could still tempt the 22-year-old by activating a release clause in his contract worth around £34 million this summer, that seems unlikely at this stage.
Instead, the more realistic scenario would be that Andre stays with Fluminense and spearheads his boyhood club's hunt for silverware before departing in January.
Given he has already played 40 games this season and there are at least another 20 to come, it would likely need to be a slow adjustment if he were to join Liverpool either way.
A deal lined up now, for January, which could allow him to bed in after a long break – the Brasileiro league campaign concludes on December 3 – may be more sensible to avoid burnout.