Liverpool are yet to see it, but Dominik Szoboszlai's national team coach claims his shooting is better than all but "five players in the last 50 years."
In his first outings with Liverpool so far, Szoboszlai has seemed reluctant to pull the trigger in front of goal, passing when a shot may have been the better option.
A chance for a spectacular half-volley in the opening 1-1 draw at Chelsea was a prime example, though an effort in the 3-1 victory over Bournemouth led to Diogo Jota's goal.
When Szoboszlai does start to shoot on sight, however, Hungary manager Marco Rossi believes "nobody will complain."
"I think in England he will need to start shooting more, because I don't think that anybody can complain if Dominik shoots with his right or left foot," Rossi told Liverpool.com's Ben Bocsak.
"When he will decide to shoot, nobody can complain.
"He has many, many strengths. Of course, he had and still has some weaknesses, but he is working hard to reduce and improve.
"His best skill, for sure, is his shot.
"I've been in football for more than half a century, and I have to say that I don't remember more than five players in the last 50 years that have a shot like him or who are better than him."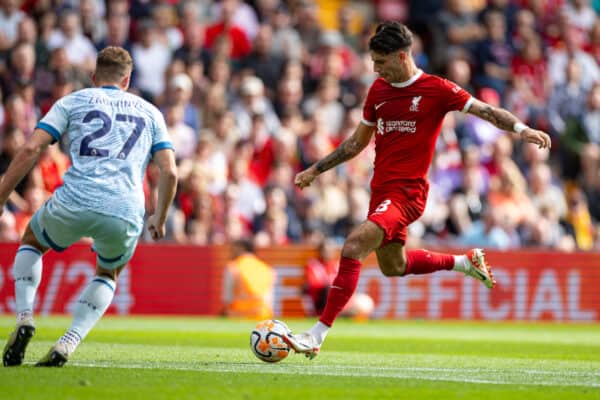 Given Rossi is only 58 himself, that may be something of an overstatement, but it is clear that Szoboszlai possesses a rare quality in front of goal.
It is something Liverpool have lacked in recent years from midfield, with his predecessor, Jordan Henderson, netting 33 times in 492 games for the club.
Among the players Rossi may have been referring to, though, is Steven Gerrard, whose words are tattooed on the new No. 8's arm.
"I hope he can take the early pages of Steven Gerrard's career, of course with different characteristics," Rossi continued.
"But if he can gain the hearts of the Liverpool fans in the same way as Gerrard, he will do a fantastic job.
"Of course, he can still improve and learn from his team-mates and his coach.
"But if he can avoid any physical problems, because in football injuries can happen all the time, I think we will hear his name many more times in the next few years."