Dominik Szoboszlai has already made fans sit up and take notice, but just how much of an upgrade can he prove to be in Liverpool's midfield?
The return to Anfield got off to the worst possible start as the Reds were punished for failing to react to Antoine Semenyo's offside wake-up call.
It could have spelt disaster, but Liverpool picked their moments and took their chances on a satisfactory afternoon ahead of what could be a problematic run of fixtures.
With the benefit of hindsight, it was a relatively routine three points despite the early setback and dubious refereeing.
Alexis Mac Allister rightly took the plaudits from Stamford Bridge, but with his afternoon short by Thomas Brammall it was his fellow newcomer in midfield that stole the show against Bournemouth.
Szoboszlai became the reason a potentially troublesome afternoon became a comortable one.
A key piece of the jigsaw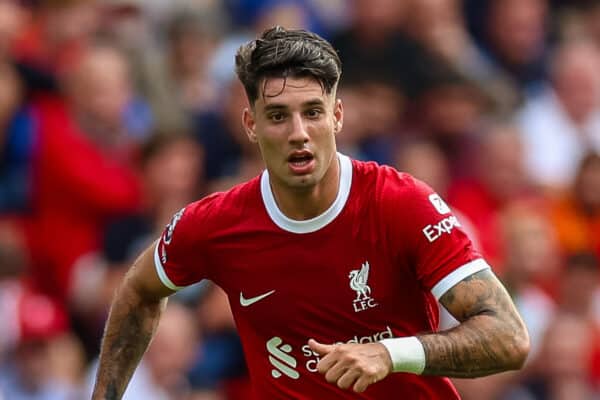 He arrived from RB Leipzig with all of the fanfare you'd expect from a £60 million signing and a highlights reel to match.
Liverpool's midfield rebuild needed to be a comprehensive one, with the somewhat abrupt departures of Fabinho and Jordan Henderson almost giving Jurgen Klopp a blank canvas on which to work.
Mac Allister, while joining for almost half the fee, was the banker. Proven Premier League quality with a World Cup medal to colour his CV.
At 22, Szoboszlai could arguably have been seen as more of a project. It was a signing nobody saw coming but perhaps we should have.
The Reds boasted the best front three in world football between 2018 and 2020, and as the old guard was phased out the club added depth with the next generation.
What Liverpool have been short of, even in a Premier League-winning season in which they won 26 of the first 27 games, is goals from elsewhere.
Alex Oxlade-Chamberlain is arguably the Reds only midfielder in the last decade to be known for getting on the scoresheet, but even he failed to ever hit double figures in his injury-plagued Anfield career.
Szoboszlai reached 10 goals and 13 assists in 2022/23 without being close to the finished article.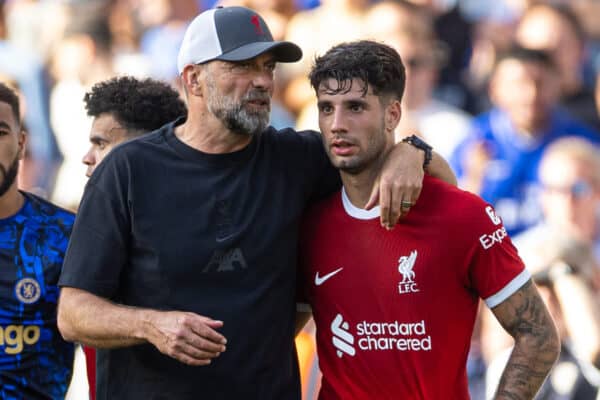 The manager described the Hungarian as a signing "for our present and our future" upon his arrival and you get the feeling that's how he views the signing in every conceivable sense.
There were no goals or even assists from Szoboszlai during his man-of-the-match showing, but his fearless dribbling and effortless creativity will have given the Bournemouth defenders nightmares on Saturday evening.
It looked too easy at times and when you add in the context that it was his home debut you can fully appreciate why Klopp was so excited about what the future has in store.
He has already assumed a portion of the corner duties and, you never know, he might even have one eye on penalties following Mohamed Salah's latest miss.
With five world-class forwards and an emerging Ben Doak at the top of the pitch, Liverpool are unlikely to be short of goals this season.
It should be stressed that it was only a glimpse but Szoboszlai's performance offered signs that those same forwards could be supercharged by the creativity in behind them.
A whole new midfield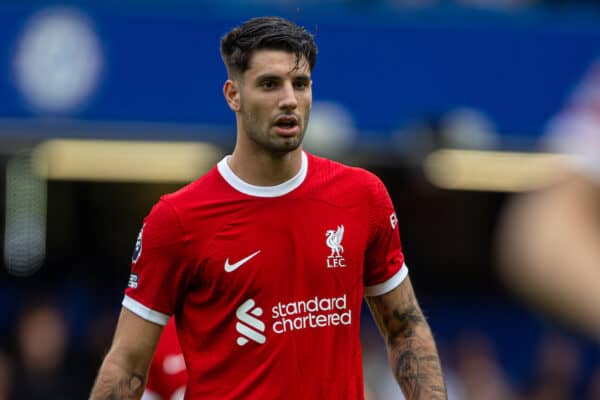 The Reds were not forced to let any of the five senior midfielders who left the club this summer go and it meant that it was imperative to get things right in the market.
For all of his qualities and the incredible Liverpool career he had as captain, the current iteration of Henderson was never likely to replicate the contribution Szoboszlai could offer in 2023/24, arguably in both directions.
The former skipper was reknowned for recycling possession and getting the ball to the attacking players who could do magical things with it.
In Szoboszlai we have a player capable of doing those things while simultaneously being able to provide the magic himself.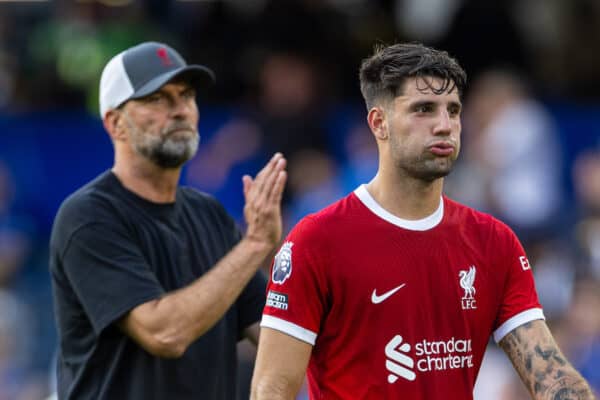 We also have a player capable of managing his defensive responsibilities. The Hungary captain relentlessly tracked back against Bournemouth and was even tasked with playing in the No. 6 position following Mac Allister's red card.
His impressive display in the summer's lactate test quickly made supporters realise that we were signing a physical specimen, not just an exciting footballer.
After the Bournemouth victory, the boss said that he had to "hold him back" and that he was "the only one who has power for more" in relation to the unabated running he had been doing.
His mobility will be a huge asset in a Klopp system and you'd have to think he represents a monumental upgrade on all of the departed midfielders.
Shouldering the expectation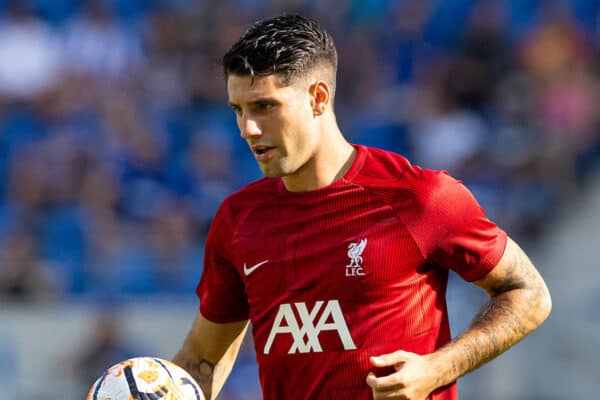 As fans we have an innate urge to leap to conclusions about new signings based on the tiniest evidence, in both positive and negative lights it must be said.
Cody Gakpo was written off in some quarters based on his first handful of outings in a red shirt and he now looks a complete, versatile footballer with an immeasurable ceiling.
Szoboszlai has undoubtedly caught the eye with his first two appearances and has whet the appetite for what is to come, with all the early signs indicating that this could be an exceptional midfield overhaul.
It is always important not to apply too much pressure, although you get the sense that he can handle the burden based on the shirt number he selected!
We will have to wait and see just what level Szoboszlai can reach and the ramifications that will have for Liverpool's hopes on all fronts.
For now, let's just sit back and enjoy the process of the midfielder's development. He's still only 22!