Jurgen Klopp has revealed he "didn't like" some of the defensive mistakes he saw against Bayern Munich, adding that there is plenty to analyse in the coming days.
The Reds were involved in yet another hectic encounter as they fell to a 4-3 defeat to the German champions, with some brilliant attacking work cancelled out by defensive lapses.
Speaking after the game, the boss acknowledged his side's noticeable issues at the back and cited "concentration" issues as an explanation for the errors.
"I saw a lot of good things, but of course some things I didn't like and now we have to analyse. That's always the same in pre-season," the boss explained to the media in his post-match press conference.
"The goals we conceded were mainly lack of concentration in the moment, twice. Very similar situation in the first goal we conceded and I think the fourth, very similar.
"We have to analyse it properly and we have a lot of time to do that on the flight home."
Liverpool shipped four for the second time this summer, taking the total number of pre-season goals conceded to 10 across the four matches so far.
The boss described some of the moments in the Bayern Munich encounter as "not great" but added that there was still plenty to be positive about from a Liverpool perspective.
"Around the goal is obviously not the great but a lot of other moments were really, really good," he continued.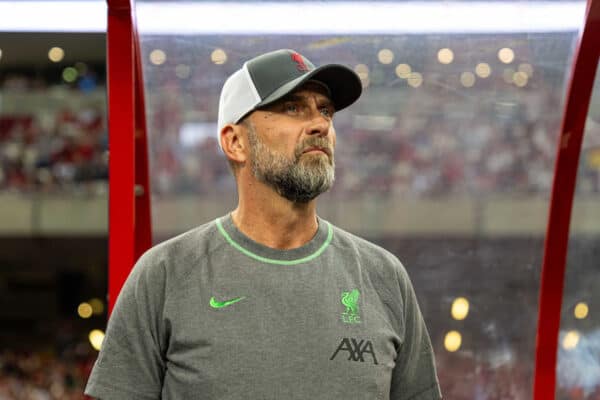 "The first goal we concede, Trent and Joel have to react better.
"I think it was a similar second half, now between Joey and Ibou, it's nothing about speed or whatever it's just about awareness. Check the situation, in football, there are no breaks."
The game brings to an end the Singapore leg of pre-season, with one final test awaiting the Reds at Deepdale against Darmstadt on Monday.
Liverpool's Premier League opener against Chelsea is just around the corner on August 13 and the manager will hope to iron out the defensive issues before the real business gets underway.