Anfield is one of the less simple grounds to reach by public transport so we've put together a handy guide for getting to Liverpool's stadium.
Bus

Getting TO Anfield
OK, so your bus ride might not be exactly like this one!
But, it is still probably your best option.
You will need to leave plenty of time as the buses are always packed on a matchday and traffic is heavy.
From Liverpool City Centre, you can take the special 917 bus that operates on matchdays and takes you directly to the ground.
If you fancy less of a queue, the 26 from Liverpool ONE bus station is sometimes slightly quieter.
You can also take the 17 from Queen's Square or, depending on where in the city you're coming from, could link up with the 27, 68, 14 or 19 which all stop within walking distance of Anfield
Getting FROM Anfield
You'll find a pattern on this guide – getting home can take time, something made less of a pain by a Liverpool win!
There are buses that go from outside the Kop after the match. However, getting on one can sometimes be nigh impossible.
If you do manage to board one, you can wait for a long time as the crowds gradually disperse.
If going to back to town, you could walk 20 minutes to West Derby Road then catch the 12,13,15 or 18 the rest of the way.
• Price: £2 single for adults, £2.20 day ticket for kids
• You can find a link to Merseytravel's bus timetables and routes here
Train

Getting TO Anfield
This is where Anfield falls down in comparison to most Premier League grounds.
There is no direct train link to Anfield, so most get off at Sandhills station which is 30 minute walk uphill to the ground. Buses also operate between the two on a matchday.
To reach Sandhills, you can get on at any Northern Line station.
In the city centre, your stations for the Northern Line are Liverpool Central or Moorfields.
This line also runs all the way from Liverpool South Parkway station which runs a shuttle bus service to Liverpool John Lennon Airport.
Getting FROM Anfield
The bus back to Sandhills operates after the game too, but it would likely be quicker to walk downhill to the station.
Be aware that we still use paper tickets for the trains and underground on Merseyside, so you won't be able to use your phone as a ticket.
• Price: £2.40 single for adults, £2.20-£2.95 day ticket for kids
• You can find a link to Merseyrail's timetables and routes here
Taxi

Getting TO Anfield
Liverpool operates a black cab system like in London, so if you see one with its light on, flag it down!
Like in all major cities now, Uber and various similar companies exist.
Local taxi firms such as Alpha, Delta and A1 also provide good options.
You'll pay similar prices for them all.
Getting FROM Anfield
Getting a taxi from right outside the ground is almost impossible after full time, too.
There are taxi ranks but you're best bet is to walk away from the stadium, towards town, and try to flag one down.
• Price: About £10 one way
• You'll likely find lots of people getting taxis up to the match too, so sharing is a way to reduce the cost!
Car

If you are driving to Anfield, you have plenty of options for parking, though will need to book in advance if you want to use an official club car park.
If not using an official LFC car park, you will need to find one of the several unofficial ones, of which there are lots within walking distance.
• Matchday parking: Normally £5-£10 for the day
You can even leave the car at Goodison and enjoy the walk across Stanley Park.
You can't park on the street in L4 on matchdays.
If visiting when there is no game on, there is usually ample space to park in the official car park just behind the Anfield Road stand, on Priory Road.
• Non-matchday parking: Free
Bike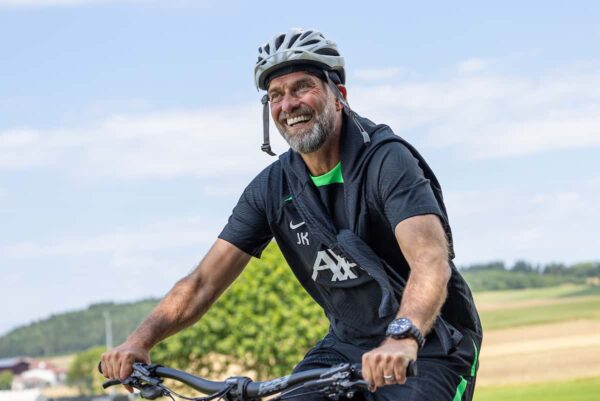 At the end of the Priory Road car park closest to the ground, stands Liverpool's cycle hub.
If cycling to the game, which is a good option over driving, the cycle hub allows you to leave your bike safely stored.
There aren't many good cycle paths around the area, but you could combine the train with cycling, as Merseyrail allow you to travel with a bike on board.
Unfortunately, the council's Citybike scheme is no longer funded, but if you do spot one of the green bikes around the city they can still be used and left at the docking stations around the local area.
• Price: Free
E-scooter

Image: Darrelljon (CC BY-SA 4.0)
These have largely taken the place of the old short-lived Citybike scheme.
They have proven popular with younger people in Liverpool and offer a good way to beat the traffic.
Make sure to always obey the rules of the road, though.
The operating company, Voi, have ensured there are always scooters dotted around to find.
However, they aren't as cheap as you might think.
• You can find a link to the mobile phone app here
• Price: £1 initial fee then £0.20 per minute – approx. £5-£8
Walk

Something many end up doing is walking to Anfield, and back especially, as there the roads are often so busy on a matchday.
If you feel like stretching your legs, there are a couple of routes up to L4 from town.
The more scenic way is to walk through Everton Park, but you could also head up to West Derby Road and turn left at Belmont Road.
They both take a similar amount of time and are uphill.
You can then take the same route back to town after the match. There will be plenty of people around, even if it is a late finish.
• You can find a link to a walking route here
• Price: Free
Aeroplane

If you're flying into Liverpool John Lennon Airport, you can take a quick shuttlebus to Liverpool South Parkway station and use the Northern Line to take a direct train to Sandhills.
There, you can get the matchday buses to Anfield or walk half an hour.
If you're flying into another city, you will likely then travel into Liverpool Lime Street and, from there, can use our instructions to reach the ground.