Despite Liverpool playing in the Europa League this season, Anfield still has the capacity to produce some of its famous atmospheres under the lights.
While it is no secret that we would all prefer to be playing in the Champions League, going deep into the Europa League is not to be sniffed at.
It prevents a chance for Liverpool to qualify for next season's premier competition and, arguably more importantly, win the final trophy to complete Jurgen Klopp's set with the Reds.
New stars and memorable moments could come out of this season's competition.
On This Is Anfield's podcast with The Late Challenge, Paul Cope and Gareth Roberts discussed their favourite UEFA Cup/Europa League moments, the Anfield atmosphere and how Liverpool should approach this season's competition.
Referring to Liverpool's 2-0 win over Man United in 2016, the rivals' only ever meeting in European competition, Roberts spoke about how Anfield showed the visitors 'one of those nights for the ages'.
Cope also remarked that the game was "unbelievable" and continued, saying: "If you want to see our real famous atmosphere, combining Man Untied at home with a European night is like ultimate famous atmosphere level.
"That's what it's all about. Beating them and having those memories, it is priceless. That's what footy's about."
Continuing on the topic of the Europa League being a chance to make memories, Roberts added: "We don't have to start delving into ancient history.
"We've had some fantastic nights in this competition, under this manager."
After beating Man United in 2016, Liverpool were drawn against Borussia Dortmund, Klopp's former club.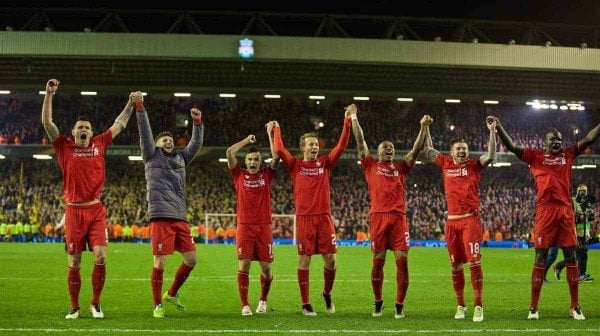 "It was absolutely chocka (packed) at the press conferences for it, people coming all over the world to look at this because it was such a big story," Roberts said.
"The roof nearly came off Anfield that night when [Dejan] Lovren scored that winner."
As well as providing a chance for the home supporters to be heard, playing in the Europa League has it's advantages for travelling fans, too.
Roberts said: "The die-hards that go to absolutely everything, I've seen a lot of them talking online about going to new places and going to grounds they haven't been to before."
Watching your team win matches and silverware is what it's all about, and the Europa League gives us the chance to do those things.
Having said all that, let's hope we're not in it next year!
---
Paul Cope and Gareth Roberts were speaking on a new show from This Is Anfield and The Late Challenge Podcast.
There is a live show that airs each Monday at 5pm (UK) on This Is Anfield's YouTube, with our second show each Wednesday (UK).
You can also listen as an audio show, here.