Jurgen Klopp is only days away from celebrating his eight-year anniversary at Anfield, and he is feeling re-energised thanks to his new-look Reds side, his Liverpool 2.0.
There was no hiding the significance of the summer just gone for Liverpool, changes were needed and they were desperate for fresh faces to inject renewed energy.
They did just that on both fronts, and the positive start to the season, seven wins and a draw, has established early momentum and optimism for what lies ahead.
All eyes have been on Klopp's capabilities to start anew and the first signs make for good reading, and it will be music to the ears of many to hear that the manager has been given "new energy."
"It was the job we had to do," Klopp told reporters on Friday, via the Echo, about building a new side.
"I had seven years at Dortmund and when I left there, it was a moment where change was needed.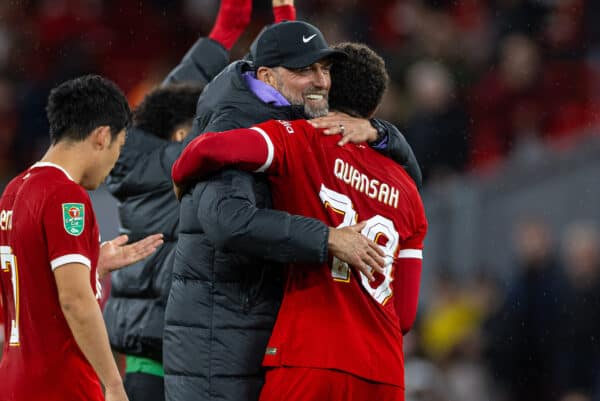 "We would have had to change players in different roles or the manager, so I left and they changed a lot anyway.
"It is not the first time I was allowed to do something like that [oversee change] and I love it.
"It gives me completely new energy. It's great, this team has a completely new set-up.
"I loved everything about the seven years before but obviously, we all need energy sources and looking at these faces every day to see how much they enjoy the new challenge gives me energy as well.
"I know it is words, but it feels like that. We don't want to compare [with the past] or think, 'how did they do that?' or whatever. We try to give this team a chance to create their own destiny.
"That is what we decided, that is what we live now and that is how it works so far, I don't know where it will lead to but it is good fun anyway."
If this new energy makes him feel like he could extend his stay at Anfield beyond 2026, we wouldn't be opposed to that!
Let the good times keep rolling.