Liverpool under-18s kicked off their PL Cup campaign with a 6-1 defeat at Crystal Palace, with the occasion bringing debuts for two new signings.
Crystal Palace U18s 6-1 Liverpool U18s
PL Cup, CPFC Training Ground
September 2, 2023
Goals: Mustapha 6′, King 18′, Marsh 44′ 83′ 88′, Derry 55′; Danns 45+1′
---
There were four additions to the Liverpool first team throughout the transfer window, but the end of August also brought two arrivals in the academy.
Amara Nallo, a centre-back, and Trey Nyoni, a midfielder, completed switches from West Ham and Leicester respectively, and have immediately bolstered the U18s ranks.
Having trained alongside their new team-mates in recent weeks, Saturday brought their first opportunity for competitive action.
With the likes of Carter Pinnington and Josh Davidson instead joining the under-21s, the trip to Crystal Palace in the PL Cup saw Nallo and Nyoni start.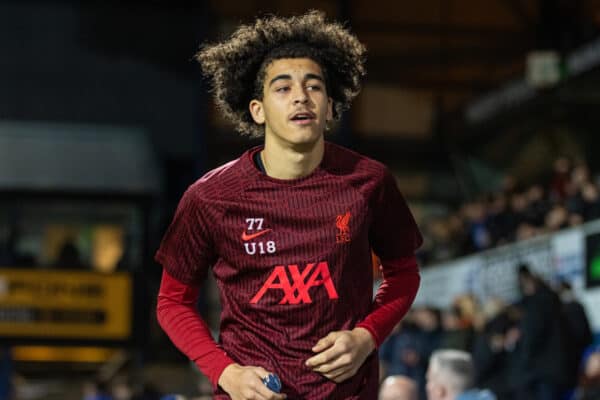 It came, however, in a miserable defeat that kicked off with a mistake from goalkeeper Kornel Misciur handing the high-pressing Hindolo Mustapha an early opener.
A free-kick from deep then saw George King rise above Wellity Lucky to make it 2-0, before another Palace press forced an error from Nallo to gift Zach Marsh his first of a hat-trick.
Jayden Danns, fresh off his first call-up to the England under-18s, was at least able to claw one back just before half-time, firing home from Nyoni's assist.
But the Palace onslaught continued after the break, with Jesse Derry finishing well and Marsh scoring twice more to seal a 6-1 victory.
"We actually played quite well in a lot of the moments but we made quite a few errors which ultimately led to them taking their chances and scoring, so it was really difficult," manager Marc Bridge-Wilkinson assessed.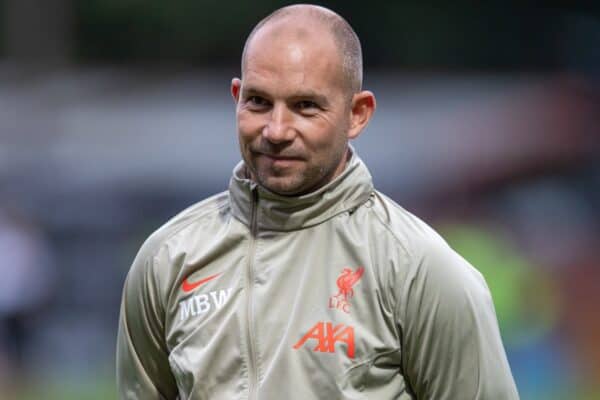 Three of Palace's goals came from sloppy passing at the back, with Miscuir caught out twice in possession.
Bridge-Wilkinson added: "There are a lot of positives from the game, an awful lot of positives to come from it, but obviously it is disappointing to lose, especially by that scoreline."
It is certainly not a life-changing defeat, of course – losses at youth level can never be considered such – with the side fielded including seven 16-year-olds.
Two of those were Nallo and Nyoni, who will be hoping to bounce back when they make their league debuts, likely against Blackburn after the international break.
---
Liverpool U18s: Miscuir; Pitt, Lucky, Nallo (Furnell-Gill 70′), Gyimah; Trueman (Laffey 70′), Nyoni (Onanuga 62′), Morrison; Kone-Doherty, Ahmed, Danns
Subs not used: Morana, Giblin
Next match: Blackburn (A) – U18 Premier League – Saturday, September 16, 11am (BST)